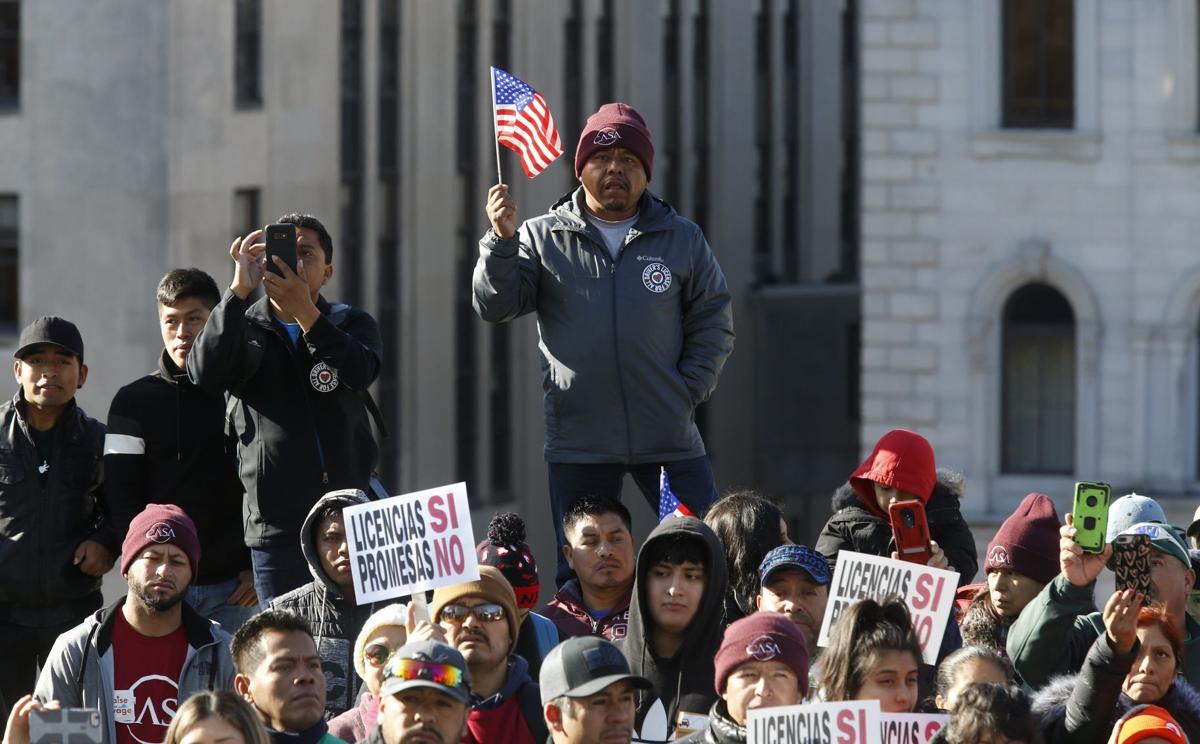 Starting Jan. 2, an estimated 300,000 undocumented immigrants in Virginia will be able to drive legally, thanks to aggressive, yearslong efforts from immigrant rights advocates and a Democratic stronghold in the 2020 General Assembly session.
But while supporters say the measure will boost public safety, power economic growth and allow people without legal status to commute without fear, it is not what advocates wanted.
Along with Gov. Ralph Northam, they championed legislation that would have protected immigrants from discrimination by allowing the cards to look like regular driver's licenses. But the General Assembly crushed the proposal, leaving the driver privilege cards to state that it's "not valid ID for voting or public benefits purposes" — an identifier immigrants fear could be used to notify Immigration and Customs Enforcement and deport them.
Longstanding mistrust in government has left some immigrants skeptical of a federal database with their names and addresses, despite efforts to alleviate fears from DMV representatives, state officials, the Virginia Latino Advisory Board and immigrant rights advocates who say personal information will not be released.
"Of course, there will always be those risks that each person needs to take into account before applying for a driver privilege card," said Edgar Aranda-Yanoc, who has been the senior lead organizer for the Legal Aid Justice Center's immigrant advocacy program for 13 years and the executive director of the Virginia Coalition of Latino Organizations for a decade.
"That's why it's our goal as activists to secure those privacy protections and completely close the window that could give ICE access to this information in the upcoming General Assembly session."
Virginia will be the 16th state, in addition to Washington, D.C., and Puerto Rico, to allow noncitizens to legally drive once DMV appointments open on Jan. 2. The driver privilege cards are not full-fledged licenses and cannot be used to vote, board a flight or access federal benefits, despite complaints shared by some of the new law's critics at the time who felt the bill — patroned by Sen. Scott Surovell, D-Fairfax — was rewarding immigrants for coming into the country illegally.
Data from the Pew Research Center in 2016, the latest updated numbers available, estimates at least 275,000 undocumented residents live in Virginia.
Department of Motor Vehicles spokesperson Jessica Cowardin did not say how many people have requested appointments for specifically the driver privilege cards since the agency does not distinguish between driver's license or driver privilege card appointments. But in October, Virginia DMVs were operating on a nearly five-month backlog and spots were filled three months out.
The process requires a vision screening, knowledge exam and road test, and applicants must provide two proofs of identity and residency and a Social Security or tax identification number, which not many noncitizens have. Documents that aren't in English also must be translated by a professional translator to be accepted. The cards, which cost $50 each, have to be renewed every two years and require a filed tax return from the previous year.
"Why would you ask for that when a person getting their license doesn't have to?" Aranda-Yanoc said in Spanish. "I ask people to see this as a push for racial equity. An opportunity. So we can have an impact on highway safety but also Virginia's economic growth."
States that have expanded driver's license access have reported a reduction in hit-and-run crashes, and the implementation in Virginia could increase revenue by roughly $11 million to $18 million through title, driver's license and license plate fees, sales tax and car registrations, according to a January study from the Commonwealth Institute for Fiscal Analysis.
"It makes our families and communities safer: safer from being unfairly caught up in the criminal justice system and deportation pipeline for just trying to get to church or a child's school and safer from being on the roads with unlicensed drivers," said Laura Goren, the research director of the institute, in the report.
In other states like North Carolina — whose repeated attempts since 2015 to pass driving privileges to undocumented immigrants has failed — the motor vehicles agency has previously assisted ICE in detaining immigrants, according to files obtained by the National Immigration Law Center through the Freedom of Information Act dating to 2012. But emails from a Department of Homeland Security staffer in 2016 said ICE did not have "specific policy guidance on when or how to request DMV data."
Despite the ongoing mistrust and privacy concerns, Aranda-Yanoc noted there were still immigrants excited for the change. Driving without a license is an infraction that has resulted in noncitizens being detained and sent to ICE facilities. Some have occurred on the way to court appointments to receive asylum or legal status, he added.
Virginia does not track how many immigrants have been deported after being pulled over, but over the summer, immigration attorneys in Northern Virginia like Lisa Shea saw an uptick in ICE agents pulling over noncitizens to detain them while allegedly posing as local law enforcement.
In response to the concerns in August — following ICE pulling over a Prince William County resident and sending him to Caroline County's ICE facility — a spokesperson with the federal agency told the Richmond Times-Dispatch that traffic stops are among the many situations ICE officers "may encounter as part of their lawful duties," which can include targeted enforcement activities. The method has been scrutinized by critics who say it fractures local police-immigrant relationships.
Deep-rooted distrust in a system that has historically targeted immigrants frustrates local efforts to mitigate the impact, leaving reliable sources within communities like Aranda-Yanoc working to help bridge a gap they did not create.
Without changes at the federal level, there's only so much individuals can do, he said: "Because at the end of the day, we all know that ICE depends on the power of the executive office. And that power is the president."
(804) 649-6103
Twitter: @sabrinaamorenoo