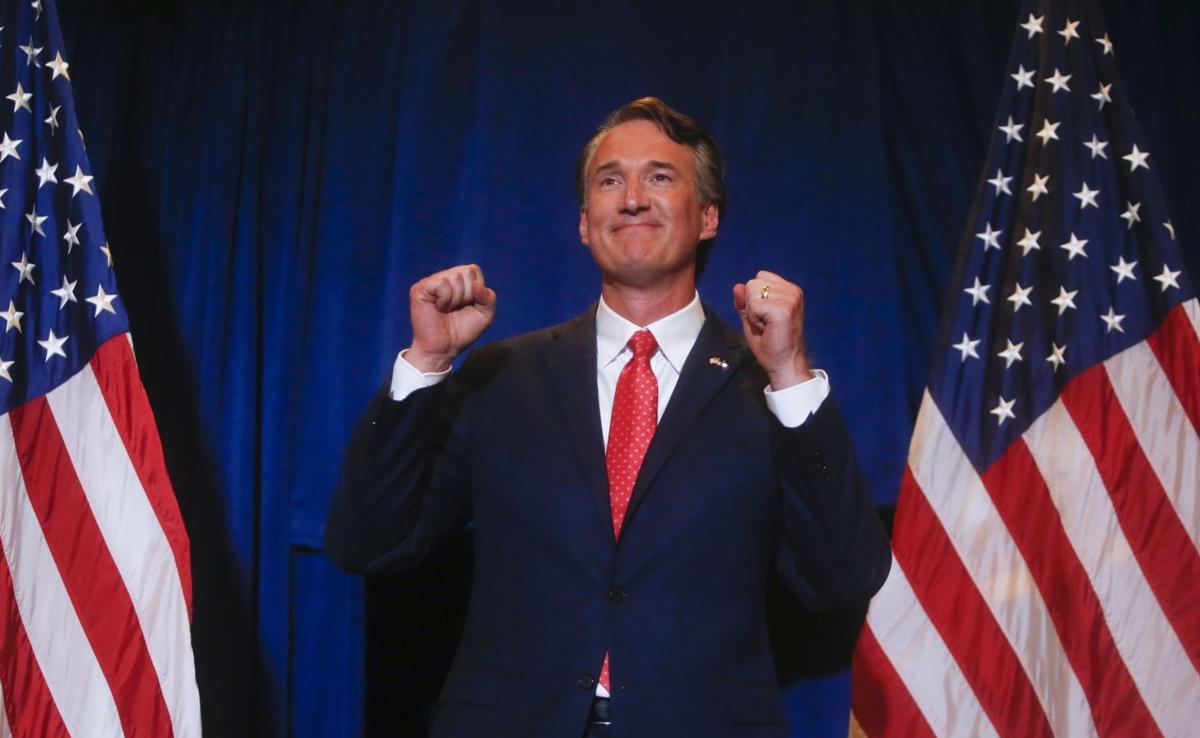 UPDATE: Democrat Terry McAuliffe has conceded to Republican Glenn Youngkin in the Virginia governor's race, a stunning defeat for Virginia Democrats who had not lost a statewide contest since 2009.
"While last night we came up short, I am proud that we spent this campaign fighting for the values we so deeply believe in," McAuliffe said. "Congratulations to Governor-elect Glenn Youngkin on his victory."
McAuliffe spokesman Jake Rubenstein said McAuliffe conceded to Youngkin in a voicemail; the call has not been returned yet. McAuliffe will not be speaking publicly today, he added.
Republican Glenn Youngkin claimed a narrow victory Tuesday night to become Virginia's next governor, summoning cultural divisions and promising tax cuts to end Democrats' sweeping power over the state.
At 12:37 a.m. Wednesday the Associated Press declared Youngkin, a former private equity executive making his first run for office, the victor over former Gov. Terry McAuliffe, who ran as a business-friendly moderate Democrat who would defend liberal social policies and bring economic growth to the state.
Youngkin led 51% to 48%, edging the Democrat by claiming back a slice of the suburban vote that had recently swung for Democrats, while boosting turnout in the state's rural west.
"Virginia, we won this thing!" Youngkin told his supporters shortly after 1 a.m. at a Chantilly Marriott.
Republican Winsome Sears held a similar lead over Democrat Hala Ayala for lieutenant governor. In the contest for attorney general Del. Jason Miyares, R-Virginia Beach, was narrowly ahead of Democratic incumbent Mark Herring.
Youngkin is the first Republican to win statewide in Virginia since 2009, bucking recent trends that indicated the state had become solidly blue. Youngkin came out on top by declining to fully embrace former President Donald Trump - the figurehead of his party - while appealing to his base supporters on issues like so-called "critical race theory" and questioning the integrity of the election system.
Virginia's closely watched race was a referendum on Democratic power in Virginia, where Democrats have enjoyed full control of state government for two years. Youngkin's win bears warning signs for Democrats heading into the midterm congressional elections, and becomes a roadmap for Republicans in the post-Trump era.
McAuliffe, who previously served as governor from 2014 to 2018, faced strong headwinds from Washington, where President Joe Biden's falling approval ratings following the flawed withdrawal from Afghanistan and his stalled infrastructure package in Congress suppressed Democratic enthusiasm in Virginia.
Youngkin flipped the population centers of Virginia Beach, Chesapeake and Chesterfield County back to Republicans while trimming Democrats' 2017 margins in Loudoun, Prince William and Henrico counties. Youngkin also was buoyed by big GOP votes in larger rural counties such as Hanover, Bedford and Augusta.
Republicans' victory in the gubernatorial election, paired with a projected sweep for the GOP down the ballot, means Youngkin's power in the Executive Mansion apparently will be bolstered by a GOP attorney general and lieutenant governor.
Control of the House of Delegates still hangs in the balance, but Democrats' 10-seat majority disappeared and by early Wednesday morning Republicans were claiming a one-seat edge in the chamber.
Democrats still control the Virginia Senate, which does not come up for election until 2023. The chamber is narrowly split, 21-19, and the new lieutenant governor will have a tie-breaking vote on most issues, aside from the budget and election of judges.
A buoyant Youngkin declared victory in a speech in the early hours of Wednesday.
He referred to a "defining moment" in which he and his wife, Suzanne, took a walk near their Great Falls home and he said he was ready to leave the Carlyle Group for a new venture. He said it has led to a new "defining moment that is now millions of Virginians walking together."
"Together, we will change the direction of this commonwealth," Youngkin said. "Friends, we are going to start that transformation on day one."
McAuliffe hasn't yet conceded. Earlier in the night, in a speech before his election night party at the Hilton McLean Tysons Corner, McAuliffe said Democrats have work left to do in Virginia, listing abortion rights and lowering the cost of health care.
"When Ralph and I were elected eight years ago, we made our state open and welcoming, but the fight continues," McAuliffe said, referring to Gov. Ralph Northam, who served as lieutenant governor during McAuliffe's term. "We are going to continue that fight tonight and every day going forward."
The ballroom where Democrats gathered had swelled as the polls closed, but by 10 p.m., lawmakers and key guests had departed. By the time Youngkin declared victory, the ballroom was empty and some Democrats instead gathered at the hotel bar.
Several guests commented about what looked like a bad night for their party, with one calling it a "bloodbath."
A few hundred Youngkin supporters attended his election night event in the ballroom of the Chantilly Marriott. They wore red dresses, red blouses and red neckties. They wore trucker caps emblazoned with Youngkin's logo and posed for selfies in front of the giant sign bearing his name. They carried signs: Farmers for Youngkin, Law Enforcement for Youngkin and Latinos for Youngkin.
Hardly a single mask could be found on the faces of his supporters. At McAuliffe's event, a sign at the entrance said everyone must be vaccinated to enter.
Former Republican Gov. Jim Gilmore, attending Youngkin's rally, said that it was clear Republicans had turned out to vote.
"It's pretty clear we asked all the Republicans to vote and I think they did," said Gilmore, who served as governor from 1998 to 2002. "I think they want to see a change. I don't think they think things are going well."
Youngkin was largely unknown in the state when he launched his campaign in January. Youngkin wielded his wealth and a message of being a political outsider to obtain the GOP nomination over better-known state Republicans in a convention.
Youngkin's wealth - variously estimated to be at least $200 million - made him a formidable opponent to McAuliffe, known as a powerful fundraiser and well-connected Democrat who left his last term in office with high approval ratings. By Oct. 21, Youngkin had contributed $20 million of his own money to his campaign, according to the Virginia Public Access Project.
When the race between Youngkin and McAuliffe kicked off last summer, Youngkin's only announced policy plan was to bring "election integrity" to Virginia. The Republican eventually centered his campaign around a series of tax cuts, proclaiming that Democrats "overtax Virginians an extraordinary amount."
Youngkin promised to eliminate the 2.5% tax on groceries, delay for a year the most recent 5-cent increase to the gas tax Democrats passed to pay for infrastructure improvements, and give Virginians a one-time tax rebate of $300 for individuals and $600 for joint filers.
Heading into the fall, Youngkin still trailed McAuliffe in the polls. The tide began to change after the second and final gubernatorial debate, when McAuliffe, asked about parent opposition to certain books in their children's' schools, said: "I don't think parents should be telling schools what they should teach."
The moment became a vehicle for several Youngkin proposals related to education and schools, that tapped cultural divisions and animated suburban voters. Youngkin bolstered his calls for an end to "critical race theory," a term Republicans use to refer to the teaching of systemic racism in schools, or broadly, talking about racism.
Youngkin also said it should be up to local schools to decide on policies for transgender students. And, he called for every school to have a police officer. Youngkin also said he would be a champion for school choice, promising to bring to Virginia additional charter schools, which are publicly funded and privately run.
Youngkin generally avoided two topics that were once central to GOP campaigns in Virginia: guns and abortion.
Trump loomed large over the race: He endorsed Youngkin early on, but never campaigned alongside him in Virginia as Youngkin sought to keep the former president at arm's length. McAuliffe and Democrats here have sought to connect Youngkin and Trump in an effort to replicate Trump's decisive 10-point Virginia loss to Biden in 2020.
On Tuesday night Trump weighed in on the race, claiming that his supporters helped deliver the win.
"It is looking like Terry McAuliffe's campaign against a certain person named 'Trump' has very much helped Glenn Youngkin," Trump said in an emailed statement. "I didn't even have to go rally for Youngkin, because McAuliffe did it for me. Thank you to the MAGA voters for turning out big!" he said, referring to his "make America great again" motto.
Virginia and New Jersey are the only states that elect a governor the year after a presidential election and Virginia's race often is more competitive. That, along with Virginia's proximity to Washington, means Virginia's contest often gets outsize attention as a barometer of national political trends.
Virginia is famously fickle in elections for governor. Since Jimmy Carter was elected president in 1976, Virginia has almost always followed a president's election by electing a governor of the opposing party a year later.
With Youngkin's win, the "Virginia curse" has held in 11 of Virginia's last past 12 elections for governor. The exception was McAuliffe's narrow win in 2013, a year after Democrat Barack Obama was re-elected as president. On Tuesday he was unable to "reverse the curse" again.
Virginia, long dominated by the conservative Democratic "machine" of segregationist Harry Byrd Sr., has only had robust political competition for governor since 1969, when Linwood Holton — who died last week at 98 — became the first Republican elected governor in the 20th century.
Since then, the two parties have traded the governorship. Republicans won three straight contests, followed by three straight Democratic wins in the 1980s. Republicans then won two straight in the 1990s, before Democrats Mark Warner and Tim Kaine — now the state's U.S. senators, won back-to-back contests for governor in 2001 and in 2005.
Following Republican Bob McDonnell's victory in 2009, McAuliffe, then best known as a top campaign official and fundraiser for Bill and Hillary Clinton and a former chairman of the Democratic National Committee, won the governorship in 2013. Then fellow Democrat Northam prevailed in 2017.
With Youngkin's win, the Executive Mansion shifts back again to the GOP.
(804) 649-6254
Twitter: @MelLeonor_
Staff writer Eric Kolenich contributed to this report.