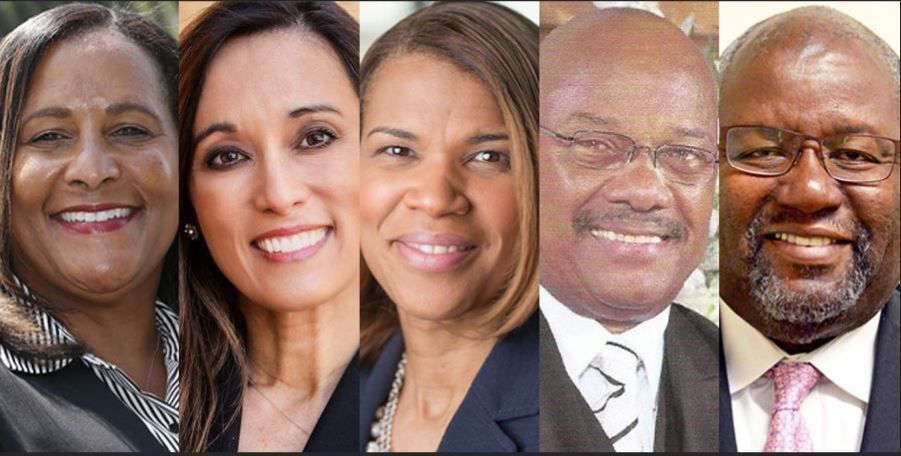 Esther Brown made it clear to the Virginia Parole Board that she never wanted her surrogate granddaughter's killer to be released from prison.
Gwendolyn "Angel" Thomas was just 17 and four months pregnant with the child of Hugh Joseph Brown, 27, when he fatally shot her in York County in 1992 and set her body on fire. In his confession, Brown said he was afraid he would shame his family by having a child out of wedlock. He had sex with her before he killed her, and testified that her last words were that she loved him.
The trauma remains with Angel Thomas' family. As years went by and Brown was considered for parole, the board always notified Esther Brown in advance and followed up with the result when parole was denied — written reminders of the pain she'd never forget.
Esther Brown's family saw online that the parole board, on March 26, 2020, had again denied parole to Hugh Brown.
Then in late April, she received a call from a state official that terrified her: Hugh Brown had been paroled and was about to be released from prison.
How could that happen when the parole board had just denied parole in March, Brown asked.
"I was shocked. Shocked. Shocked," said Brown, who lives in Henrico County, said in a phone interview last week. "I cried. I was so angry."
According to emails obtained by the Richmond Times-Dispatch, Brown did not receive an automated notification about the March decision to deny parole because Adrianne Bennett, then the chairwoman of the parole board and now a judge in Virginia Beach, asked others to block notifications to Esther Brown while the parole board in April reconsidered the case.
Bennett said through a lawyer for this story that notifications were turned off because the board reconsidered its vote and didn't want to provide conflicting information to a victim's relative, and that the case was handled properly.
The Office of the State Inspector General identified problems with how the parole board handled Hugh Brown's case, according to a draft report from January obtained by The Times-Dispatch. Inspector General Michael Westfall, through a spokeswoman, declined to comment on the status of the investigation.
The parole board and Bennett are embroiled in controversy that began last year after whistleblower complaints that were investigated by the OSIG.
The watchdog agency, which reports to the governor, found violations of policy and law in how the parole board handled numerous cases, finding that victims were not properly notified in advance of parole being granted.
The main OSIG investigator who verified wrongdoing at the parole board filed a whistleblower lawsuit on Monday, admitting she had released records to lawmakers but alleging that Gov. Ralph Northam's staff tried to intimidate the agency out of looking into the parole board, and alleging Attorney General Mark Herring's office sanitized a report to remove substantial allegations.
Northam's and Herring's offices deny those allegations. Northam, whose chief of staff said OSIG was biased in its investigation, has joined calls by some lawmakers for an investigation of the entire controversy.
'You can hear the pain and fear in her voice'
In early March 2020, the Virginia General Assembly elected Bennett, the former parole board chair, to a spot on the Virginia Beach juvenile court bench that would commence on April 16, 2020.
According to the emails obtained in the Brown case, Bennett wrote to parole board staffers on April 1, 2020, to say the board would be voting again on whether to grant Brown's parole.
"There is one registered victim," Bennett wrote. "It does not appear that notification of the [March 26 decision not to grant parole] has gone out yet. Anyway to stop the notification?"
A staffer replied and said the notification of the March decision not to grant parole had not yet been sent to the victim's family.
The staffer followed up to Bennett: "Notifications have been blocked to the victim."
The parole board then voted for release. "Very bad case — but lots of support," Bennett wrote in an email. "Kinda of an if not now when kind of case. I would like to certify him sooner rather than later if he makes it so I can talk to the victims."
Bennett left the parole board; Northam replaced her as chairwoman with Tonya Chapman, a former police chief in Portsmouth.
On May 5, 2020, Chapman asked a parole board staffer about the Brown case, according to the emails.
"I noticed that victim notification was not made until today 5-5-20. Can you confirm that victim notification/input was not provided prior to the Board vote and certification last month?"
Chapman also asked about other cases where victim notification or input was not done before release.
The staffer then emailed Chapman to explain that she was told to block notifications in the case, and then after the board granted parole, she alerted staffers to unblock notifications.
"I was told that everything was okay and that the correct notifications were made," the staffer wrote to Chapman.
On May 12, a granddaughter of Esther Brown, the surrogate grandmother of the victim, wrote to the parole board asking for someone to call Esther Brown because she had received a call saying Hugh Brown was being released May 23 and was confused because the parole board website said parole was not granted. "THIS IS AN URGENT MATTER he should not be allowed in public!!!" the granddaughter wrote.
The next day, officials at the Department of Corrections and parole board were emailing about the situation.
A Department of Corrections staffer described the situation: "According to what the victim reported to my staff, [the parole board] informed her that Offender Brown is being released due to COVID-19 and there is nothing the victims can do about it. When the victim started talking about her granddaughter that was murdered, [the parole board staffer] countered by talking about her own grandmother and it did not sit well with this victim."
"I just wanted to give you the heads up in case it ends up at the Governor's office or in the media," the Department of Corrections staffer wrote.
Esther Brown asked if the parole decision could be reconsidered, a parole board staffer emailed to Chapman, saying, "She was so sweet and understanding but she cried and you can hear the pain and fear in her voice."
According to policy, Chapman wrote, that couldn't happen. Chapman did not respond to emails last week offering a chance to comment.
Esther Brown told The Times-Dispatch her family had previously sent a letter to the parole board saying their position would never change — that he should never be released. "They knew if they had called me I would have said, 'No. No.'"
Through an attorney, Jeffrey Breit, Bennett offered an explanation for Hugh Brown's parole.
She acknowledged stopping the victim notification for the March decision, but said it was because the parole board had quickly decided to reconsider the case after realizing information provided by an advocate for Brown was accidentally not provided to the parole board members who voted against his parole.
"It was discovered that Hugh Brown had advocates that had made a presentation on behalf of Hugh Brown that somehow had not made it into the system," Breit said. Parole board members who voted did not know it existed, he said.
"And so what Adrianne did at that point was [say] 'Have they sent out the notice for the family about the parole being denied? If it hasn't gone out, don't send it out.' The board members who did vote wanted to reconsider the advocates' presentation on Hugh Brown."
Notice of the decision in March not to grant parole was posted online by the Department of Corrections, Breit said, and the parole board was unable to remove it.
The Times-Dispatch asked Breit why the victim's grandmother wasn't notified of the reconsideration vote. State law says the parole board "shall endeavor diligently to contact the victim prior to making any decision to release any inmate on discretionary parole."
Breit said that wasn't necessary in this situation.
"It wasn't a final determination in March," he said. "It went on the website as final. But internally on the parole board, it was not final. ... They all knew immediately that they wanted to reconsider it because they were missing the advocates' position."
He said it was not precisely clear how the information from an advocate for Brown arrived at the parole board but didn't get put in front of the members who were voting in March.
"Someone in the parole board office realized that there were notes from an interview from the ... advocate that had not gone into the files of the parole board members that were voting," he said.
Bennett's explanation was not corroborated by statements another parole board member, Kemba Smith Pradia, gave to the Office of the State Inspector General, according to the January draft report obtained by The Times-Dispatch.
OSIG interviewed her in December as part of the investigation into whether law and policy were followed in the decision to release Brown.
"OSIG asked Pradia the reason Bennett gave to revote on [Brown]," the report says. "Pradia stated that she could not recall what, if any, reason Bennett gave regarding instruction to revote the case. OSIG then inquired about information Pradia received regarding the offender's case that made her change her vote from not grant to grant in less than one week's time. OSIG confirmed that no other information had been placed into the offender's case file after [the parole board's] first round of votes in March."
Esther Brown told The Times-Dispatch that she called the parole board at the time and could not get answers. The process left her angry and suspicious.
"With what he did to her, how could they let him out when they just denied his parole and gave the reasons why they denied his parole?" she said. "I'm from the old school. There's some money floating around in there somewhere.
"I still want to know, if he weren't able to get out, what did he do two weeks later to get himself out?"