There may be 39 ghosts, but 100 local actors are involved.
Martinsville filmmaker Myron Smith debuted his latest film, "39 Ghosts," Saturday in Lynchburg. The next will be Oct. 2 at the Spencer-Penn Centre.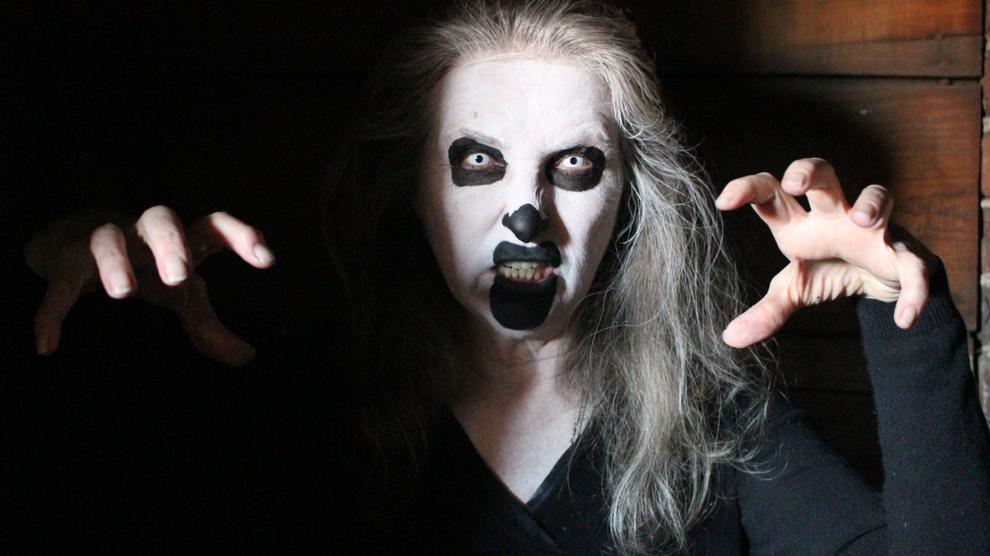 Smith and his brother, Mat Smith, made "Young Blood: Evil Intentions," released in 2012 at the Rives Theatre, then the 40-minute "Attack of the Killer Cicadas," released in 2014 at the Rives. Myron Smith also has created several Sweded (short versions) films, one released in 2016 at the HJDB Event Center and the other in 2018 at Hollywood Cinema. All were filmed locally with mostly local casts.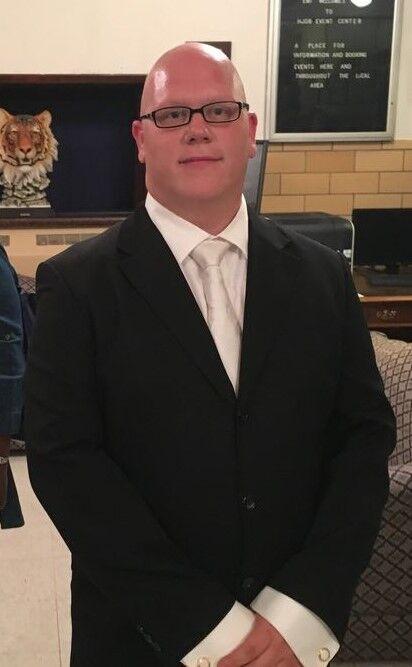 "39 Ghosts" is his first full-length solo production, at 84 minutes.
The premiere's timing is a familiar story: It was delayed because of the pandemic.
Most of the filming was done in February through May 2019, Myron Smith said, but then the project stalled: He went back to college as a full-time student in the Department of Photography & Film of Virginia Commonwealth University's School of Art.
Because he had started studies at Patrick & Henry Community College and Virginia Western Community College, he is only one class away now from his bachelor's degree. He is living in Martinsville, taking that class online.
Between semesters, Smith edited the film, including adding special effects and original music by Wes Frank Norman of Asheboro, N.C.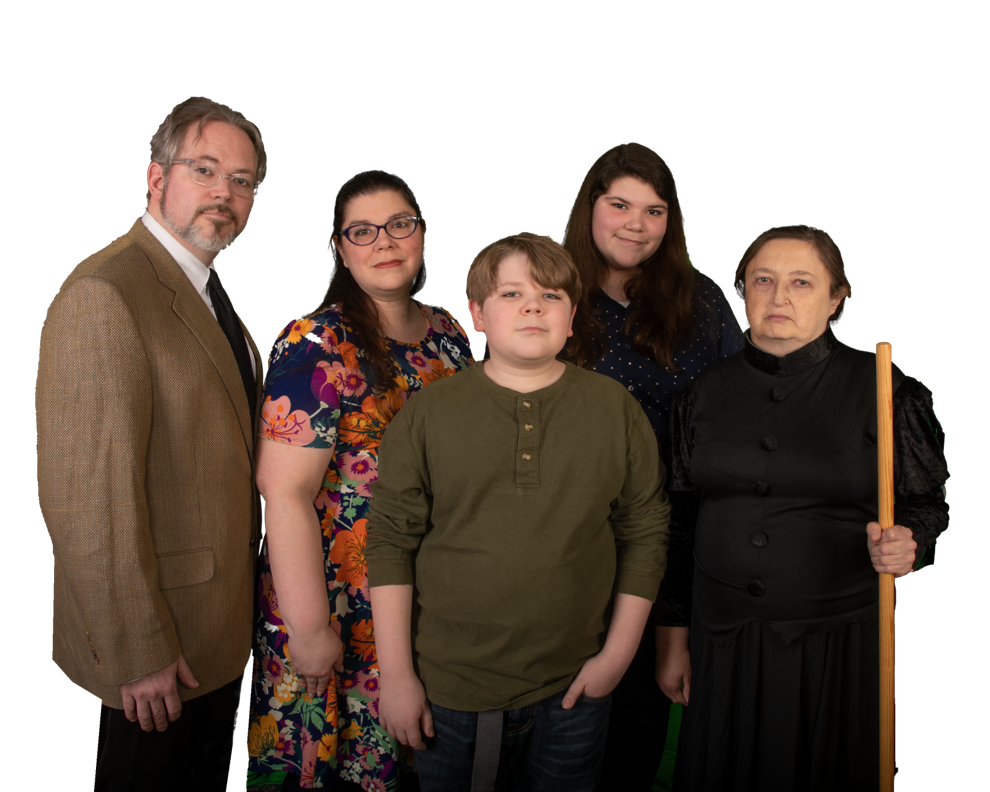 The movie is a parody of "13 Ghosts," a 1960 American supernatural horror film produced and directed by William Castle. It tells the story of a family who inherited a house that they discovered was inhabited by 12 ghosts who only could be freed when a 13th ghost comes along. A remake of the film, called "Thirteen Ghosts," was released in 2001.
In Smith's parody, "there's three times as many," he said.
The Rorrer family of Martinsville, regulars in Smith's films, portray the Kretzner family, who move into the house: Mal is the father, Melanie is the mother, Katherine is Darla and Max is Sonny.
Mal and Melanie Rorrer's other daughter, Lily, also stars in the film as a character outside the Kretzner family.
A house on Cleveland Avenue in Martinsville was used for filming, every other weekend over a span of three months.
"There was no electricity or running water," Smith said. He furnished and decorated the location with items he bought used and borrowed. Robbie Hendrix was invaluable as a location manager, Smith said.
Two groups of specialists respond to the scene of the ghosts. In parody of the "Scooby Doo" cartoon series, one group of characters travels in "The Mysterious Machine," a van in the style of the Scooby Doo show's "Mystery Machine." A man in Roanoke lent Smith his van, which is painted in that style, and Corey Greer of Roanoke created the "Mysterious Machine" decal placed on it for the film.
Then there are the Ghostbustaz, a crew modeled after characters in the 1980s movie "Ghostbusters." The actors playing them are real ghost hunters from Greensboro, N.C.
A scene also was shot inside the Virginia Museum of Natural History.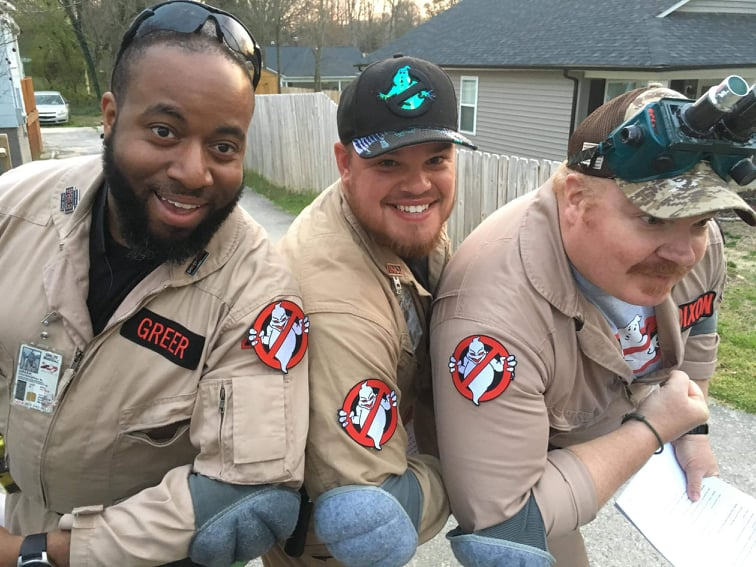 Smith said the concept began when he was writing a spoof of "13 Ghosts."
"It grew into something bigger," he said. "I usually have several ideas at a time that I play around with. Then I'll kind of commit to one. That was the one that sort of grabbed me."
The attraction, he said, came from "the challenge of creating all the different ghosts," including designing and making the costumes and makeup.
A third of the ghosts are modeled after the ghosts of the original movie, another third are based on the 2001 remake and the rest are Smith's own creations. His include Alice Pooper, dressed in long black hair and black-and-white makeup like 1970s rocker Alice Cooper, "intended to be a rock star who died while living an excessive life." He died on the toilet (reminiscent of Elvis), Smith said.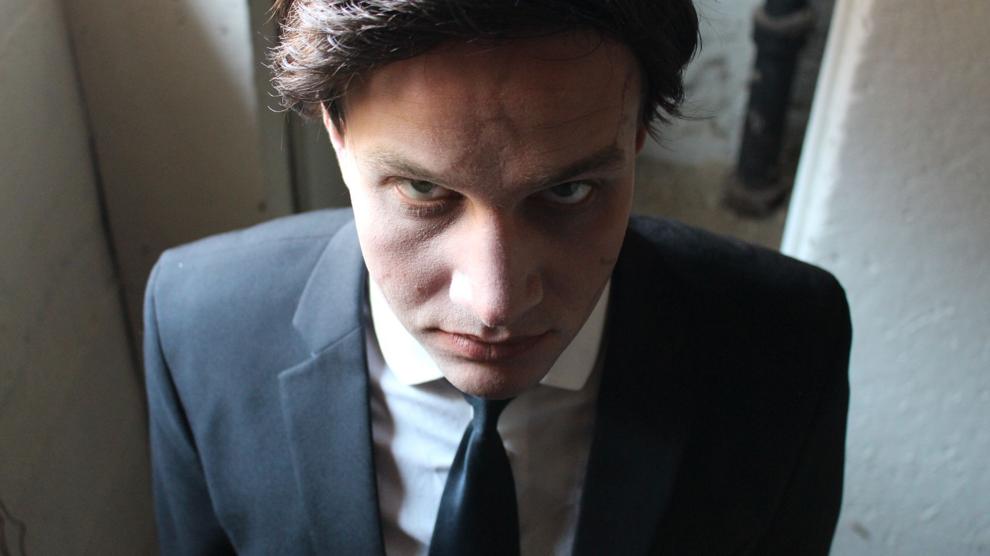 There's also Van Ghost, whose bloody ear was discovered; The Crazy Cat Lady, who had suffocated in her own house clutter; Gambling Gary, killed over a debt; and a disgraced nun, among others.
"They all represent a different, undesirable trait," Smith said. "Some of them are a little more obvious than others."
The late Stephanie Van Antwerp Davis was the head of the makeup department, supervising several makeup artists. Their artistry included liquid latex, fake wounds, special contact lenses and wigs.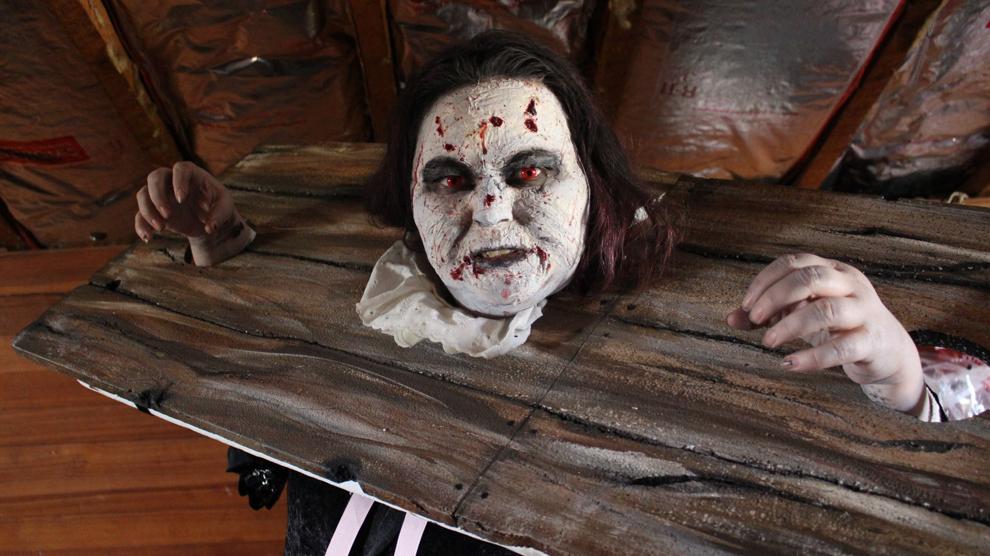 Ghosts' props included one with a sledgehammer and railroad spikes sticking out all over his body, one wearing a cage over its head and stockades reminiscent of Colonial history. Karen Colletti created a many of the costume effects.
To help with production expenses, Smith held a Kickstarter fundraiser in August. Thirty-eight people pledged $1,014 — $14 over the goal. However, that amount is small compared to what Smith has financed on his own.
Now that he has been in classes since he filmed this movie, "I am almost looking forward to making another film to show what I've learned since then," Smith said. "I have learned a lot since then. It almost downplays the accomplishments of the film."
He has upgraded much of his equipment since he started at VCU and made some improvements in production, he said.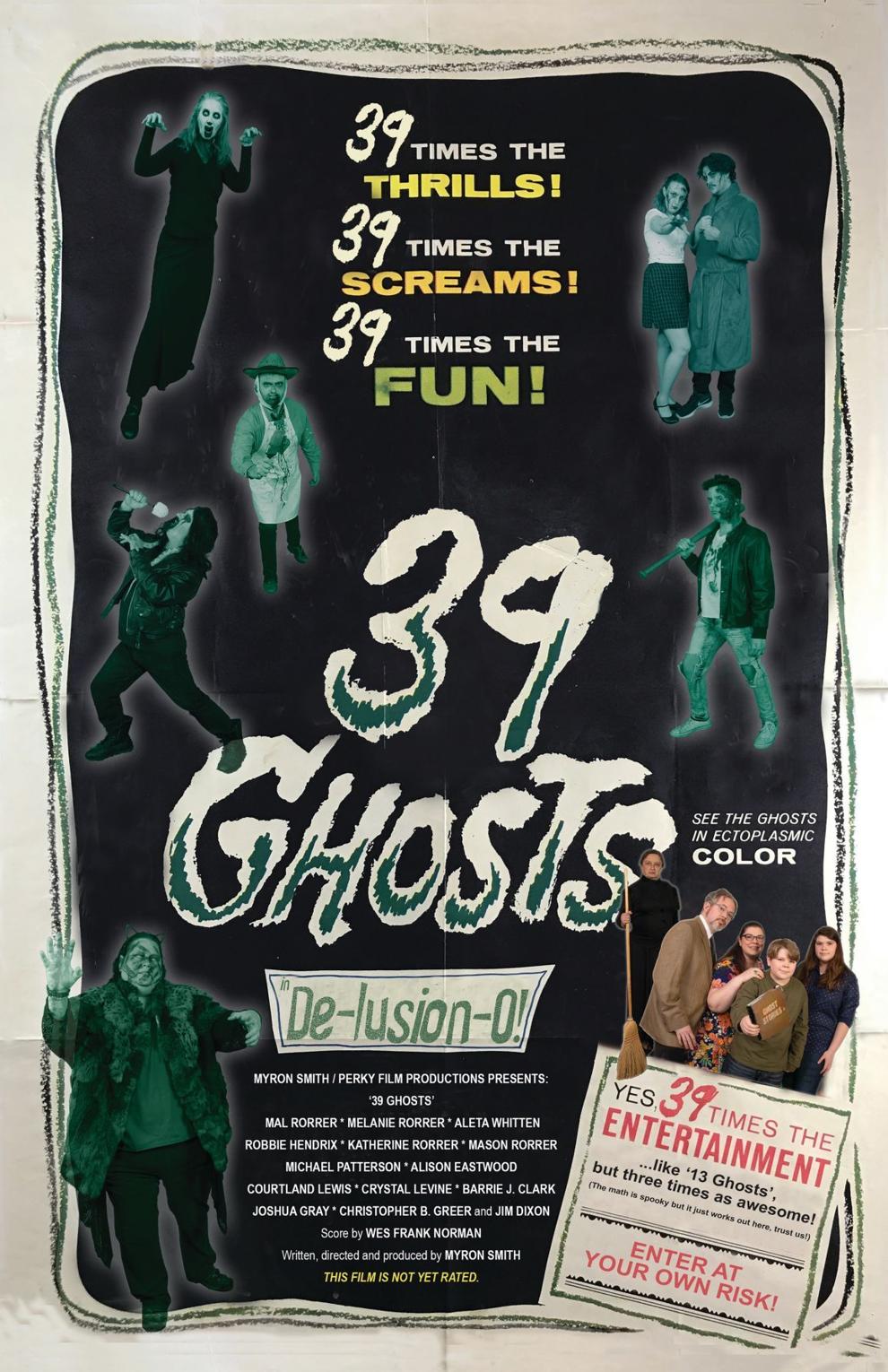 His previous experiences in film helped him get into the VCU program, he said: It was his third time applying. He didn't get accepted the first two times but got in this time — with a talent scholarship — thanks to clips he submitted, much of them created during his class at VWCC.
In fact, his "Young Blood" film emerged from his intentions to attend VCU in 2011. He had applied to be an illustrator but didn't get in then, he said.
That's when his art shifted from visual arts — including his activity book, "Crazed Mazes" in 2010 and 2011, and drawing flyers for Twisted Local Music concerts — to film. "Young Blood" inspired him to shift his focus to film.
An attraction of film is "the fact that people interact more with it," he said. "I had noticed, when I was drawing 'Crazed Mazes,' people only spend a few seconds looking at each drawing, but during the film … everybody stayed in their seats the entire time, and there's actual audience interaction. ... When I would sell copies of 'Crazed Mazes,' a lot of times I would not see their reaction."
When he finishes college, he said, "if I were to take a job working in a major movie studio set, I would hope that I would still have free time to work on projects of my own. There's a lot of things I'd love to do."