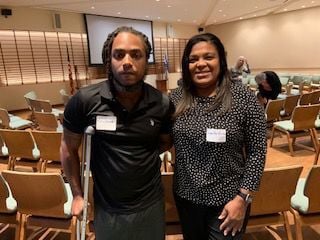 Two men allegedly injured by prison security dogs — one of whom was partially disabled — have filed civil rights suits accusing the Virginia Department of Corrections of the systemic, brutal use of canines on prisoners.
Curtis J. Garrett, 29, a former inmate, says he was attacked by dogs in 2018 at Sussex II State Prison, leading to permanent physical injuries and a mental breakdown requiring psychiatric hospitalization. Corey E. Johnson, 51, an inmate at Red Onion State Prison, was allegedly mauled by a dog there last May.
Both inmates contend they were obeying orders and not resisting corrections officers when attacked by the dogs, according to the suits filed in U.S. District Court in Richmond and Roanoke.
"Although the use of canines in a force capacity is widely recognized as an extreme and brutal measure, the official policies, practices, and customs of the Virginia Department of Corrections ... continue to allow the use of unmuzzled canines to terrify and attack prisoners," the suits allege.
The plaintiffs allege violations of Eighth Amendment protections against cruel and unusual punishment and name various Department of Corrections employees and officials as defendants.
They are seeking unspecified damages and a court-ordered end to prison policies that are said to "permit, condone, and ratify canine attacks on prisoners."
The Virginia Department of Corrections declined to comment on either lawsuit.
But Lisa Kinney, a DOC spokeswoman, said the department has 107 canine handlers and 115 canines. The department works with the Virginia Department of Criminal Justice Services for certifying canine teams, she said.
The DOC's partially redacted canine policy states: "The mission of the DOC Canine Program is to enhance public safety by utilizing canines as a manpower multiplier; to assist in the detection of narcotics, cellphones, and tobacco; to assist in control of offenders; and to assist in apprehension of escaping/absconding offenders."
The policy requires officers to immediately report any dog bites and to make sure the person who was bitten receives prompt medical care.
In an unrelated incident last month, the DOC said an officer and a dog were stabbed by inmates at Sussex II State Prison. The officer was stabbed six times in the hand, arm and side of his body.
He called for help, and a K9 officer and her dog responded. The dog was stabbed and required surgery, the department said. The officer and the dog were expected to recover, the department said of the Jan. 9 incident.
The inmates are represented by Rights Behind Bars and the Washington office of Arnold & Porter Kaye Scholer LLP. Kelly Jo Popkin, a lawyer with Rights Behind Bars helping represent both men, said that the department has engaged in misconduct with dogs for years.
"Guards have often used attack canines to terrorize incarcerated people, mauling them and leaving them mentally and physically broken. This widespread practice is not only barbaric — an abject act of dehumanization — but illegal, and cannot be tolerated in a just society," she wrote in an email.
The suits say that many states have prohibited or severely restricted the use of "attack dogs" in confinement settings and that constitutional protections against excessive force and the DOC's own policy restrict the use of force to only as a last resort.
"The use of canines to attack prisoners in VDOC facilities is systemic and has led to severe physical and psychological injuries in prisons. Among the many ways, VDOC officers deploy canines against prisoners during cell extractions, which involve the forcible removal of prisoners from his or her cell," according to the suit.
The plaintiffs contend that "the use of unmuzzled canines by prison officers as a means of forcing and intimidating a prisoner to voluntarily leave his cell has been widely recognized as an extreme, brutal, and unnecessary tactic."
Many corrections experts, according to the suits, recognize "the notion that dogs are different; they cannot simply be considered as another way of exercising force over a prisoner; that there is something inherently troubling about the use of a trained attack dog to bite prisoners."
DOC records show that Garrett was released from Wallens Ridge State Prison in May 2019 after serving six years for unlawful wounding and malicious wounding convictions in Lynchburg and Norfolk. Johnson is serving two life sentences imposed in Richmond in 2005 for two murders.
Garrett's suit states that on Dec. 25, 2018, he was assaulted by another inmate at Sussex II State Prison and retreated to his cell. When he saw two officers and their dogs approach, he turned around and presented his hands behind his back to be cuffed so he could be led from the cell, according to the suit.
"Without warning or provocation, [the officers] entered the cell and unleashed their canines, ordering them to attack Mr. Garrett. The two canines bit Mr. Garrett's left arm and right leg while the two officers punched and kicked Mr. Garrett repeatedly," alleges the complaint filed Dec. 23.
According to the suit, "Mr. Garrett collapsed to the ground under the force of the Patrol Canine Unit's attack."
The dog handlers allegedly "pulled Mr. Garrett up without ordering the canines to release their hold on Mr. Garrett's arm and leg. The canines sank their teeth deeper into Mr. Garrett's arm and leg when he was pulled up into the air, causing them to hang in the air, still attached to Mr. Garrett by their teeth as he was lifted."
The suit said he was transported to the emergency room at a hospital, where a doctor disinfected the bite wounds and gave him stitches.
"Mr. Garrett suffered extensive nerve damage caused by the canine attack," he alleges. "Because of this damage, Mr. Garrett had no sensation or control over his dominant left hand. Following the attack, Mr. Garrett could no longer write with his hand or engage in normal activities that required opening or clenching his hand to its fullest extent."
He was unable to extend his left arm fully and suffered sharp, shooting pain throughout the left side of his body emanating from the canine wound, according to the suit.
In addition to Garrett's inability to write or engage in many everyday activities, he allegedly has extensive nerve damage to his left leg and pain in his right leg.
"Mr. Garrett has recurring nightmares of the attack that often render him unable to sleep," the lawsuit says.
"He has severe panic attacks at the mere thought of dogs barking," the suit says. "And, sadly, [in November], Mr. Garrett was institutionalized at [a psychiatric hospital] for a mental breakdown caused by trauma associated with the canine attack and aftermath."
Popkin said this week that Garrett has since returned home and that long-term care was being sought for him, "as he's still struggling a lot and not leaving his room."
Johnson's suit says that on May 20, he was in a fistfight with another inmate near telephone booths and the two began to wrestle on the ground. While straddling the other inmate, Johnson was struck in his back and arm several times with gas canisters fired from a nearby control booth.
A spokesman for the department — not responding to a question about this suit — said officers in control rooms at higher-security-level facilities no longer have weapons that fire gas canisters. But they may have "less-lethal weapons with impact munitions" as well as pepper spray.
In any case, the suit alleges that soon after Johnson stopped fighting and stood up, a "canine unit" arrived. Anticipating being told to get down on the ground, he did so.
The suit claims that while he was lying motionless and facedown with his arms extended outward, a prison dog under the control of a handler "proceeded to maul Mr. Johnson's right wrist and arm, dragging him several feet, while other defendants chose to stand by and let Mr. Johnson suffer."
Johnson suffered wounds in his right arm and hand requiring a trip to a hospital emergency room and 21 stitches. Johnson still suffers injuries from the attack, including nerve damage in his right arm, the suit alleges.
The dog handler involved later alleged that Johnson approached another officer in a threatening manner, justifying the release of the dog. Johnson denies threatening the officer, whom he said he never saw during the incident.