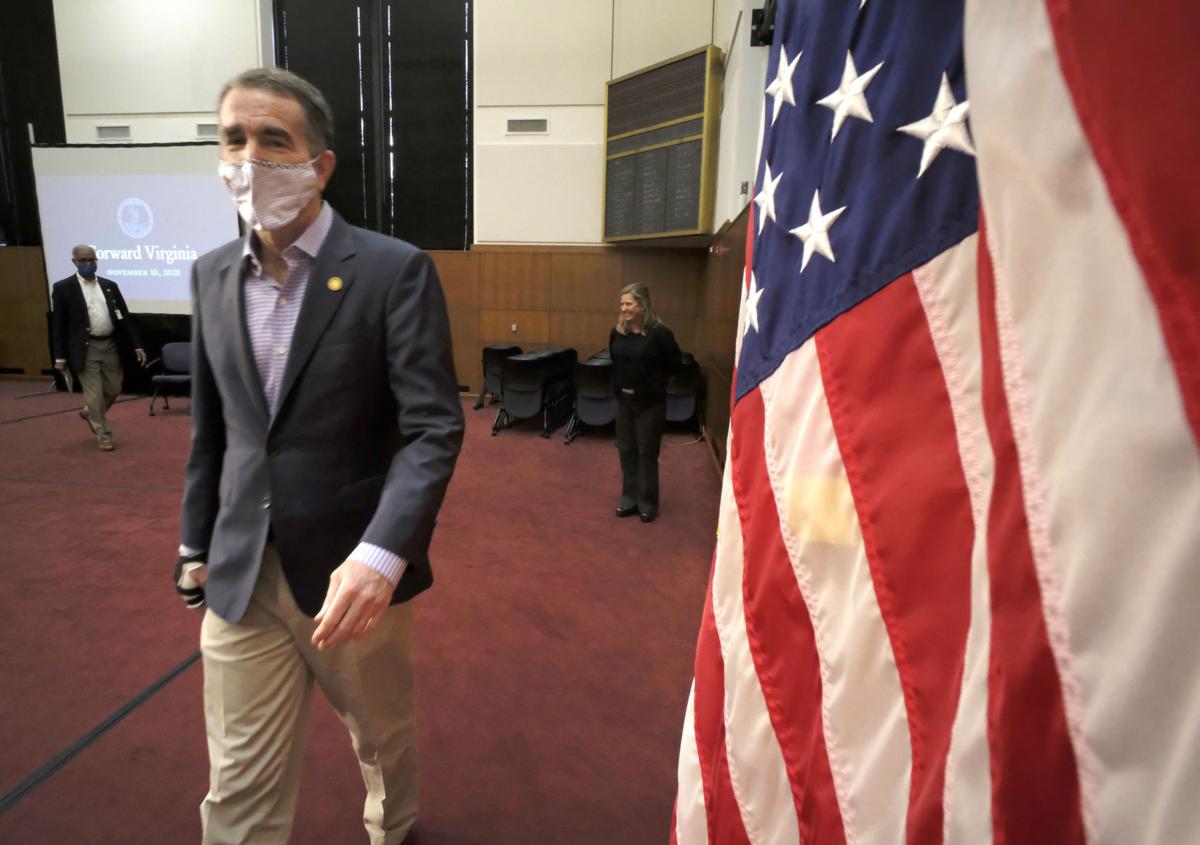 Following a surge in COVID-19 cases and hospitalizations across Virginia, Gov. Ralph Northam announced Friday retightened restrictions that ban gatherings of more than 25 people and the selling of alcohol for on-premise consumption past 10 p.m.
The new rules went into effect Monday, and there's currently no end date.
Here are the noteworthy changes set forth by the governor and who they affect:
Public and private social gatherings must be limited to 25 people
Restaurants can't sell alcohol past 10 p.m. and patrons must consume alcohol while seated and within the establishment by 10 p.m.
All dining and congregation areas must close at 12 a.m., but takeout and delivery can still be offered between midnight and 5 a.m. Takeout alcohol can be sold until 11 p.m.
Grocery stores and pharmacies now have an enforceable penalty — a Class 1 misdemeanor, punishable by up to 12 months in jail and a fine of up to $2,500 — if found in violation
People ages 5 and up are required to wear masks in indoor public spaces; the last mandate was children 10 and older.
Group classes in fitness centers cannot exceed 25 people, including instructors.
Public beaches remain open, but beachgoers must still adhere to the 25-person limit
Private booking groups at large amusement parks cannot exceed 25 people
Indoor and outdoor recreational sports can continue, but there cannot be more than 25 spectators
Places that can exceed 25 people gathered or whose occupancy is unchanged include:
Restaurants, breweries, wineries, food halls: no capacity limit with 6 feet of distance
Retail stores: no capacity limit with 6 feet of distance
Fitness centers limited to 75% of minimum occupancy; outdoor and indoor swimming pools are still open
Large amusement parks remain open at 50% capacity and up to 4,000 people
Schools: unchanged capacity limit
Churches: unchanged capacity limit
Farmers markets: unchanged capacity limit
Entertainment locations such as concert venues and sports arenas can't exceed 250 people, and 10 feet of social distancing is required
Racetracks and speedways cannot exceed 250 people
Races and marathons can have up to 250 participants with groups of 25 maximum
The 25-person cap, down from what was previously 250, applies only to public and private in-person gatherings, regardless of whether they are outdoors or indoors.
But those sites — restaurants, schools, churches, event venues and gyms — collectively make up nearly 50% of the state's outbreaks, according to the Virginia Department of Health's website. That includes colleges and universities, which the VDH marks as comprising 2,608 cases. Yet, universities statewide were self-reporting on their own dashboards upward of 5,000 cases in early October.
Congregate settings, which include churches, fitness centers and restaurants, are 38% of the Virginia's total outbreaks alone, contributing 5,334 COVID cases and 63 deaths since the start of the pandemic in March.
Monday saw a 5,375 spike in COVID-19 cases, a fact the VDH attributes to the system catching up after being down briefly over the weekend. Still, the cases push Virginia's number to more than 200,000, with the state averaging 1,500 new cases per day. In May, the peak sat at 1,200.
Northam said in a video Friday that the virus is spreading in indoor places like restaurants and "at small social gatherings like dinner parties." Yet even though the restrictions do not impact restaurant capacity, the rules limit its sales and closing times.
Northam's 25 person gathering limit announcement left many questions unanswered - and few responses
The governor's initial statement, released just before 3 p.m. Friday, left some scrambling for answers on whether the 25-person limit applied to churches, schools, fitness centers and already struggling restaurants.
But the governor's office would offer few answers — even as late as Monday evening.
Specifics were not available when Friday's news release was sent, and the governor's office had still not replied to three emails with questions from the Richmond Times-Dispatch as of Monday evening.
The lack of response from the office — and the governor's decision to release the new guidelines in a video message and news release, rather than at a news conference where reporters could ask questions — meant media outlets struggled to get clarification, and therefore report, whom the 25-person limits would affect.
As a result, some localities, including the city of Richmond, had incorrect guidelines on their own websites for several hours Friday. Some media outlets opted against reporting guideline specifics, as they were unavailable.
Many other outlets attempted to share updates via social media or bolded text and clarifications on their websites.
In at least once instance, a reporter for a television station in the District of Columbia and Northern Virginia tweeted Sunday morning at Northam spokesperson Alena Yarmosky, asking her to reply to an email about which types of businesses were included.
Around 7 p.m. Friday, Yarmosky tweeted: "It's important to note that the 25 person gathering ban, as always, applies to gatherings. That means parties, celebrations, or group hangouts — it does not apply to religious services, employment settings, retail stores, or school classrooms." But questions remained pertaining to any business or guideline omitted from Yarmosky's list.
VCU, which aimed to permit 1,000 people in the 7,637-seat Siegel Center, said Monday afternoon it was still awaiting clarification on what it could do.
Further confusion came from the date and time of when the rules would take effect. The governor's initial news release had the wrong date — originally saying "measures will take effect at midnight on Sunday, November 16" before a corrected release was sent saying "midnight on Sunday, November 15."
But the use of midnight is confusing since it could be interpreted to mean Saturday into Sunday, not — as was intended, Sunday into Monday. The governor's signed executive order makes the effective date and time "12:00 a.m., Monday, November 16."
All of the ambiguity — and the lack of answers — sowed confusion across Virginia, and it's unclear why. The governor's office has not responded to a request for comment on the poor communication with the latest guidelines.