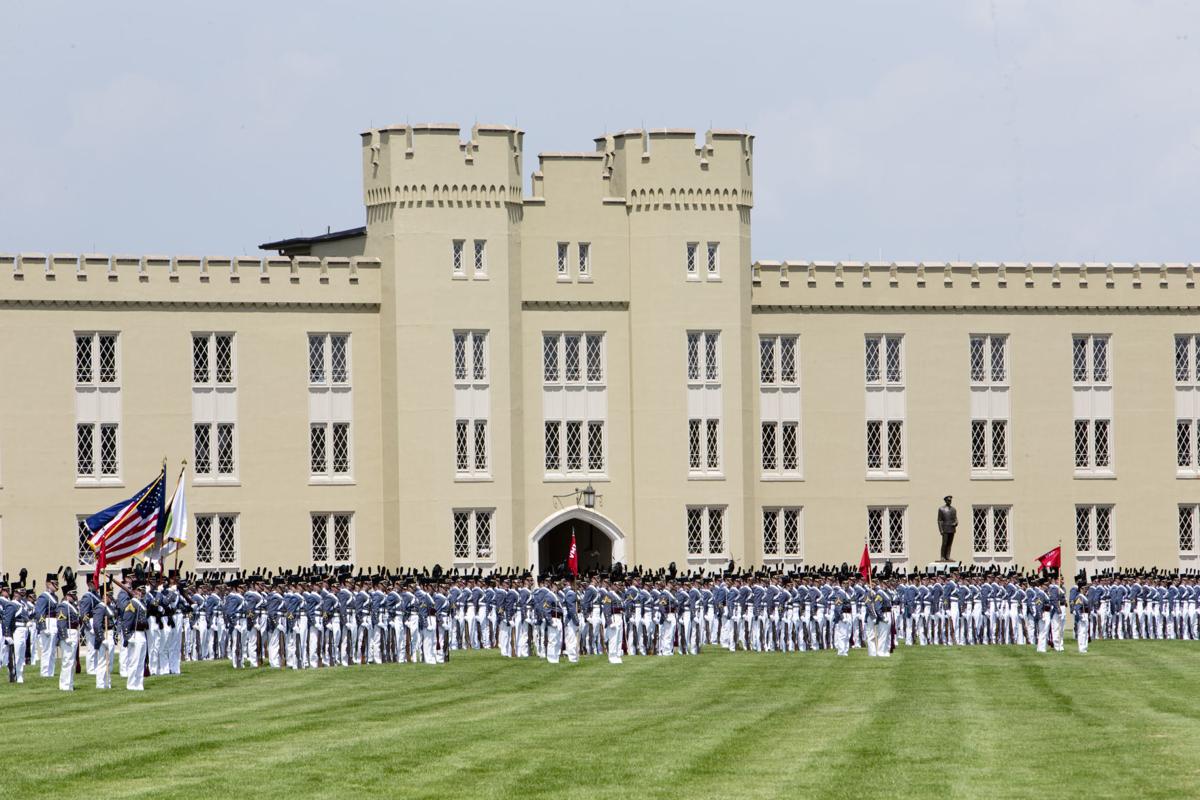 Virginia Military Institute's leadership on Tuesday pledged full cooperation in the independent investigation ordered by state officials but denied that systemic racism exists at the nation's oldest state-supported military college.
"I welcome an objective, independent review of VMI's culture and the Institute's handling of allegations of racism and/or discrimination," Board of Visitors President John "Bill" Boland wrote in a two-page reply to Gov. Ralph Northam. "I am confident that the reviewers will find that the Institute has acted according to the values that we aim to instill in our cadets — with honor, integrity, respect, and civility."
Gov. Ralph Northam and 10 other state leaders on Monday sent a letter to the college's board of visitors directing an independent, third-party investigation into the culture of the military college following a report by The Washington Post detailing "relentless racism" experienced by Black cadets.
The Roanoke Times first reported in June about cadets and alumni speaking out against racism and pushing for change. That story did not elicit a public reaction from Northam or other elected officials. Northam's office did not immediately answer on Tuesday whether the governor communicated with VMI, his alma mater, prior to Monday.
Boland contended that the incidents reported in The Post "had more to do with an individual's lapse of judgement than they do with the culture of the Institute." In each case, Boland wrote, "appropriate action was meted out in a timely fashion."
"Virtually all colleges in the 50 states can point to inappropriate behavior by their students or faculty members. VMI is not immune," Boland wrote. "However, systemic racism does not exist here and a fair and independent review will find that to be true."
Northam, Lt. Gov. Justin Fairfax, Attorney General Mark Herring and top state legislative leaders, all Democrats, signed on to Monday's letter expressing "our deep concerns about the clear and appalling culture of ongoing structural racism" at VMI.
"Black cadets at VMI have long faced repeated instances of racism on campus, including horrifying new revelations" from The Post report, the letter said.
The Post described a hostile and culturally insensitive environment toward Black cadets, including a lynching threat and a faculty member who "reminisced in class about her father's Ku Klux Klan membership," according to the article.
"In addition, VMI cadets continue to be educated in a physical environment that honors the Confederacy and celebrates an inaccurate and dangerous 'Lost Cause' version of Virginia's history," the letter from state leaders said. "It is long past time to consign these relics to the dustbin of history."
In response to a slew of petitions over the summer, VMI's superintendent, retired Gen. J.H. Binford Peay III, released a seven-page letter in late July detailing changes to longstanding traditions and other actions "that moves us forward."
Following the Board of Visitors' September meeting, Boland said board members supported the goals outlined in Peay's letter and expected a detailed plan of actionable items before meeting again in January 2021.
Boland pointed to this in his Tuesday letter, writing that "administrators have already begun a review of nearly 30 operational elements of the Institute including traditions, ceremonies, culture, and the relationships between our cadets and alumni just to name a few."
But the changes appeared to be too little, too late for state leaders, who said in Monday's letter that The Post's allegations "suggest that VMI leaders are not moving fast enough or embracing the fundamental commitment to diversity that Americans expect from every institution in the 21st century."
"As the Institute's governing board, you bear the ultimate authority for immediately addressing these concerns, but it is clear that internal action alone is no longer sufficient for VMI to join in the commitment to diversity and equity that the rest of Virginia's government is embracing," the letter said.
The governing board is made up of 17 members appointed by the governor. Of the current members, three are Black and two are women. Northam has the authority to remove board members for "malfeasance, misfeasance, incompetence, or gross neglect of duty," according to state law. The governor is the sole judge as to whether there is sufficient cause to remove a board member.
'Do things on our own terms'
Black alumni who spoke out in June amid the wave of racial justice protests following George Floyd's death asked VMI to acknowledge that racism existed and to make changes, starting with the removal of the statue of Confederate Lt. Gen. Thomas "Stonewall" Jackson that sits in front of the barracks. Jackson, a Confederate general who also owned six enslaved people, taught at VMI before the Civil War. First-year cadets — known as "rats" — until recent years were made to salute his statue, which was erected in 1912. Multiple buildings are named for Jackson and other notable VMI alumni and faculty who fought for the Confederacy.
Kaleb Tucker, who graduated in May, and other Black alumni spoke out on social media beginning in June sharing their experiences, and Tucker started a petition asking VMI to remove the statue. It was followed by a counterpetition from alumnus Jeremy Sanders, who wrote that VMI had been painted "in a slanderous light," and that "the very core of the Institute is under attack by those who seek to destroy these noble ideas that have made VMI cadets an 'honor to their country and their state'."
In July, a group of alumni who graduated in the '90s co-wrote a letter that did not propose specific solutions but instead asked VMI leadership to create a commission to review and reconsider "every element of VMI that possesses direct or indirect connection to the Civil War, the Confederacy, or the defense of slavery" and "determine whether they comport or conflict with VMI's mission and values."
At the time, alumnus Shah Rahman said the idea was to "do things on our own terms while we still can before we're made to do those things that are inevitable."
VMI declined to create a commission or remove the Jackson statue, instead announcing in late July with Peay's letter that it would would emphasize history from its second century and alter certain traditions. Among the changes, the New Cadet Oath ceremony was moved to school grounds. The ceremony had traditionally taken place at the New Market Battlefield, where cadets charge across in memory of 10 cadets who died fighting for the Confederacy.
VMI was the last public college in Virginia to admit Black students, which it did in 1968. Women did not attend VMI until 1997, following a 1996 U.S. Supreme Court decision. At the time, the Board of Visitors briefly considered turning private to avoid having to comply.
VMI received $19 million in state aid during the last fiscal year, according to its budget.