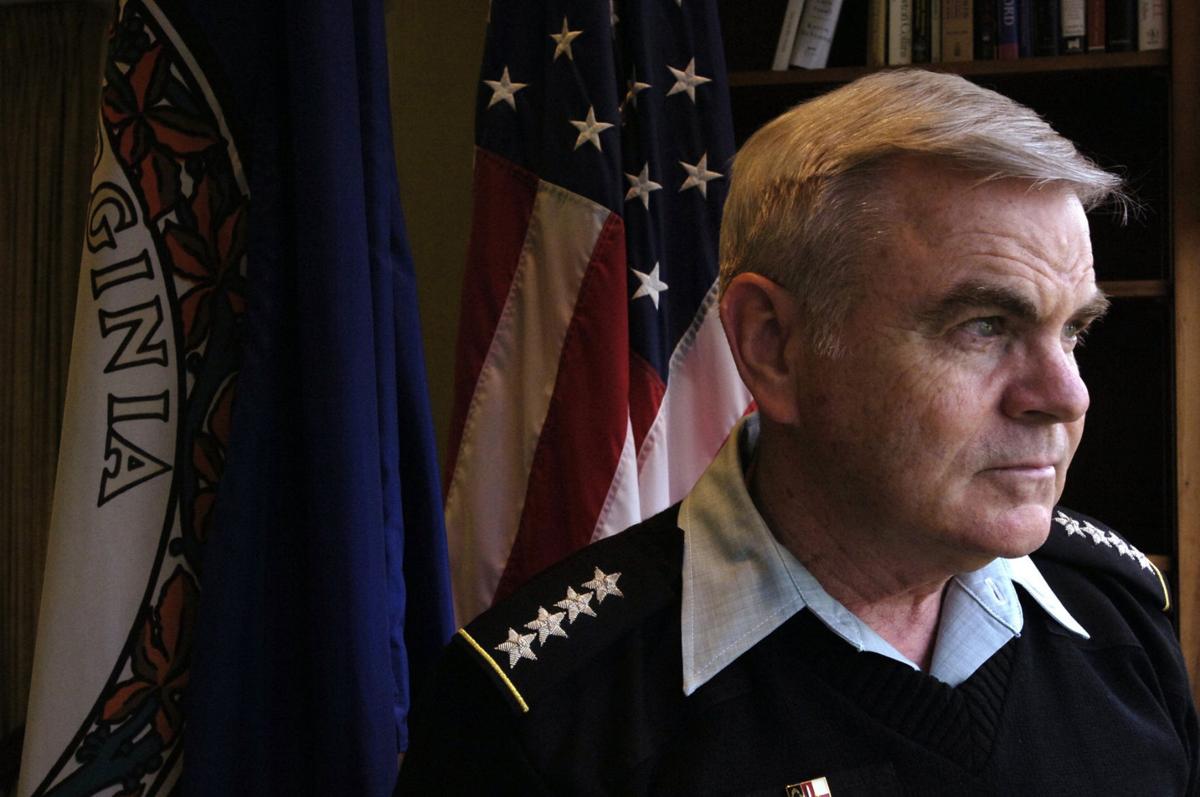 Retired Army Gen. J.H. Binford Peay III resigned as superintendent at the request of state leaders, according to his resignation letter.
On Friday, Northam chief of staff Clark Mercer "conveyed that the Governor and certain legislative leaders had lost confidence in my leadership as Superintendent of the Virginia Military Institute and desired my resignation," Peay wrote.
Peay, 80, served as superintendent of his alma mater since 2003, which he called "the honor of my life."
VMI's board of visitors accepted Peay's resignation "with deep regret," President John Boland said in a statement. "General Peay is a great American, patriot, and hero," Boland said.
Political pressure has been building for Northam, a 1981 graduate of VMI, to take further action against the board of visitors. Over the weekend, former Gov. Doug Wilder, the first African American elected governor in U.S. history, called on Northam to immediately remove the board members or resign himself.
Northam's office has not answered questions about whether he was looking into removing any board members, which he has the authority to do.
"As the nation's oldest state-run military college, VMI has the opportunity to counterbalance a long legacy with a clear-eyed view of the future," Alena Yarmosky, Northam's spokeswoman, wrote in an email. "Change is overdue at VMI, and the Board of Visitors bears a deep responsibility to embrace it. Diversity is a fundamental commitment. Without this recognition, VMI cannot properly educate future citizen-soldiers nor live up to its values of honor, character, and service. The Governor is committed to ensuring all Virginia institutions of higher education are sustainable, successful, and welcoming to all students, faculty, and staff. He wishes General Peay well and is grateful for his decades of public service."
Boland said the board will "immediately turn its attention to the search for our new superintendent."
Brig. Gen. Robert "Bob" Moreschi, deputy superintendent for academics and dean of the faculty, will serve as acting superintendent, according to the college's website. Moreschi has been at VMI since 2002, where he started as an associate professor of finance. He became a full professor in 2007 and was granted tenure in 2008, later heading the economics and business department.
VMI was thrown into the national spotlight last week after The Washington Post published a report detailing "relentless racism" experienced by Black cadets.
In response, Northam and 10 other state leaders wrote a letter to the board of visitors ordering an independent, third-party investigation. The co-signatories, all Democrats, wrote to express "our deep concerns about the clear and appalling culture of ongoing structural racism."
Boland pledged VMI's full cooperation, but he categorically denied that systemic racism exists on campus.
"Virtually all colleges in the 50 states can point to inappropriate behavior by their students or faculty members. VMI is not immune," Boland wrote in a response. "However, systemic racism does not exist here and a fair and independent review will find that to be true."
In his statement announcing Peay's resignation on Monday, Boland indirectly referenced the scrutiny that VMI faces.
"I ask that our alumni remain focused on the positive mission and support the Institute and Board as we secure a future in which the Institute continues to contribute in unique and vital ways to our nation and state," Boland wrote.
The Roanoke Times first reported in June about alumni's push for change at VMI, which received $19 million in state aid during the last fiscal year.
Northam's office has not responded to questions about whether state leaders previously communicated concerns to VMI leadership between June and when The Post published its story.
Black alumni and former cadets spoke out on social media over the summer about their experiences and pushed for VMI to move its statue of Confederate Lt. Gen. Thomas "Stonewall Jackson," which cadets until several years ago were made to salute.
Jackson taught at VMI before the Civil War and owned six enslaved people when he lived in Lexington.
Another alumnus created a counterpetition asking the college to keep the statue.
A group of alumni who graduated in the '90s also asked the college to create a commission to review elements connected to the Civil War, Confederacy and slavery.
Following the flurry of alumni activity and discourse over the college's history, Peay in July wrote a seven-page letter detailing changes. Statues and building names would remain, he wrote, but the college would emphasize history from its second century and alter certain traditions, among other changes.
VMI racially integrated in 1968, the last public college in Virginia to do so.
Peay was the 14th superintendent of VMI. Born in Richmond in 1940, he graduated from VMI in 1962, where he quarterbacked the football team, according to his biography. He served in the Army for more than 30 years, including two tours in Vietnam. He later served as a senior aide to the chairman of the Joint Chiefs of Staff, as assistant chief of staff and as executive to the chief of staff. He also led the 101st Airbone Division throughout Operations Desert Shield and Desert Storm before serving as the Army's 24th vice chief of staff. In his final assignment, he served as commander in chief of the U.S. Central Command.
Republican legislators on Monday criticized Democratic lawmakers and Northam for pressuring resignations and removal of leaders prior to the conclusion of the investigation.
Del. Ronnie Campbell, R-Rockbridge, who represents the House district that includes VMI, said Northam went after VMI because of Peay's decision this summer not to remove Confederate monuments or rename buildings at the school, which has a long history and association with the Civil War and Confederate leaders.
Campbell said in a statement that Peay "took the high road, refusing to drag the board of visitors through the process of determining whether or not he should be fired."
"Once again, in a testament to his extraordinary integrity and character, the General of 17 years put the well-being of the school and students above his own," Campbell said.
House Minority Leader Todd Gilbert, R-Shenandoah, faulted Northam for moving to force out Peay ahead of the investigation.
"When Governor Northam admitted to wearing blackface and appearing in a racially offensive photograph, he sought the grace of the public's forgiveness. If polling is to be believed, the public has largely extended that grace to him," Gilbert said in a statement.
"Now the Virginia Military Institute stands accused of accommodating racist incidents. It's a shame that Governor Northam couldn't extend the same amount of grace that he's been afforded with his own past, at least until we know all the facts."
In February 2019, Northam initially apologized for appearing in a racist photo on his page in his 1984 medical school yearbook. A day later he said he was not in the photo. It also became public that Northam's nickname in the 1981 VMI yearbook was "Coonman." Northam has maintained that he didn't know why his friends gave him the nickname.
Del. Kirk Cox, R-Colonial Heights, a former House speaker who is considering a run for governor, said Monday that the behavior alleged at VMI is "abhorrent and unacceptable," but he said "precipitous actions" by the governor and some legislative leaders set "a very dangerous precedent."
"I am deeply disappointed that General Peay was not afforded the respect he deserved by the Governor and the other elected officials who saw fit to demand his resignation only days after calling for an investigation of incidents alleged in the news media," Cox said in a statement.
"The Governor, in particular, should understand the importance of withholding judgment until the facts are in and should treat others with the same grace he once sought for himself."
Roanoke Times staff writer Amy Friedenberger and Times-Dispatch Politics Editor Andrew Cain contributed to this report.