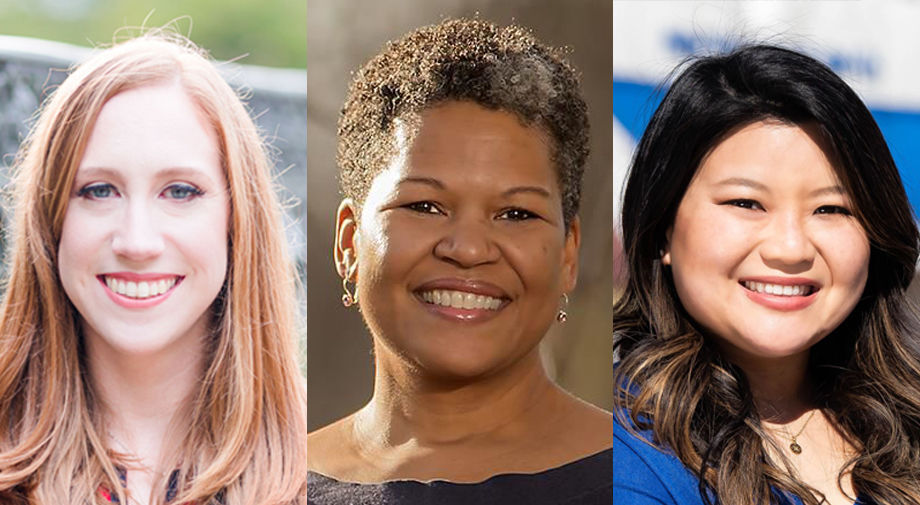 Michelle Maldonado, Irene Shin and Elizabeth Bennett-Parker are not household names in Virginia politics.
But on Tuesday, they beat three of the Democratic men in the House of Delegates who generated above-average attention: Del. Lee Carter, the Democratic socialist with a lively Twitter account; Del. Ibraheem Samirah, the lawmaker who was escorted out of President Donald Trump's remarks at a Jamestown anniversary event in 2019; and Del. Mark Levine, known as the most fervent advocate of gun control in the legislature.
Here's a look at the three successful Democratic nominees in the Northern Virginia-based districts, who spoke to the Richmond Times-Dispatch about why they decided to run for office.
Maldonado is a native of Massachusetts whose family lived in Manassas in the 1970s. She moved back to the area permanently in 1993 and lives in Prince William County's Bristow area.
Maldonado beat Carter, D-Manassas, in the primary in House District 50 after he focused his attention on a run in the Democratic primary for governor but remained on the House ballot.
She is the daughter of educators and worked in corporate law after earning a law degree from George Washington University, where she and a colleague became the first women of color to simultaneously hold the posts of president and vice president of the student bar association.
Maldonado moved into business, and now owns her own consulting business called Lucenscia. She trains businesses, nonprofits and government on leadership, with a focus on equity. Her clients have included New York University, the National University of Singapore, and the United Nations Foundation, which hired her to create a program for humanitarian workers and peacekeepers.
After the Jan. 6 insurrection at the U.S. Capitol, she worked with congressional offices coping with trauma, she said.
Maldonado had never run for office. She said the pain caused by the COVID-19 pandemic, racial injustice and the political divide in the country, including Jan. 6, prompted her to run.
"There was so much happening that it was like a call. I had to answer the call. To at least try to make a difference as we bring people together and continue the good work that's already being done at the state level," she said.
If she's elected in the fall, she said, her priorities are a strong economy to provide tax revenue for schools and raises for teachers, looking at what the state can do to make housing more affordable, and examining the possibility of collective bargaining for teachers.
"I want to look at closing the wealth gap and the gender pay gap in particular, too."
She said she wants her community to know that she's inclusive.
"I know that there's a lot of excitement around my candidacy, but I also am very mindful and aware that there are people who are really disappointed today," she said, "that feel like their candidate didn't win so they're not sure there's a place for them. And I want really want to assure them that there is a place for them."
In the fall, Maldonado will face Republican Steve Pleickhardt, a dentist from Bristow.
Shin was so surprised she upset Samirah in Herndon-based House District 86 that she only had a concession speech written in her phone.
"I was totally and still am very overwhelmed," said Shin, the daughter of Korean immigrants who grew up in Los Angeles, where her father runs a small auto body shop, before moving to Virginia in 2014.
Shin's parents spent the last few months in Virginia helping her campaign. Her mother wrote thank-you cards to donors and became a known commodity in the community.
"My mom has probably knocked more doors than I have," Shin said. "... I wouldn't have been able to do any of this without my parents."
Shin has worked a variety of jobs in politics, including as a finance director in Southern California for then-Sen. Kamala Harris. She is now executive director of a nonprofit, the Virginia Civic Engagement Table, which works with progressive groups on policy, like Medicaid expansion and voting rights.
Seeing Harris sworn in as vice president, and seeing what she thought was a lack of representation in her House of Delegates district, prompted her to run, she said.
"Seeing her get inaugurated in January really reminded me how representation matters," she said. "... I spent so much of my career talking to folks and encouraging them to run for office, telling them representation matters, that I thought maybe it was time for me to do it myself."
In the general election, Shin will face Republican Julie Perry, a history teacher.
If elected in the fall, policy priorities for Shin are expanded paid sick leave, paid medical leave and expanded preschool. She described herself as progressive and said she'd work to overturn Virginia's so-called "right to work" law, which limits the power of labor unions.
"The urgency of this moment is too great to waste time with ineffective leadership and ego," she said.
With Levine focused on a run for lieutenant governor but remaining on the ballot in his House district, Bennett-Parker felt optimistic about her chances of winning the primary in Alexandria-based House District 45.
She is the city's vice mayor and was elected to the council there in November 2018.
She was born in Alexandria, and both of her parents served in the Navy.
"Their service is really one of the things that inspired me to enter public service," she said.
Bennett-Parker in 2014 started a small business called Fruitcycle, which bought produce from farmers that otherwise would have been wasted, turned it into healthy snacks like apple chips and trail mix, and sold it to stores in the Washington, D.C., region.
She later merged that into a nonprofit she now co-leads called Together We Bake. The nonprofit works with women who were incarcerated, homeless, recently immigrated or survived abuse.
The nonprofit provides training in food production to help women become certified for jobs, and offers empowerment groups and other programs. About half the staff graduated from the program.
Bennett-Parker will face Republican J.D. Maddox, a small-business owner and former CIA official.
She said the economy, education and stopping climate change will be priorities if she's elected in the fall.
"I'd look forward to working with my colleagues collaboratively to make sure ... that we're building an economy that works for all of us," Bennett-Parker said. "That includes supporting small businesses and supporting our workers and passing paid family and medical leave."
And she noted that the legislature sets the rules for what local governments can and can't do.
"I think the perspective that I have of having served in local office is really important."