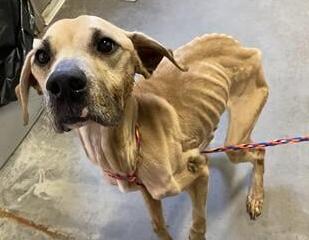 GREENSBORO — An emaciated stray dog found in Greensboro has captured hearts worldwide as she fights to regain her strength and find a forever home.
The dog, now named Groove, was dangerously thin and malnourished when she was rescued on Feb. 26 near Bessemer and Wendover avenues, according to Lisa Lee, community engagement manager with Guilford County Animal Services.
Animal control had been attempting to catch Groove, who is estimated to be about 2 years old, for a month. A good Samaritan was finally able to catch her and bring her to the shelter for help.
"She wouldn't get close to anyone until that day, and was fearful upon arrival," Lee said in an email Friday.
The Guilford County Animal Shelter first shared an image of Groove on its Facebook page March 1. The post has been shared more than 2,000 times and has more than 600 comments.
"Absolutely heartbreaking," one commenter said.
"I can't even look at this without crying," said another.
Several people have asked about fostering and adopting Groove, whose breed is listed by the shelter as a Lab/Mix. Some asked if it was possible for a dog to become so emaciated in only a month's time.
"We have unfortunately seen animals deteriorate into this condition in a week," the shelter said in a comment, "as they are unable to feed themselves at all and are often burning large amounts of energy running and keeping themselves warm in the winter.
"We cannot stress enough how important it is to help stray animals as quickly as possible."
Lee said Groove showed no signs of having a previous owner — no identifying marks, collar or microchip.
"She may have been from around the area she was found, or could have been dumped," Lee said, but the shelter has no way of knowing for sure.
Groove was immediately treated at the shelter and monitored by the shelter's medical team.
"She was placed on a special feeding so as not to distress her, then upgraded to additional feedings per day," Lee said.
The shelter put Groove on medications and completely vaccinated and dewormed her. She was placed on antibiotics as a precaution because of a possible wound on her shoulder area, according to Lee.
"All of our animal care and vet techs worked with her daily to gain her trust and turn her from fearful to soliciting attention," Lee said.
As Groove's condition continued to improve, the shelter posted updates with progress reports on Groove.
"We are so thankful and in awe of the outpouring of love for her from not just our community, but around the world," the shelter said in the post. "She has many wonderful rescues interested in pulling her once her stray hold is up and she's strong enough to move to a rescue."
On Tuesday, Groove was able to go out and about in one of the shelter's play yards with medical staff, and the next day the shelter announced Groove had a rescue commitment. She would be moving on from the shelter to start her journey with Chasin' Tail Rescue, a dog rescue based in North Carolina.
Chasin' Tail has continued to post updates on Groove and her condition.
The rescue shared a video to its Facebook page Thursday of Groove and her foster father getting to know one another. Lee said the rescue and foster are working to slowly increase her weight and address any lingering medical issues.
"On a good note," Lee said, "we had concerned rescues and individuals ask about her from all over the country, including Australia!"
Lee said Groove seems to be living up to her name, which was meant to be special and set her apart, with hopes that she would heal and begin to "groove."