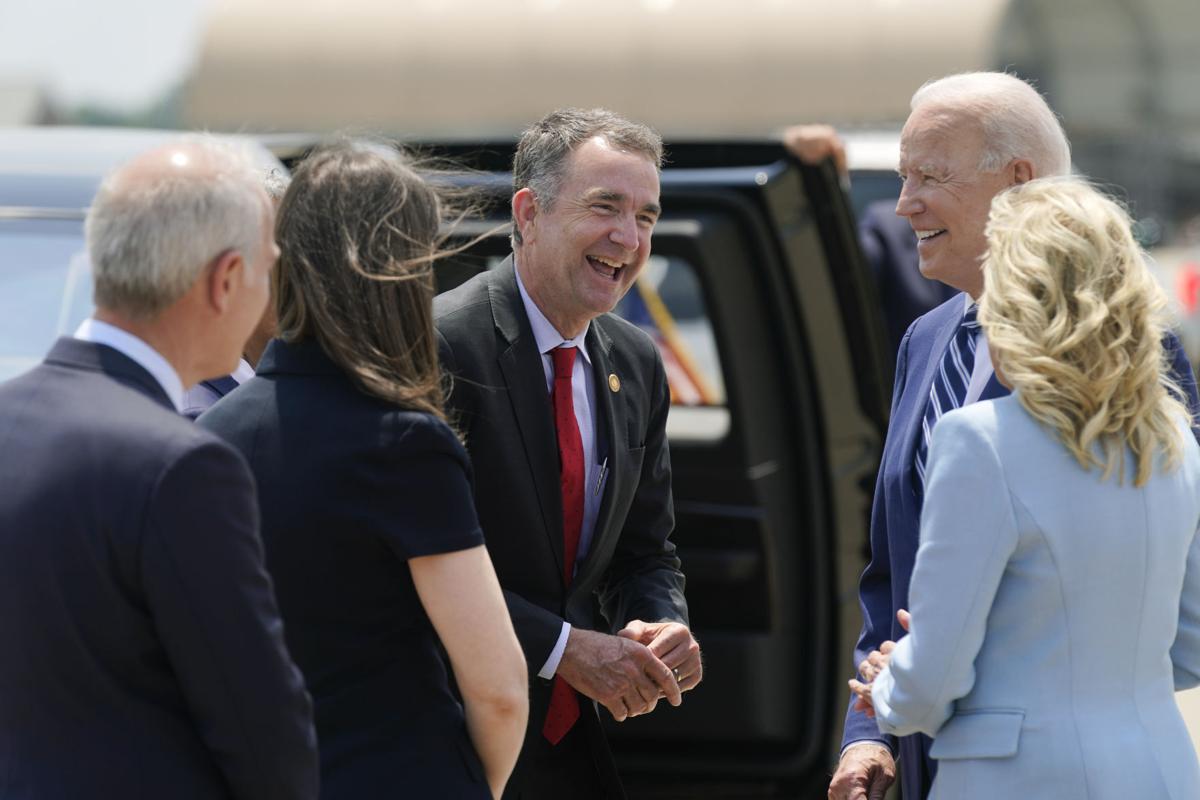 President Joe Biden joined Gov. Ralph Northam in Alexandria on Friday to tout progress in vaccinations and the lifting of most of Virginia's remaining COVID-19 restrictions at the beginning of the Memorial Day weekend.
At 12:01 a.m. Friday, Virginia removed its remaining gathering and capacity limits, marking the first time since March 2020 that there are no such restrictions in the state's restaurants, businesses, offices or other venues.
Biden said Virginia has gone from 43,000 cases the week before he took office to 2,800 in the past week. He noted that about 55% of Virginians 18 and older are fully vaccinated.
"We're not just saving lives; we're getting our lives back," Biden said at Sportrock Climbing Center in Alexandria. "Stores and restaurants up and down Main Street are hanging 'open' signs on their front doors.
"In Norfolk and Fredericksburg fans are heading back to the minor league ballparks," Biden said. "Pools and parks are opening up across the state. Families are heading down to spend Memorial Day weekend at Virginia Beach."
(The Richmond Flying Squirrels, currently on the road, will be back at full capacity starting with Tuesday's home game against Altoona.)
Biden said that overall, more than 165 million Americans have gotten at least one shot. He said 51% of American adults are fully vaccinated.
Northam, speaking before Biden, said that on Friday, Virginia marked "a tremendous milestone in our fight against COVID-19."
Calling the lifting of limits on gatherings and capacity "something we can all be proud of," Northam added: "We are closer to a more normal life than we have been in the past 14 months."
Northam had announced May 14 that Virginia was dropping its mask mandate for people who are fully vaccinated. Masks are still required in K-12 public schools, since children under the age of 12 are not yet approved for vaccinations and the 12-to-15 age group became eligible just recently.
Later Friday, the governor was to join the president at Joint Base Langley-Eustis in Hampton to thank service members supporting efforts in Afghanistan.
In Alexandria, Biden and Northam, both Democrats, praised each other as partners in the effort to fight COVID-19.
The Virginia Department of Health reported Friday that Virginia had administered 8,082,422 doses of COVID vaccines. It said 4.6 million Virginians, 54.2% of the population, have received at least one dose and that 3.7 million Virginians, or 43.7% of the population, are fully vaccinated. That figure includes children.
Among Virginians 18 and older, 66.4% have received at least one dose. Biden says he wants to see 70% of adults nationwide receive at least one dose of COVID vaccine by July 4.
According to the VDH, 54.9% of Virginia adults are fully vaccinated. Northam said that puts Virginia 14th among the states.
The vaccination rate for Black Virginians per 100,000 population continues to trail the rate for Native Americans, Latinos, whites and Asians or Pacific Islanders, according to VDH statistics.
The state's current positivity rate is 2.6%. Virginia has recorded 11,156 COVID deaths — 9,416 confirmed and 1,740 considered probable.
Northam said that six weeks ago, Virginia averaged more than 1,600 new cases per day. He said Virginia now averages fewer than 400 new cases per day, numbers the state has not seen since April 2020.
"The more people get vaccinated, the fewer people get COVID," Northam said. "It is very simple math."
Biden prefaced his remarks by paying tribute to "an old friend of mine," former Sen. John Warner, R-Va., a Senate colleague of Biden for three decades who died Tuesday night at home in Alexandria at 94.
"He was a man of conscience and a man of honor," Biden said, "and in his life full of honors, the most enduring was his service to the people of Virginia."
(804) 649-6645
Twitter: @AndrewCainRTD