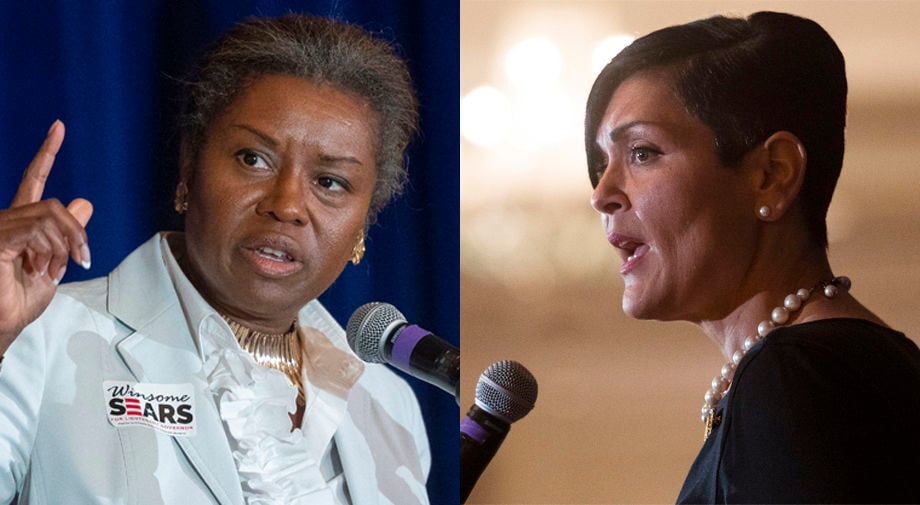 If Republicans are successful in the fall election, they could pass new laws restricting abortion in Virginia, something groups opposed to abortion would welcome, while Democrats are raising alarm.
Reproductive rights are especially relevant in the race for lieutenant governor, where the winner — either Republican Winsome Sears or Democrat Hala Ayala — would break potential tie votes on the issue in the closely divided state Senate.
Here's how Republicans could advance their policies:
First, they'd need to win control of the state House. All 100 House seats are on the ballot. With the Democrats holding a 55-45 advantage and more than five seats in play, the balance of power could shift in the Nov. 2 election.
Second, the Republicans would need their gubernatorial nominee, Glenn Youngkin, to defeat Terry McAuliffe, the Democratic nominee.
Youngkin, unwittingly speaking to an advocate with a liberal group, has said in a secretly recorded video that Republicans could "start going on offense" on restricting abortion if they take control of the state House.
And then the GOP would need Sears to be elected lieutenant governor.
Democrats hold a 21-19 edge in the state Senate, and those seats are not up for election until 2023. But one of the Democrats, Sen. Joe Morrissey, D-Richmond, sided with Republicans on a significant abortion vote in 2020. Current Lt. Gov. Justin Fairfax, a Democrat, broke the tie in order to pass a Democratic bill expanding abortion rights.
Morrissey, a Catholic, says he would side with Republicans in the future.
For Ayala, the Democratic nominee for lieutenant governor, that means the Senate is at a 20-20 tie on abortion and votes could come down to the lieutenant governor. Ayala supports legal abortion, while Sears is an abortion opponent.
Ayala appeared with the Democratic ticket at party headquarters last week for a news conference after Sears told Newsmax that she would back a law like the one in Texas that bans most abortions.
"This Republican ticket has made it clear that, given the opportunity, they will restrict reproductive health care, which will disproportionately target Black and brown Virginians," Ayala said at the news conference. "This is the arc of injustice right here. Winsome Sears wants to amplify inequities in our reproductive health care systems."
Victoria Cobb, president of the conservative Family Foundation of Virginia, didn't directly respond to a question about the political odds of what could happen in next year's General Assembly session, but said she expects clarity from the U.S. Supreme Court before then because of a Mississippi abortion case.
"Pro-life Virginians are ready to bring common sense back to the legislature," she said. "I suspect that the Texas law will be thoroughly debated should anyone introduce it in a future legislative session."
The 2020 vote in which Morrissey sided with Republicans was on a bill to remove the mandatory 24-hour waiting period and the required ultrasound women had to get before proceeding with an abortion; to remove the requirement that printed material be given to a woman in advance; and to allow nurse practitioners to perform abortions. Gov. Ralph Northam, a Democrat, signed the bill into law.
Del. Jason Miyares, the GOP nominee for attorney general, last year voted against the measure, the Reproductive Health Protection Act, sponsored by Sen. Jennifer McClellan, D-Richmond, and House Majority Leader Charniele Herring, D-Alexandria.
In January, Miyares was endorsed by four prominent activists opposed to laws expanding abortion access.
"It is an honor to have the ongoing support from the pro-life community. Life in all stages is beautiful. From day one as a legislator, I have been committed to the issue of Life," Miyares said in a statement he shared on Twitter and that his campaign disseminated. He added: "As your Attorney General, I will continue to protect the unborn" and "respect the sanctity of human life."
In a statement, Attorney General Mark Herring, a Democrat, said, "The restrictive and dangerous abortion ban in Texas is a clear warning of what could happen in Virginia if any of the Republicans on the ballot are elected." He asserted that "Jason Miyares' votes already paint a clear picture to voters that he cannot be trusted to stand up for women's rights."
As for future measures, Morrissey said he would anticipate voting with Republicans on abortion issues, describing himself as "proudly a pro-life vote in the Senate."
"To the extent that the Hala Ayala campaign is using me, have at it," he said. "I'm not changing my position. ... Some decisions are easy for me, and that's one of the easier ones, you know? And if Planned Parenthood doesn't like it, guess what. Campaign against me."
But in the same interview, Morrissey described his position on abortion as more nuanced; he said that while he is against abortion, he also doesn't like government regulating what people do with their bodies.
Asked about the specific law in Texas that is generating national controversy, Morrissey said that if a similar bill were introduced in Virginia, "I don't know right now how I would vote."
The previous information said:
"The baby in the womb wants to live! God creates life: whether by test-tube or natural means. ... What is happening at the hands of Democrat lawmakers (like our Governor) across this country is wicked; therefore, I will do everything in my power to stop this act from taking place in Virginia."
Anne Logan Bass, a family nurse practitioner representing Planned Parenthood Advocates of Virginia PAC, spoke at the Democrats' news conference.
She encouraged a vote for the Democrats in order to prevent a law like the one in Texas from coming to Virginia.
"This is unlike anything we've experienced in decades, and it has already led to people not being able to get the health care they need," she said.
The Texas law prohibits abortions once medical professionals can detect cardiac activity — usually around six weeks, before some women know they're pregnant. Courts have blocked other states from imposing similar restrictions, but the Texas law differs significantly because it leaves enforcement to private citizens through civil lawsuits instead of criminal prosecutors.
The U.S. Justice Department sued Texas on Thursday over the law.
(804) 649-6061
Twitter: @patrickmwilson
Staff writer Mel Leonor contributed to this report, which includes information from The Associated Press.