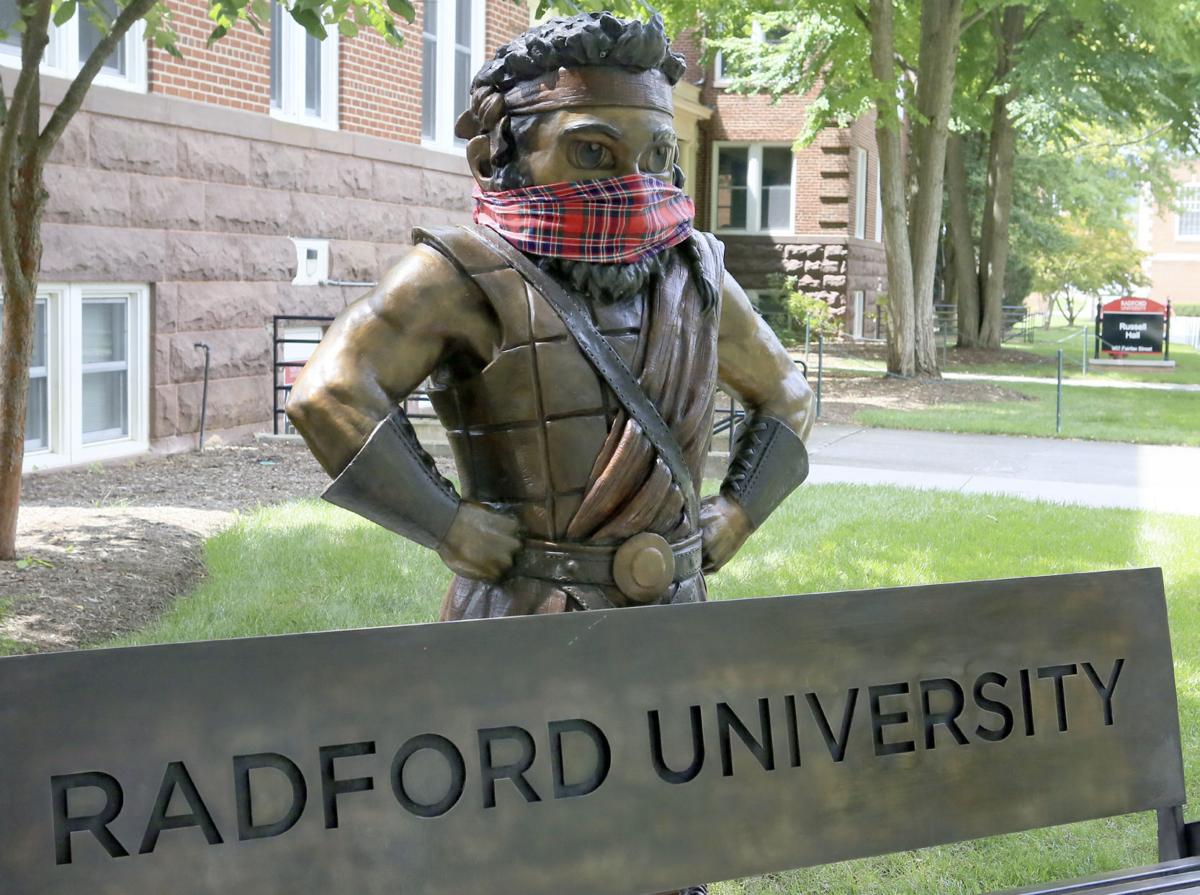 On Tuesday night, James Madison University sent out a stark message to its community: The threat of the coronavirus had become too great for students to remain on campus and for in-person classes to continue. Across the state, students were left wondering if their college campus would be the next to shut down.
Positive cases of the coronavirus are still rising at several Virginia colleges. On Friday, when JMU announced it had 772 total cases among students and staff, Virginia Tech announced 416, Radford University had 293, the University of Virginia had 201 and Virginia Commonwealth University had 198.
But there are more factors in a college's decision making than just total case count. The number of isolation rooms on campus is another major factor, and JMU's has almost run out of space. It's also important to watch if the virus is spreading beyond campus, university and health leaders said.
At Radford, there is still cause for concern. Since classes began Aug. 12, the Radford area has experienced 492 new cases. During the week of Aug. 23, the locality averaged 33 new cases a day. This past week, it averaged 36. The university's isolation and quarantine housing is filling up — 40 of 54 spots are being used, a school spokeswoman said. Radford is the only college in the state that appears close to filling its isolation space, but the school can increase its capacity if needed, a school spokeswoman said.
And yet there are reasons to believe Radford may not have to shut its campus. There hasn't been a COVID-19 hospitalization in the Radford area since early August. It appears the virus isn't being spread to the community at large, said New River Health Director Dr. Noelle Bissell. The community's most vulnerable aren't being exposed.
Bissell said the number of new cases at Radford is subsiding. Because of a delay in reporting, it will take some time for the official number to bear that out. The Radford area reported 68 new cases Tuesday and 23 on Friday.
At Virginia Tech, the number of positive cases among students and staff doubled this week. The Blacksburg school reported 416 total cases Friday. Forty-nine percent of its 172 isolation beds are occupied.
Virginia Tech opened class 12 days after Radford, and what Radford experienced last week, Virginia Tech experienced this week, Tech president Timothy Sands said. He said he is confident the school's campus will stay open.
"It's all hands on deck to push this down and get through the opening few weeks," he said. "But I am encouraged."
Week 2 of the fall semester was much better for VCU than Week 1. In the past four days, VCU averaged 10 new cases per day.
Twenty percent of its isolation beds were filled as of Thursday, said Tom Briggs, the school's assistant vice president for safety and risk management.
There's no evidence that the virus is moving from VCU to the rest of the Richmond area, said Dr. Danny Avula, director of the city's health department. A large portion of VCU's cases were traced back to one social gathering, he said. Briggs said 44 of the school's 198 total cases originated in one incident.
Because VCU is so integrated into Richmond, it's tougher to keep cases from spreading off campus. A more isolated school can better handle the challenge of keeping the virus contained, Avula said. It's too soon to know if JMU's outbreak has seeped into the surrounding community, a spokesperson for the Virginia Department of Health said.
Isolation space isn't always an easy thing for a college to procure. At VCU, the school wanted single-occupancy rooms and single-occupancy bathrooms for isolation areas. That meant hall-style dorms and typical suite-style rooms with shared bathrooms were off the table. Other schools have turned to hotels or apartment complexes for their isolation space.
VCU had 54 beds in Gladding Residence Center III available for isolation space but knew it might soon need more. In a matter of days, VCU filled half those beds. It found more isolation space in the Honors College, which in the spring had been turned over to the VCU Medical Center for overflow rooms but wasn't being used at the time.
The top three floors of the Honors dorm were converted into isolation space. Locks were installed on the door knobs and refrigerators were added to each room. VCU now has isolation space for at least 162 students. As of Thursday, there were 33 students in isolation on campus.
In contrast, JMU has used 92% of its 132 isolation beds.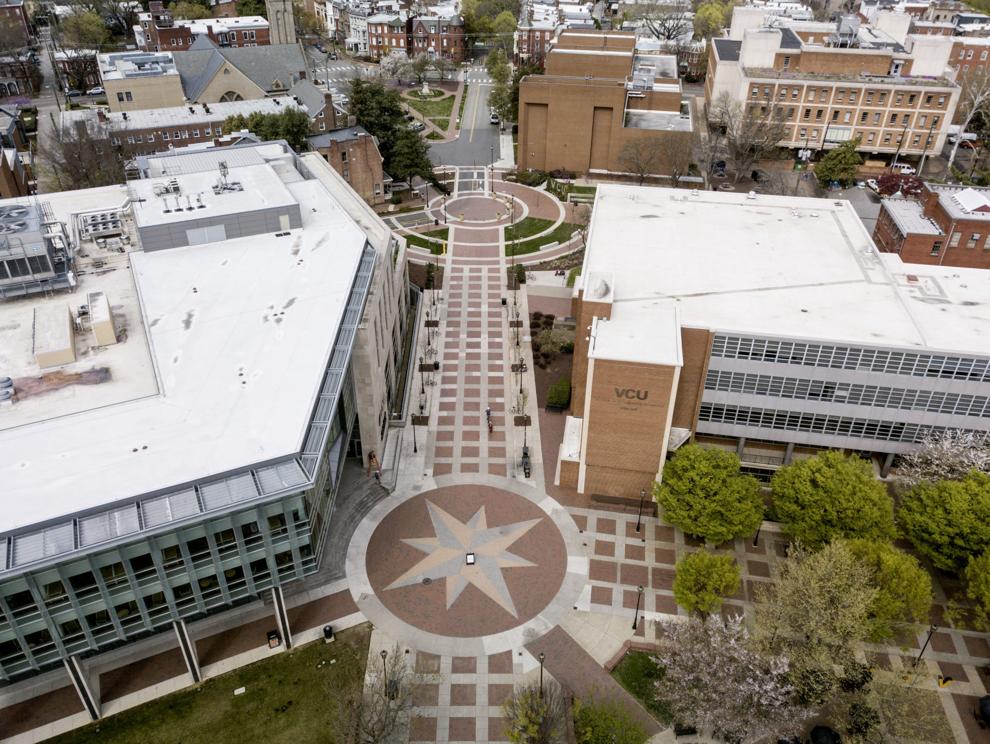 The number of coronavirus cases in the Radford area skyrocketed from 41 on Aug. 1 to 566 on Friday. The virus was so prevalent, Radford was listed by the New York Times as one of the 10 worst outbreaks nationwide last month. In the week of Aug. 23, 74% of tests reported had returned positive.
In response, the school expanded hours of the student health center, initiated testing options for faculty and staff and expanded testing opportunities for students, said Katie Hilden, president of Radford's faculty senate.
While faculty at other schools, including VCU, called for classes to move online, Radford's faculty senate didn't take a side. Professors were doing their best to balance students' needs in class with their safety, Hilden said.
In late August, the school offered testing at two sites on campus for students, faculty and staff. Of 492 people tested, only 5% tested positive.
The official numbers reported by the Virginia Department of Health haven't shown a significant swing in Radford yet, but Bissell, the area's health director, said that because of a lag in reporting, the lower numbers will appear in the days to come. Cases in the area have plateaued and begun to decline, she said. In an email from Radford President Brian Hemphill sent to students this week, Bissell declared victory.
"Together, we have weathered the storm. We are through the worst of it," she said. "What has happened is exactly what we predicted."
The improvement, said schools spokeswoman Caitlyn Scaggs, is the result of the vast majority of students, faculty and staff making wise choices. The school has been diligent in its compliance and enforcement efforts and pursued disciplinary action when necessary. It limited on-campus and off-campus gatherings to no more than 10 people, with a few exceptions.
When JMU closed its campus, it became the first to do so in Virginia after the semester began. Randolph College, Hampton University and Virginia State University decided against bringing students back before classes started.
Some universities haven't resumed online classes yet and could have outbreaks or clusters of cases ahead of them. The University of Virginia began moving in students Thursday. The University of Mary Washington resumes in-person class Sept. 14. The College of William & Mary welcomes sophomores, juniors and seniors back to campus this weekend.
Old Dominion University, where campus opened Aug. 29, has reported 16 cases. Liberty University reported a total of 30 cases on Aug. 27, the third day of the semester, and hasn't updated its total since. Liberty does not publish figures on its website, and a spokesman did not respond to a request for an updated number. The school said it will create a COVID-19 dashboard on its website later this month.
Even if the numbers get worse at Virginia colleges, ending in-person classes and shuttering campuses might not be the answer, said Sands, the Virginia Tech president. If students are still living nearby in their off-campus apartments, living their regular lives, the virus could continue to proliferate.
"You have to be careful when you send students home," he said. "That doesn't always make sense."
Among large universities in the state, if there's a winner so far, it's George Mason University. The Fairfax County college was the largest in the state last year with 37,000 students. On Friday, it reported 22 total positive cases among students, faculty and staff.