At political rallies across Virginia — and across the nation — there was Gov. Glenn Youngkin, throwing basketballs, handing out his trademark red fleece vests and even dancing to the tune "Spirit in the Sky," in his role of the GOP's latest political star.
But his impact might not have been as dramatic as he hoped.
He campaigned for incumbent GOP governors in three Republican strongholds, Georgia, South Dakota and Oklahoma, all of whom won re-election. The candidate he campaigned with in solid red Nebraska also won.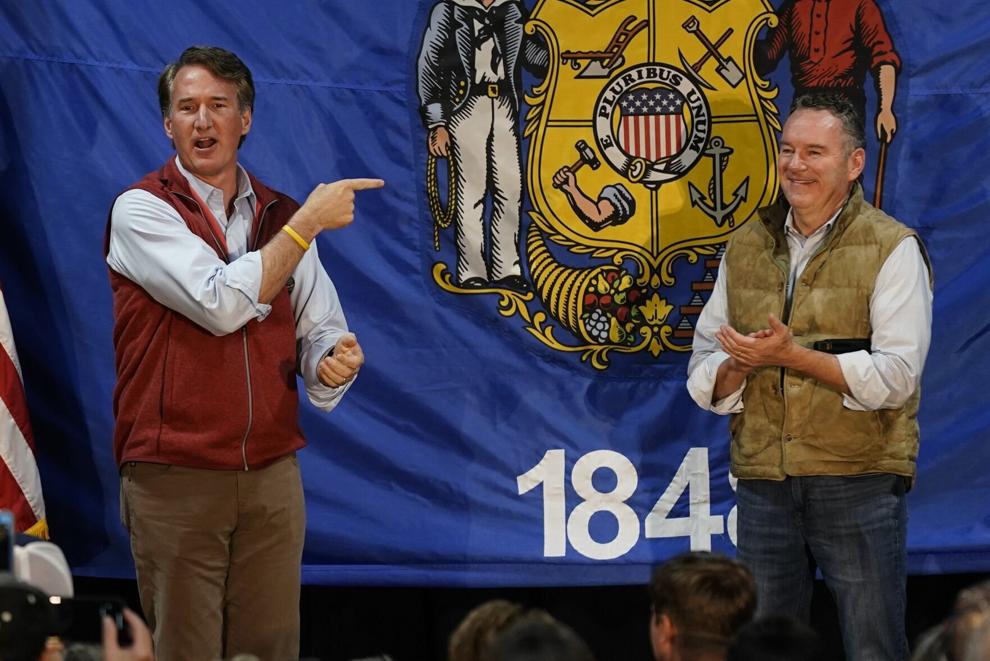 But in the swing states of Michigan, Maine and Wisconsin, where his repeated call for supporters to find 10 friends who were going to vote the right way and bring them to the polls, wasn't enough to bring those Republican candidates victory.
It failed in the Democratic strongholds of New York, Colorado, Connecticut and New Mexico. And in normally strongly Republican Kansas, Democratic Gov. Laura Kelly was re-elected.
Of Youngkin's known trips to boost GOP candidates for governor in 15 states, four won, eight lost and results are pending in swing states Arizona and Nevada, as well as Democratic-leaning Oregon.
Only one of the three Virginia Democratic members of Congress whp he tried hardest to defeat with a series of get-out-the-vote rallies, Rep. Elaine Luria, D-2nd, lost her race — but by a narrower margin than Youngkin's victory over former Gov. Terry McAuliffe in the same district in 2021.
"I think it will be a wake-up call," for the governor, former Gov. Doug Wilder said of Youngkin's profile-raising out-of-state campaigning. Wilder remembered how "people stood up and cheered" when he decided to end his short-lived bid for the 1992 Democratic presidential nomination during his term in the Executive Mansion.
"The people of Virginia want to know their governor is paying attention to the issues that concern them — education, crime, inflation," he said.
Youngkin says his efforts have worked as he wanted.
"We've always said the House majority runs through Virginia, and it looks like that's exactly what may happen after flipping the 2nd congressional district," he said in a statement, adding that the contests in the 7th and 10th districts were tight, tough races.
"Let's get to work to bring people together and deliver results for Virginians," he said.
Ed Lynch, a political scientist at Hollins University, said campaigning out of state is a way for any politician to accumulate political capital — IOUs including possible access to new financial resources and staff for future campaigns.
"You have to remember that when anyone — Republican or Democrat — goes out on the hustings to campaign for others in the party, they're doing that because they want to elect like-minded candidates," he said.
"Look, when you go out to Iowa, the person is going to remember, the campaign is going to remember: Hey, Glenn Youngkin came all the way out here for me," he said. "Sure, there are IOUs ... but as I tell my classes, no politician does things for only one reason," he said.
Youngkin's travels did draw criticism back home while he was accumulating those IOUs, said Mark Rozell, a political scientist at George Mason University.
"When Virginians see how frequently he was out of state, it'll be like when Doug Wilder ran [for president] and we saw all those bumper stickers: 'Wilder for Resident,'" Rozell said.
"He spent a lot of capital for very little effect," Rozell said, referring to Youngkin.
Some of that capital could come from his own GOP, said Stephen Farnsworth, a political scientist at the University of Mary Washington.
"Virginia Republicans have to ask themselves: 'What if the governor spent less time out of state and more time in the state?'" Farnsworth said. "More time in-state could have affected the 7th, less time in South Dakota would not affect that result."
But being in South Dakota and the other 14 states where he campaigned for Republican gubernatorial hopefuls had a different payout, said John McGlennon, a political scientist at the College of William & Mary.
"I think he's out there raising his profile, maybe for the Cabinet, maybe in case lightning strikes and the [2024 Republican presidential] candidate picks him as vice president or if everything really goes right, the presidency, though I think that's unlikely," he said.
"Youngkin handed out a lot of red vests, branding, like Lamar Alexander and his plaid shirts," McGlennon said, referring to the former Tennessee governor, Cabinet official and U.S. senator who sought the GOP presidential nomination in 1996 and 2000.
"But he's still barely registering in the polls" of potential presidential candidates in 2024.
"Like a lot of Republican governors in Democratic-leaning states, he's probably figured out his future doesn't really include federal office from Virginia — that is to say: the Senate," McGlennon said.
Meanwhile, Youngkin's campaigning, both in congressional races in Virginia and for Republican gubernatorial candidates, raises a question of whether he has coattails enough to bring in a state Senate majority in 2023 and to preserve a GOP majority in the House of Delegates, he said.
"It raises a question whether he's going to be effective himself in Virginia," McGlennon said.
An early test will be what Youngkin does in the special election for the state Senate seat that the victor in the 2nd Congressional District, Jen Kiggans, must vacate.
Her district gave Hillary Clinton a 6-point margin over Donald Trump but swung narrowly for Kiggans in 2019 and more decisively for Trump in 2020 and Youngkin in 2021. Redistricting means the November 2023 race for the Kiggans seat will be for an area where Youngkin lost by 5 percentage points last year.
But former Gov. Bob McDonnell, a Republican like Youngkin, shrugged off criticism that Youngkin spent too much time out of state.
"Governors of both parties do that ... and Youngkin didn't start until July — he was here for that extended special session, focused on Virginia," McDonnell said.
And members of the opposing party always criticize such campaigning, he said — but it doesn't matter, since "Your opponents aren't going to vote for you anyway."
Photos, videos and more of Tuesday's midterm election and local races.