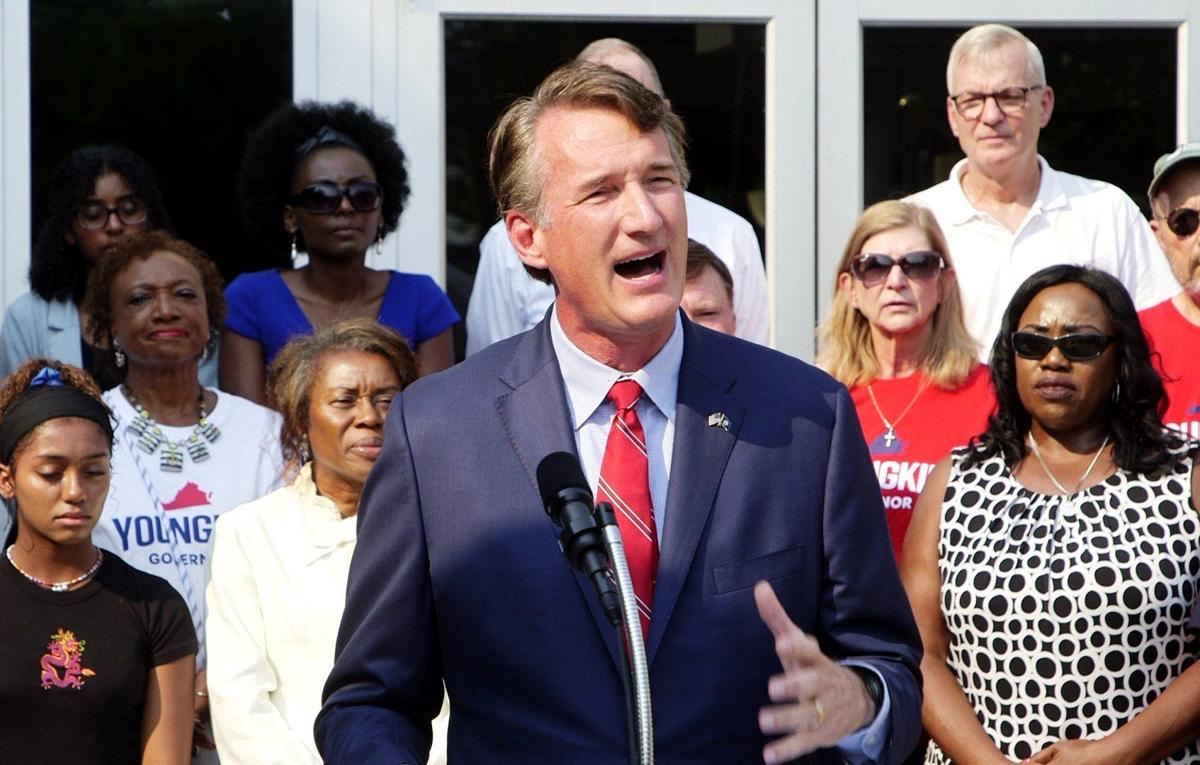 GOP nominee for governor Glenn Youngkin thinks Virginia lawmakers should return $1.5 billion of the state's $2.6 billion budget surplus to Virginians as tax relief when they meet for a special session next week to decide how to spend federal emergency aid.
Youngkin is also proposing that lawmakers allocate the state's $4.3 billion slice from the American Rescue Plan Act toward school choice programs like educational vouchers, including $500 to parents per public school student for "educational recovery"; as well as to payroll tax relief for small businesses; and $5,000 "retention bonuses" for law enforcement officers.
"Between the state surplus created through excess taxation and the American Rescue Plan Act, the commonwealth has $5.8 billion to invest in all Virginians," Youngkin said Thursday morning at Virginia Union University in Richmond, where he was joined by ticket mates Jason Miyares, the GOP nominee for attorney general, Winsome Sears, the party's nominee for lieutenant governor, and other supporters.
"I'd like to see a meaningful amount of these dollars go directly into the pockets of Virginians," Youngkin said, adding that he thinks taxes and fees have increased too much in Virginia. "The state government keeps grabbing more of the pie from individual taxpayers and families."
The tax refunds would amount to $300 per individual or $600 per family.
The plan, shared with the Richmond Times-Dispatch, offers a glimpse into Youngkin's priorities as he vies for the state's top job, which no Republican has held since 2014. Youngkin is running against former Gov. Terry McAuliffe, the Democratic nominee.
McAuliffe spokesperson Christina Freundlich slammed Youngkin's plan, saying it would "siphon" money away from Virginia public schools.
"All of Glenn Youngkin's 'plans' have one thing in common: they would decimate funding for public schools and put Virginia's economy squarely in the ditch Glenn loves to talk about," Freundlich said.
The McAuliffe campaign also criticized Youngkin's proposal to do away with the state income tax — a plan the campaign has not yet detailed.
"His Trumpian tax plan would blow a massive hole in our budget and lead to drastic cuts to public education and police," Freundlich added.
Youngkin, a former private equity executive, has never held public office. Republicans supportive of his ideas will have a hard time pushing for them during the special session that begins Monday. Democrats, who control both chambers of the General Assembly, have barred individual lawmakers from submitting budget proposals. House Minority Leader Todd Gilbert, R-Shenandoah, said during a recent news conference that his caucus is being shut out of the process.
Gov. Ralph Northam, working closely with Democratic budget leaders, already has proposed to spend almost $3 billion of the federal money on some of the same priorities as Youngkin, such as expanded broadband telecommunication access and protection of employers from higher payroll taxes to pay for unemployment benefits.
The General Assembly will not address the expected $2.6 billion budget surplus during the special session that begins next week, which will deal only with one-time federal funding and election of judges to the Virginia Court of Appeals.
After the surplus is certified early next month, Northam will report the results to the assembly money committees in mid-August and reflect the additional revenues in the two-year budget he will propose in December. The new assembly — and governor — will consider the budget proposal during a 60-day legislative session that begins Jan. 12.
Youngkin's proposal for the "usable surplus" acknowledges that more than $1 billion must be deposited in the rainy day reserve fund and water quality improvement fund under the state constitution.
Youngkin is urging lawmakers to return surplus money to Virginians in the form of tax refunds as well as a 12-month break on the new, higher sales taxes on gas.
The increased gasoline taxes were part of a transportation funding package that the assembly adopted last year before the pandemic upended the state's economy. Higher state and regional gas taxes are part of the state's plan for financing major improvements to Interstate 81 as well as projects in the Richmond area, Northern Virginia, Hampton Roads and other parts of the state.
Senate Majority Leader Dick Saslaw, D-Fairfax, a gasoline station owner who co-sponsored the 10-cent increase in the state gas tax over two years, scorned Youngkin's proposal to roll back the tax.
"If people don't mind driving with big holes in the road, that will work out fine," he said Thursday. "That is sheer lunacy."
After the first 5-cent-per-gallon hike took effect a year ago, Saslaw said the price at the pump went down an average of $1 a gallon because the retail cost of motor fuel follows the rise and fall of commodity prices. He said Youngkin's proposal would hurt Virginia's ability to sell bonds to finance big highway projects and undermine road construction and maintenance in transportation districts across the state.
"The rural areas would be destroyed by something as stupid as that," he said.
In an April 26 interview, conservative talk show host Larry O'Connor asked Youngkin whether he would explore the idea of reducing or eliminating income taxes.
"You bet," Youngkin said. "In fact, we're already working on it." He added: "We are absolutely focused on not just getting our state income tax down, but how can we in fact eliminate it?"
As for the state's federal relief funding, Youngkin is proposing a $2.7 billion expenditure to shield small businesses from state taxes, fund universal broadband, boost cybersecurity infrastructure and provide matching funds to localities for "critical environmental projects."
The plan proposes funneling $1.3 billion into the Virginia Unemployment Insurance Fund to protect businesses from an expected increase in payroll taxes. That increase is a product of the large drain on the state's unemployment insurance fund that stemmed from the pandemic.
This week, Northam pledged to deposit $862 million in the Virginia Unemployment Trust Fund to avoid a potential fourfold increase in payroll taxes for employers to restore the depleted fund after a record 1.6 million unemployment claims during the COVID-19 pandemic.
Youngkin is also proposing a 12-month tax holiday for businesses with fewer than 50 employees and less than $250,000 in income.
The plan also says the state should use the federal aid to "protect Virginians from forced unionization by defending the Right to Work [policy]," though it's not immediately clear how. The state's right-to-work policy allows employees to forgo paying dues to the unions that represent them without risking their jobs.
Northam recently proposed $700 million to accelerate universal broadband high-speed internet access to every part of Virginia within three years.
Youngkin's plan for the federal relief money includes $1.2 billion to fund school choice initiatives. It also includes extra resources for historically Black colleges and universities and local funding for infrastructure and teacher shortages.
Youngkin wants lawmakers to offer $500 vouchers to Virginia parents to pay for "recovery from the learning loss and mental health issues created by our failed public schools," the plan reads.
He also wants the state to invest in a pilot program that would launch 20 schools in the state run through public-private partnerships. The plan includes few details on what the schools would look like, but Youngkin has said he supports the charter school model prominent in other states, where children can leave their neighborhood schools to attend ones that are publicly funded but privately run.
The Republican is also proposing $5,000 "retention bonuses" for law enforcement officers. The campaign says the bonuses, along with protecting penalties for assault on an officer, will stop what it called an "exodus" of officers.
Youngkin is also proposing that the state fully fund what he called a "mental health care crisis plan."
On Wednesday, Northam proposed a $485.2 million funding package to reduce pressure on the state's overcrowded and understaffed mental hospitals, expand crisis care and other community-based services to divert people from psychiatric hospitals, and expand community treatment and support for people with substance use disorders, including opioid addiction.
The GOP nominee said of his proposals: "With a Youngkin administration, this is the Virginia that you can expect. When I'm your governor, we will get things done.
"For eight years, we have sacrificed that future with status quo plans that empower Richmond, Richmond government, Richmond insiders, at the expense of individual Virginians. Let's not waste this unique opportunity to change the future for better. Let's not let single party rule in Richmond shut out constructive dialogue."
(804) 649-6254
Twitter: @MelLeonor_
(804) 687-6591
Twitter: @mmartzrtd
Staff writer Patrick Wilson contributed to this report.