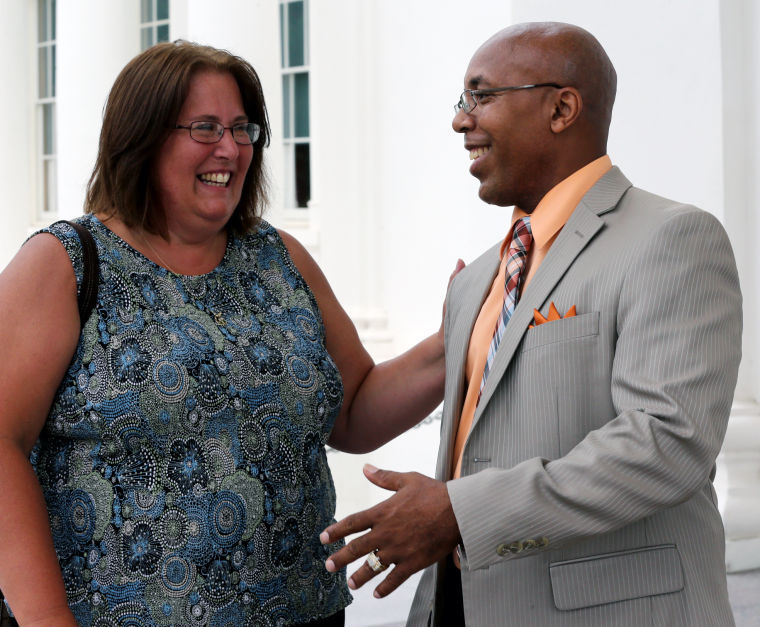 Janet Burke wept 30 years ago while testifying against Thomas E. Haynesworth, the man she was certain had raped her. "He had a face I couldn't forget," she told the jury.
The 1984 attack brought Burke's world to a halt. After Haynesworth was safely in prison, she said, "time passed and the memories began to fade. I began to think that my life might be normal once more."
A quarter-century later, Burke was married, had a career and was raising two children when DNA proved she had identified the wrong man. The real rapist went on to victimize others.
"I was overwhelmed by guilt," she recalled. "Even though I had family and friends that were all around me and supporting me in any way they could, I felt so alone. No one really understood exactly how I felt and the guilt that I was holding. How could they?"
Someone did understand: Jennifer Thompson, who was raped in 1984 in Greensboro, N.C., discovered in 1995 that she had misidentified Ronald Cotton, then in prison for 11 years.
"The shame and guilt and fear began to suffocate me," Thompson said recently. "I had let everyone down: the police department, the district attorney's office, the community, the six other women who were raped ... but especially Ronald Cotton."
"What do I do now?" she wondered.
With the unlikely help of the men they sent to prison, Burke and Thompson found answers. And if their paths were difficult ones, they also found each other.
The women said they would have staked their lives on the accuracy of their identifications that proved to be tragically wrong. They now know how fallible memory and eyewitness identification can be, and they want the message spread.
The Richmond Times-Dispatch has a policy of not identifying sexual assault victims. However, Burke decided to go public to promote better suspect identification by eyewitnesses and to find support for victims such as herself who supplied erroneous identifications that led to wrongful convictions.
To that end, earlier this month — nearly 30 years to the day when Haynesworth was convicted and Thompson was raped — Burke, Haynesworth and Thompson were united on a stage in Washington, guests of the Mid-Atlantic Innocence Project.
Standing there, Burke remembered shaking in court the first time she'd been near Haynesworth and was struck by how much things had changed. Instead of wanting to run, "I was admiring him for what he has done and what he stands for, the human being that he has become.
"It was just incredible."
Burke arrived for work at 7 a.m. on Jan. 3, 1984, and soon after unlocking the door to the East End church day care center, she was confronted by a man who put a knife to her face, forced her into a back office and assaulted her.
A month later, Haynesworth, then 18 years old with no criminal record, was walking to the store to buy groceries for his mother when another woman driving by spotted him. Believing he had attempted to attack her previously, she called police.
Eventually, five women, including Burke, identified Haynesworth as their assailant or would-be assailant and within 10 months he was convicted in three attacks — two in Richmond and one in Henrico County.
He was sentenced to a total of 74 years in prison, 10 of them for the attack on Burke.
After the incident, Burke said, "my life totally changed. ... I ended up changing jobs, changing relationships. My world pretty much came to an end — not an end, to a stop."
"I was 20 when that happened. There were so many things for my life that I had planned," she said. After things settled down, she ran into a man she had known in high school, she fell in love with him and they married.
"My husband was my lifesaver at that point," Burke said. "He was the one that kind of brought me back to the real world. Now we have two beautiful, wonderful children."
She was at home one day in 2009 when her world was rocked again. Two Richmond detectives arrived with some startling news: DNA testing showed she had been raped by Leon W. Davis Jr., a Richmond-area serial rapist, not Thomas Haynesworth.
Davis is serving multiple life terms for other 1984 assaults that occurred after Haynesworth was locked up. The two men were neighbors in the East End, are roughly the same age, shared the same blood type and resembled each other in 1984.
"The only way I can describe this is it was an out-of-body experience," she said. "There was somebody sitting there telling me this information but ... it was not really happening to me."
Haynesworth was convicted of two other attacks that netted sentences longer than the 10 years imposed in Burke's case, so he would remain in prison.
The detectives told her things they thought would make her feel better, such as, "'We've met both men, they're both going to stay behind bars, they're not going to get out.' They were very nice," she said. "But they just didn't know what to do with me."
"The last thing I remember (them) saying as they left the second time was, 'Just put this behind you.' And I thought, 'OK, how exactly do I do that?'"
Five years ago, Haynesworth was at the Greensville Correctional Center when an envelope arrived from the Virginia Department of Forensic Science. A March 6, 2009, test report said his DNA was not identified in rape evidence in the Burke case. The DNA of a known sex offender was identified, the report said.
Haynesworth's battle to win freedom and exoneration had just begun. The Mid-Atlantic Innocence Project represented him, and its executive director, Shawn Armbrust, visited him in prison.
Though he had been cleared of one crime, no biological evidence remained for testing in the two other attacks that led to Haynesworth's convictions.
A week after receiving the DNA report, Haynesworth told the Richmond Times-Dispatch that he felt no animosity toward the women who misidentified him. "They're victims, too," he said.
There was evidence left for testing in another Richmond attack for which Haynesworth was acquitted. Armbrust won a court order for testing in that case that also turned up Davis' DNA — not Haynesworth's — proving two of the women had confused the men.
The two remaining convictions were for crimes similar to those committed by Davis in 1984. Haynesworth passed lie-detector tests, and the commonwealth's attorneys in Richmond and Henrico backed his exoneration efforts, as did then-Virginia Attorney General Ken Cuccinelli.
With the help of Cuccinelli, the Mid-Atlantic Innocence Project, the Innocence Project in New York, and the Washington law firm Hogan Lovells, the Virginia Court of Appeals cleared Haynesworth of his remaining convictions in December 2011.
By then, Cuccinelli had hired Haynesworth to work in the mailroom at the Attorney General's Office, where he still works and now oversees operations.
Haynesworth also was awarded wrongful-imprisonment compensation from the General Assembly worth more than $1 million.
Burke kepttrack of developments in the case through media coverage.
She told her daughter, then 16, and her son, then 21, what had happened in 1984. "It was the first time that they knew anything about any of this," she said. "They needed the time to be able to process all of it because it was crazy."
She said she did her best to cope. A friend told her about a book called "Picking Cotton," a New York Times best-seller written by Thompson and Cotton about their experience.
"From the time I began to read the story, I was overwhelmed once again, but this time with a feeling of comfort," she said.
Earlier this month, receiving an award from the Mid-Atlantic Innocence Project, Thompson recounted learning about her misidentification in 1995. "Once again, my life would become a train wreck," she said.
Prior to that, she had despised Cotton. "I hated him in a rage that all but consumed me ... and on June 30, 1995, the man I had prayed for to die walked out of prison a free man — a free, innocent man."
"I couldn't imagine how much he must hate me (and) want revenge," Thompson said. "This would continue for the next two years until I finally realized I was truly dying inside and I need help."
She decided she had to meet Cotton and did so in April 1997, in a pastor's office in a small church near where she had been raped 13 years earlier. She tried to apologize.
"I started to shake and cry uncontrollably," she said. "I watched this man take my hand and cry. 'Jennifer, I forgave you years ago. I'm not angry at you. I don't hate you. Don't be afraid of me. I will never hurt you. I want you to be happy.'"
"We were both victims," she said. "Ronald changed my life forever. He taught me more than I had ever learned in any church."
Burke was inspired by the book. She contacted Thompson and they began to talk, with Thompson offering Burke help and guidance as she has others.
Thompson, she said, "was a life raft that kept me afloat for the next few months and years. As I approached each hurdle, she was only a phone call away continuing to offer me love, support and throwing me that life raft to keep me from drowning."
Thompson said that, in talking with women like Burke, she gains, too. "Knowing that my experience was for something bigger than me, it helps make sense of it all. It creates healing from all the harm done," she said.
Armbrust wanted to honor Thompson at the Mid-Atlantic Innocence Project's awards luncheon July 16 for her criminal justice reform work and thought that Burke and Haynesworth would be the ideal presenters — but realized they had never met.
Armbrust has known Thompson since 2000, when they worked on a Texas death-row case. Since then, Thompson has traveled across the country telling her story and advocating for laws and policy changes to help prevent wrongful convictions.
"This has required her at every moment to relive for the public both a brutal rape and a tragic mistake that would make most of us just want to retreat," Armbrust said.
Armbrust arranged a meeting between Burke and Haynesworth in June at a law office in downtown Richmond. Armbrust attended, explaining, "My biggest concern was that neither one of them felt pressured or hurt."
Burke said she had long hoped to meet Haynesworth but wanted to be sure he was ready for it.
"I definitely wanted to say that I was sorry. To be honest, I wasn't a hundred percent sure what I would say," she said. "I had no earthly idea what that experience would be like."
The meeting was set for a weekday lunch hour. "I was totally a nervous wreck the beginning of the day. I had issues finding parking downtown and that was probably a godsend for me because it took my mind completely off of everything."
"I got there before he did and, as soon as he walked in the door, I immediately started crying. And I can't really even explain what my feelings were at the moment. It was probably a whole mixture of the guilt, but there was a sense of relief, too."
Last week, Haynesworth joked that he was not nervous at their meeting. "I sat there cool, calm and collected," he said.
"I like to play pranks, I'm going to tell you, I'll play a joke in a minute," Haynesworth said. He thought about playing one to break the ice but decided it might not be the best move. "She was more nervous than I was," he said.
He laughed recalling that first meeting with Burke and said he told her, "I'm not here for no argument, no vendetta. I'm here to meet you and say, 'OK, now what's next? Let's go present this award.'"
Burke said, "It was an incredible feeling. ... He just started talking and it was really all about how he did not hold any ill feelings toward me and he understood my position."
Burke recalled, "When I finally could get a few words out because of my emotional state, I managed to say, 'I'm just incredibly sorry.' And then he just responded, 'It's not your fault. It was the system that failed us both.'"
"I asked him where his strength came from and, of course, he said, 'The Lord.'"
"When we walked downstairs and we were on the street, I hugged Shawn goodbye and I turned to offer my hand to (Thomas) and he said, 'No, we're past a handshake.' And he hugged me. What can you say — he is just that type of person."
Burke decided to come forward, like Thompson, to help other crime victims who have made similar mistakes.
"There is currently no support system out there," she said. "I think the main theory is, 'Put this behind you and move on.' And unfortunately that doesn't work. You have to confront it, deal with it and make some good out of it before you can move on."
She said Davis came close to controlling her and Haynesworth's lives. "In the end, he didn't win," she said.
"That's right," Haynesworth said. "The truth won out."