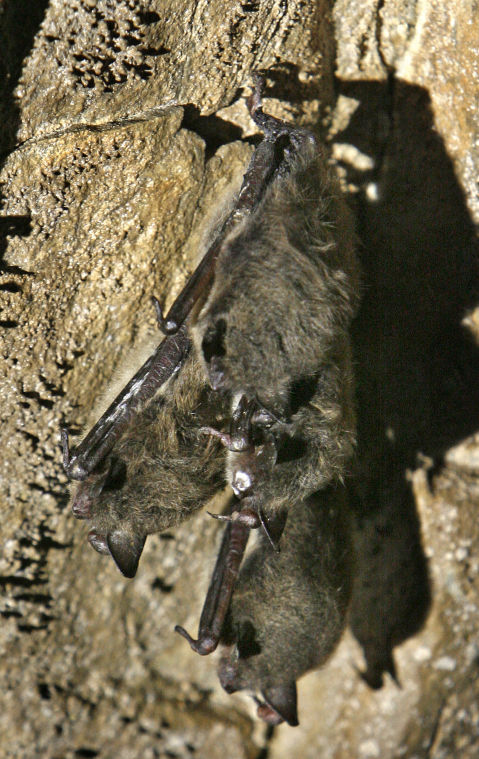 A mysterious disease that devastated bats in the Northeast is now turning Virginia caves into similar killing chambers, wiping out 89 to 99 percent of some populations.
The grim figures, previously unreleased, come from a survey of 21 Virginia bat caves that scientists conducted from January to mid-March.
Scientists once hoped the disease, caused by a cold-loving fungus, might be less deadly as it moves south. In Virginia, at least, that's not happening.
"We don't see the disease really slowing down," said Ann Froschauer, a spokeswoman for the U.S. Fish and Wildlife Service.
The disease is called white-nose syndrome. It is caused by a powdery white fungus that often coats the muzzles of its victims.
The disease seems to need two or three years after it reaches a cave to get up to full killing speed. It first appeared in the U.S. in winter 2006-07 in a New York cave, quickly spread, and in a few years wiped out or nearly wiped out all the bats in numerous Northeast caves.
White-nose first appeared in Virginia in 2009 in Bath County and seems to be running a similar deadly course.
"There seems to be sort of a time lag," Froschauer said. "The Mid-Atlantic states — Virginia, West Virginia and this general area — are really getting hammered" in 2013.
Bats are important because they eat huge numbers of mosquitoes, crop pests and other insects. And while some people don't like bats — they are the subjects of numerous myths — many people do.
"We get stories from the Northeast like, 'I used to love sitting on my porch and watching the bats in the evening, and I haven't seen one in four years,' " Froschauer said. "It makes me really sad."
The disease infests caves that scientists have checked in about 15 western Virginia counties, but it's probably in virtually every bat cave west of the Blue Ridge, said Rick Reynolds, a state Department of Game and Inland Fisheries biologist.
"I would say that Virginia is saturated" with the disease, Reynolds said. "We are not going to places and not finding it."
Research from the 1980s indicated Virginia had about 100,000 hibernating bats. An estimated 67,000 were little brown bats — thumb-sized creatures that spend their winters in mountain caves but often flit about central Virginia neighborhoods on summer evenings.
This past winter, in 13 Virginia caves that have been infested by white-nose syndrome for at least three years, 98.8 percent of the little brown bats had died, state figures show.
The little brown was once Virginia's most common bat by far. Now, Reynolds said, "I would say it's leaning toward being one of the more rare bats in the state."
The number of a slightly smaller bat, the tri-colored bat — it has reddish, brownish and dark fur — plummeted 89 percent in the caves infested at least three years. The tri-colored bat previously made up about 17 percent of Virginia's bat population.
It's possible the disease will kill most of Virginia's cave-dwelling bats, and it may have already, Reynolds said.
Hamilton Cave in Bland County provides a grim example of the disease's lethality. In 2009, scientists found 203 little brown bats there. In 2011, they found white-nose syndrome in that cave for the first time, along with just 89 little brown bats. This past Jan. 29, the little-brown bat population totaled one.
The little brown and the tri-colored bat are clearly the disease's favorite victims in Virginia. It's unclear why.
Other Virginia bats are affected to lesser degrees. The state bat, the rare Virginia big-eared bat, doesn't appear to be affected at all.
Some eastern Virginia bats hibernate in trees, but the large majority of our bats hibernate in cool, damp caves, where the white-nose fungus thrives.
The fungus was new to science when discovered in New York seven years ago. The disease now afflicts bats from Alabama to northeastern Canada and west to Missouri. It has killed more than 5.7 million bats and shows no signs of stopping.
The disease hits bats as they are hibernating, when their temperature and immune systems are depressed. White-nose does not appear to affect people or any other animal.
The fungus gets not only on bats' faces but also on their ears and wings. Afflicted bats often fly from their caves in midwinter, and those apparently starve or freeze to death.
When the disease first appeared, scientists thought the fungus merely irritated the bats, causing them to awake and fly outside in a futile winter search for insects to eat.
But research has shown that the fungus attacks tissue, especially in the wings — it can eat holes through the wings — and disrupts the animals' ability to maintain proper hydration and other functions.
Asked whether the bats are dying from the fungus or those winter flights, Froschauer said: "I think it's a little bit of both."
Scientists are comparing the bat die-off to the devastation of the buffalo, the passenger pigeon and the American chestnut tree.
Experts think the fungus came from Europe, possibly on tourists' caving gear.
Research continues, but much about the disease — including how to stop it — remains unknown.
"Science takes time," Froschauer said. "It's like we are in this race against this disease, and it's moving really, really quickly."
Reynolds, the biologist, sometimes checks caves with young scientists or students.
"It's just hard to go in there and say, 'Well, you probably don't believe this, but this ceiling used to be covered with bats,' " Reynolds said. "And now there's nothing there."
This past winter, 98.8 percent of the little brown bats in 13 infested Va. caves had died.