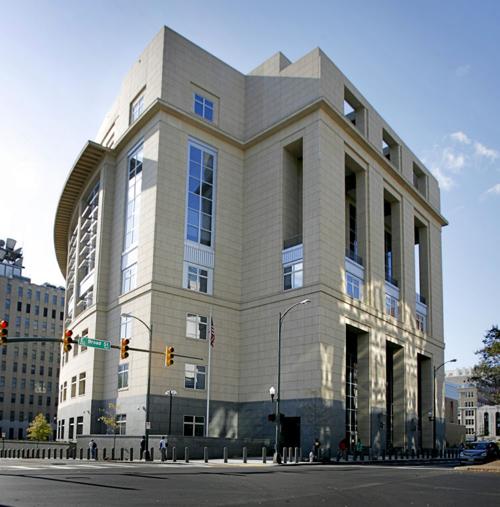 The federal judiciary's judges, clerks, probation officers and others have been tightening belts in light of the budget sequestration cutbacks hitting the U.S. government.
Many say cuts to the Federal Defender Program puts the integrity of the federal criminal justice system at most risk since it provides constitutionally required legal representation to the indigent but has no control over court caseloads.
Worse, say critics, the cutbacks will ultimately cost more money, not less.
Since April, the public defender's office for the Eastern District of Virginia — which stretches from Northern Virginia through Richmond to Hampton Roads — has lost nearly 10 percent of its employees and has turned down five complex cases.
As a result, that work will be handled by private court-appointed lawyers whose bills will likely be higher than the cost if the public defender's office did the work, says Michael Nachmanoff, head of the district's federal public defender program.
"Paying someone by the hour to do the job is simply less cost-effective," he said. "There really is no argument on the other side of this issue."
The country's top federal prosecutor agrees. In an op-ed piece in The Washington Post last week, Attorney General Eric Holder wrote: "In purely fiscal terms, the cuts imposed by sequestration defy common sense because they will end up costing taxpayers much more than they save."
And in his first communication to members of the American Bar Association, its newly elected president, James R. Silkenat, wrote in an email last month, "We are gravely concerned that continued funding cuts to federal defender services will imperil a defendant's Sixth Amendment right to effective assistance of counsel and statutory guarantee of a speedy trial."
Nachmanoff said, "Anybody who believes in the criminal justice system and anybody who believes in fairness and basic constitutional values, once they focus on this issue they understand that cutting us really is in nobody's interest."
For example, said Nachmanoff, in the Richmond office there is no local jail to hold people awaiting trial in federal court. Instead they are held at regional jails 45 minutes or more from the city. "When my lawyers go to jail they can visit five clients and come back," he said.
But if the five inmates each have private appointed lawyers, then there are five lawyers visiting the jail. "They will bill for every minute they're in the car, and they should," he said.
"My lawyers who are paid a salary, through an economy of scale are much more efficient in visiting multiple clients where you don't have a local jail," Nachmanoff said.
They also tend to have more experience handling certain types of fraud cases, for example, that might require more research and preparation time for a private lawyer.
The Constitution Project said 87 chief federal judges recently wrote a letter to Congress stating that "the most significant impact of budget cuts and sequestration thus far has been the reduction of funding for Defender Services."
According to The Constitution Project, sequestration and cuts from within the judiciary resulted in a $51 million shortfall this fiscal year for defender services. Since February, federal defender organizations have lost nearly 10 percent of their approved budgets.
The budget shortfall for fiscal 2014, which begins Oct. 1, is expected to double to $102 million.
"The federal defenders absorbed a nearly 10 percent cut in their budget in 2013," said Christopher Durocher, government affairs counsel for The Constitution Project.
"Because 80 percent of their budget is personnel and an additional 10 percent is fixed overhead costs, like rent, federal defenders have very little flexibility to absorb these costs without laying off or furloughing staff," Durocher said.
He said federal defenders have been placed in an untenable position. They represent 90 percent of all federal criminal defendants yet have no control over how many cases the government chooses to prosecute.
Adequately funding federal of defender organizations requires less than 0.05 percent of total federal spending. "The Constitution Project believes that preventing further cuts in fiscal year 2014 is the most urgent priority," Durocher said.
In late September or early October, Congress is expected to vote on funding the federal government in fiscal 2014, and The Constitution Project is urging an adequate amount of money be appropriated.
Nachmanoff said his pre-sequestration budget of roughly $10 million was trimmed by 10 percent in April, halfway through the federal budget year that ends Sept. 30.
That has meant 10 unpaid furlough days for all employees and a drop in staff size from 57 to 52, soon to be fewer than 50. In Richmond one lawyer and one paralegal have left, cutting the staff to 13 with possibly more consolidation ahead.
Among those departing districtwide were three employees with a total of 80 years of experience. The three took early retirement to minimize the unpaid furlough time on remaining employees and to ease the need for layoffs.
One lawyer, to lessen the office payroll, voluntarily went back on active military duty and is serving at Guantanamo, Nachmanoff said. And one employee was laid off.
A lawyer, investigator and paralegal from Richmond representing one of three Somali pirates facing the death penalty in a two-month trial in Norfolk this summer had to take 10 furlough days in the midst of the trial, Nachmanoff said.
In contrast, prosecutors and staff members in the U.S. Attorney's Office, who work in the executive branch of government, not the judicial branch, did not endure staff cuts or furlough days (although some employees who have left have not been replaced to save money).
Everybody who qualifies as indigent gets a court-appointed lawyer, whether it's a public defender or a lawyer in private practice being paid an hourly rate.
"We take, right now, 70 to 75 percent of all the (indigent) cases unless there's a conflict," Nachmanoff said. That leaves about 25 percent for the lawyers in private practice, he said.
If the percentage of cases going to private lawyers increases, so does the cost, Nachmanoff said.
He said, "We have lawyers with security clearances, we have lawyers with foreign language abilities, and all of our lawyers do nothing but appear in federal court."
"There's an institutional advantage to having defenders take on the most complex cases," Nachmanoff said. "We've only turned down five cases. We have been very, very careful declining cases," he said.
Nachmanoff said he does not want to decline cases, "but we must be careful not to take on more than they can handle. Otherwise we will become a second-rate institution and the courts will have a diminished quality of justice."