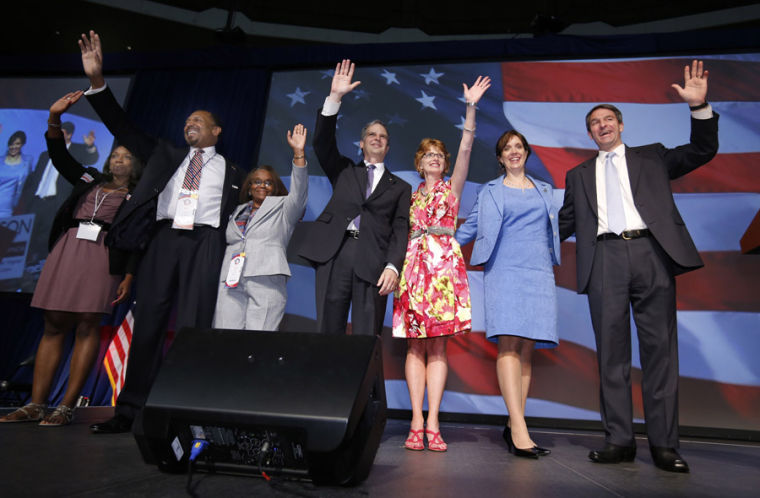 E.W. Jackson, a minister and attorney from Chesapeake, pulled off a stunning upset last night, topping six rivals for the Republican nomination for lieutenant governor.
Jackson fended off a late charge by Pete Snyder, a Northern Virginia technology entrepreneur, capping an epic four-ballot battle at the Richmond Coliseum that lasted nearly 10 hours.
Earlier Saturday, delegates nominated Sen. Mark D. Obenshain, R-Harrisonburg to run for attorney general.
The result means Ken Cuccinelli, who formally accepted the party's nomination for governor Saturday, will head a ticket that cements the tea party's takeover of the state GOP apparatus.
"Thank you for believing in me and praying for me," Jackson said late Saturday night as the new ticket united on stage at the Coliseum. "We are going to join Ken Cuccinelli and Mark Obenshain and bring you a victory in November."
For much of the day Jackson, who sought the GOP nomination for U.S. Senate last year, appeared headed to victory, but as rivals fell to the wayside, Snyder piled up a series of endorsements in what had the trappings of a stop-Jackson movement.
But hints of skullduggery appeared to halt Snyder's momentum. As the two finalists went to a fourth ballot, Cuccinelli, Obenshain and Corey Stewart, chairman of the Prince William Board of County Supervisors – who finished third in the balloting for lieutenant governor – knocked down false rumors circulating at the Coliseum that they would back Snyder.
Just before 9 p.m., Chris LaCivita, a top aide to Cuccinelli's campaign, said on Twitter that Cuccinelli would not endorse a candidate for lieutenant governor.
Obenshain and Stewart said fliers at the convention center touting their support for Snyder were false. Stewart then escorted Jackson around the Coliseum floor, in a conspicuous show of support.
As Snyder gained momentum, Jackson's supporters passed out a lengthy statement in which he defended himself as a candidate of substance, not merely style.
"I have been accused of being no more than a speechmaker," Jackson said in the statement. "In fact I have been an entrepreneur and a risk-taker, willing to pioneer and break new ground."
Jackson indicated in the statement that opponents were attacking him over past financial setbacks.
"These attacks are what some career politicians call 'hardball' Jackson wrote. "I call it 'small ball.' In any event, I refuse to play ball in that demeaning game."
He added: "These attacks are happening because we are winning hearts and minds."
Jackson is the first black Republican nominee for statewide office since Maurice Dawkins took on Sen. Charles S. Robb, D-Va. in 1988.
But Jackson emphatically decries racial politics. In a well-received speech to delegates earlier Saturday, he received perhaps the greatest applause of the day when he told thousands of delegates at the Coliseum: "I'm no African-American, I'm an American!"
Cuccinelli became the party's nominee for governor on Jan. 14, when no other Republican filed by the party's deadline. In formally accepting the Republican nomination Saturday morning he termed his Democratic opponent, Terry McAuliffe, an inside-the- Beltway opportunist who is not prepared or committed to run the commonwealth.
Cuccinelli also struck back at critics who would label him an extremist.
Obenshain defeated Del. Robert B. Bell, R-Albemarle on the first ballot to secure the nomination for attorney general.
"We have a great message of individual liberty and personal responsibility," Obenshain said. "It is a mainstream message. We need to make Virginia more attractive for visitors and create more private sector jobs."
The Democrats will pick their down-ticket nominees in a June 11 primary. Obenshain will face either former federal prosecutor Justin Fairfax or Sen. Mark R. Herring, D-Loudoun.
The Republican nominee for lieutenant governor will face either Aneesh Chopra, who served as a top technology official under then-Gov. Timothy M. Kaine and President Barack Obama, or Sen. Ralph S. Northam, D-Norfolk, a pediatrician.
In a congratulatory tweet, Cuccinelli called Obenshain "a great addition to the team."
Brian Coy, a spokesman for the state Democratic Party, criticized the new GOP slate as out of the mainstream.
"Today Virginia Republicans sent a clear message to every Virginian who will choose our next governor, lieutenant governor and attorney general: Ken Cuccinelli's extreme agenda is more important than what's best for your family," he said in a statement.
Obenshain is the son of Richard Obenshain, whom many consider the father of the modern conservative Republican Party in Virginia. In his remarks to convention delegates, Obenshain recalled his father's nomination for the U.S. Senate in a 1978 state GOP convention.
Richard Obenshain died in a plane crash that summer. John W. Warner won the election and held the Senate seat for 30 years.
In his remarks Saturday to convention delegates, Obenshain echoed Cuccinelli in his willingness to push back against what he sees as the excesses of the federal government.
Addressing President Barack Obama, Obenshain said: "Mr. President, the next time you have the IRS target the Virginia Tea Party, you're going to have to deal with me."
Jim Nolan contributed to this report.