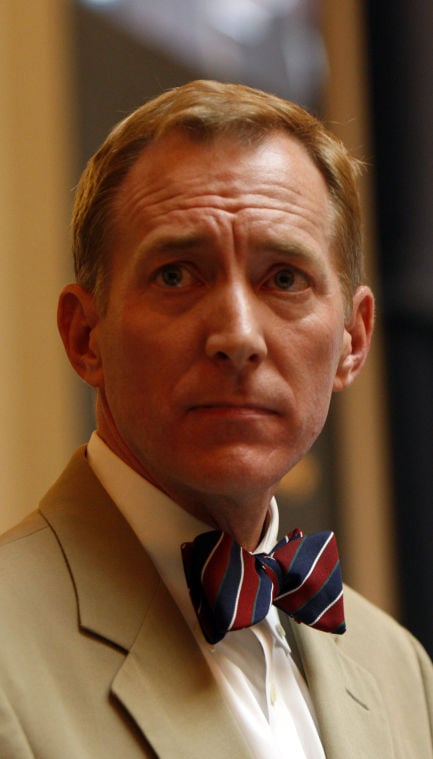 Paul Nardo is spending hours these days in the attic of the state Capitol. He's rummaging through the records of the House of Delegates. In those damp-smelling volumes, the clerk is searching for clues on the legislature's role in the unprecedented: the resignation or removal of a Virginia governor.
"It's a lot of coulda, woulda, shoulda," Nardo says of the protocols.
They're on a lot of people's minds as Gov. Bob McDonnell descends deeper and deeper into the inferno of scandal.
No lawmakers asked Nardo for this research. He's trying to stay ahead of the curve. Nardo has been studying ancient journals, perusing scholarly commentaries and reviewing how the House handled the closest thing to a gubernatorial impeachment: the impeachment of two judges in the 1940s.
That Nardo, as chief administrator of the Republican-dominated House, is considering how the abstract might become reality is an ominous sign for McDonnell. GOP legislators, for the most part, are united in their silence on his travails. Should they begin speaking out, it could be because they want McDonnell out.
McDonnell can survive the taunts of General Assembly Democrats. They're in the minority. Anything they say against him can and will be dismissed as deliberate partisanship. Only two Democrats, both state senators from deep-blue Northern Virginia, have said McDonnell should resign to save the governorship — and, perhaps, himself — from further disgrace.
This is not in the Democrats' script. It doesn't call for them to intervene in this slow-motion Republican suicide. Plus, the more Republicans dissemble on ethics, the less Democrats have to defend the supposed misdeeds of their gubernatorial nominee, Terry McAuliffe. In the backstairs debate among Democratic leaders, candidates and strategists, the consensus is to be cautious.
McAuliffe and running mates Ralph Northam and Mark Herring are in lockstep on a gifts ban for the elective class. Donald McEachin, chairman of the Senate Democratic Caucus, launched an online petition pressing McDonnell and Ken Cuccinelli, the GOP candidate for governor, to make public all gifts.
Listening to Senate Democratic Leader Dick Saslaw, it sounds as if Sens. Chap Petersen and Barbara Favola went rogue in urging McDonnell's resignation over Giftgate.
"What's the purpose other than piling on?" says Saslaw. "There's no question the governor is up to his … in alligators — and he knows it. Let's just wait and see. All I know is I wouldn't want to be in his situation."
McDonnell's situation is made worse by Cuccinelli. He, too, is stuck in the briar patch that is Jonnie Williams Sr. and Star Scientific. Cuccinelli's effort to distance himself from McDonnell achieves the wrong objectives. It magnifies their shared humiliation. It is a reminder Cuccinelli is better at sticking it to McDonnell than sticking with him.
Cuccinelli isn't the only Republican statewide candidate avoiding McDonnell — or availing himself of the opportunity to do so.
Mark Obenshain, the nominee for attorney general, is holding a fundraiser in Virginia Beach on Wednesday evening. The governor was supposed to be the headliner. But McDonnell's office now says the appearance is off, that he'll be on vacation all week with his family.
And speaking of a quid pro quo, the presumed focus of the federal criminal investigation of the McDonnell-Williams relationship, the venue of the Obenshain event screams this for that — at least politically:
It's supposed to be held at the Bay Colony home of Helen Dragas, former rector of the University of Virginia. McDonnell reappointed her to the school's governing board despite objections from Republicans and Democrats angry over her ham-handed attempt last year to topple President Terry Sullivan.
As Richard Nixon was 39 summers ago for Watergate-worried congressional Republicans, McDonnell could become, with apologies to the late columnist Nicholas von Hoffman, a "dead mouse" to legislative Republicans: Everyone can see it. Everyone can smell it. Who's going to throw it away?
Republicans were sensitive to scandal long before this one enveloped McDonnell.
After Del. Phil Hamilton, R-Newport News, was indicted in 2011 by a federal grand jury in a state appropriation-for-a-school-job ruse, Virginia Senate Republicans were privately briefed by Lane Kneedler, a law professor, former chief deputy attorney general and lobbyist, on the anti-corruption statute under which Hamilton would be successfully prosecuted: the Hobbs Act.
Two years later, that law is guiding a U.S. attorney and federal grand jury stalking considerably bigger prey.
Defending their majority this fall, House of Delegates Republicans will cut and run on the first sign that McDonnell's problems are becoming theirs. Their survival instinct will demand it.
An alarming harbinger for Republicans: conservative bloggers, who had already turned against McDonnell for raising taxes, report as fact that his resignation is inevitable, part of a plea agreement with prosecutors. An administration that ordinarily ignores the blogs did otherwise this time, issuing a forceful denial.
Should pressure intensify because of hostile public opinion, fed by unflattering news reports that go unanswered by McDonnell, House Republicans may have no option than to tell him he has none: that it's time for him to go.
And all Democrats have to do is watch a great Republican tradition: cannibalism.
Contact Jeff E. Schapiro at
(804) 649-6814. His column appears Wednesday and Sunday. Watch his video column Thursday on TimesDispatch.com. Follow him on Twitter, @RTDSchapiro. Listen to his analysis 8:33 a.m. Friday on WCVE (88.9 FM).