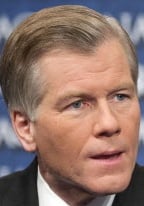 It's the kind of question that grammar school teachers might ask their students:
What three things would you do if you were the president?
But the query takes on a different meaning when it's asked of a lame-duck governor who has been mentioned as a possible presidential candidate in 2016.
Gov. Bob McDonnell did his best to avoid getting caught up in premature presidential posturing.
"That's a big if," McDonnell said in response to the question Thursday during his monthly call-in radio show on WRVA in Richmond.
"That's a long way away. I'm not doing anything other than trying to be a responsible governor right now."
McDonnell did say that a lot of things need to be done at the federal level, citing debt and deficit reduction, global economic competitiveness and the need to restore more power to the states. Later he called efforts to cut the debt and deficit "a joke" without serious consideration of entitlement reform.
But when he was prodded on the presidential issue by WRVA host Jimmy Barrett, McDonnell quickly interjected:
"You are creating controversy where none exists. ... I'm not running for anything here other than trying to be a good governor here and working with the legislature."
There is still some work to be done with the legislature, which next week takes up more than 80 governor's amendments to legislation governing transportation, state spending and possible expansion of Medicaid under the federal Affordable Care Act.
McDonnell spent a good amount of his time defending the sweeping state transportation funding package that will pump billions over the next five years into road maintenance, new construction, rail and mass transit through increased fuel, sales and vehicle taxes and fees.
"It's a quality of life issue, it's a job creation issue, it's a competitive issue," McDonnell said.
He urged listeners to consider the big picture when it comes to the transportation funding package — that Virginia's congested and crumbling highway infrastructure required more revenues, and getting lawmakers to agree on a plan of action entailed compromise and sacrifice on all sides.
"While not everybody may agree on how this was done — hey, there are parts of the bill that I liked and there are parts that I wish we might have done a little differently," he said, adding that "it was time for action because two decades of inaction was enough."
After House Bill 2313 passed the legislature, McDonnell amended the package to reduce fees for hybrid and alternative fuel vehicles, reduce the increase in the motor vehicle titling tax and restructured language that will enable the state to impose additional tax in regions where additional funding is needed, such as Hampton Roads and Northern Virginia.
Hybrid owners have been among the most vocal critics of the plan. Despite a reduction in the $100 hybrid and alternative fuel vehicle fee to $64, McDonnell still fielded a call from a listener who claimed owners of fuel-efficient car owners are being asked to pay more than their fair share.
"If you pay a significantly less amount of gasoline tax or no gasoline tax, then a small fee is appropriate," he said, calling it "an equitable policy."
McDonnell also reiterated his opposition to the expansion of Medicaid under the Affordable Care Act as it is currently constituted.
"We've already got a program that doesn't work very well and costs an awful lot of money," he said.
"I am not going to support an expansion that breaks the bank for future governors. ... So what I have said is we have to have dramatic reform at the state level, at the federal level and in the private sector to be able to cut down the costs of the Medicaid program — otherwise it's unsustainable and it's wrong to pass down this burden to the next generation or another governor."
Still, Medicaid language in the budget bill up for reconsideration in the General Assembly next week provides for the establishment of a committee that would be empowered to authorize expansion of Medicaid if a series of reforms and changes to the program are agreed upon by the federal government.
McDonnell's view of the language is that "it creates a firewall against expansion."