Considering that she is not running this year, former Speaker of the House Eileen Filler-Corn, D-Fairfax, is hitting the campaign trail hard — and often far from her old legislative district.
Her past week has included stops in Charlottesville, Manassas, Henrico County, Charlottesville again and then Hampton Roads for Memorial Day weekend campaigning, with a day in her home turf — an outside-the-Beltway portion of Fairfax anchored in Burke, where she works phones, hands out General Assembly resolutions and fields constituent concerns.
But at home, her main focus these days is working on the emails, social media and digital advertising that have become so central to 21st-century campaigning, but about which many of the newcomers seeking to flip the House of Delegates back to a Democratic majority do not necessarily know much.
On the road, her message is simple — as at the Roe the Vote gathering at her first Charlottesville stop.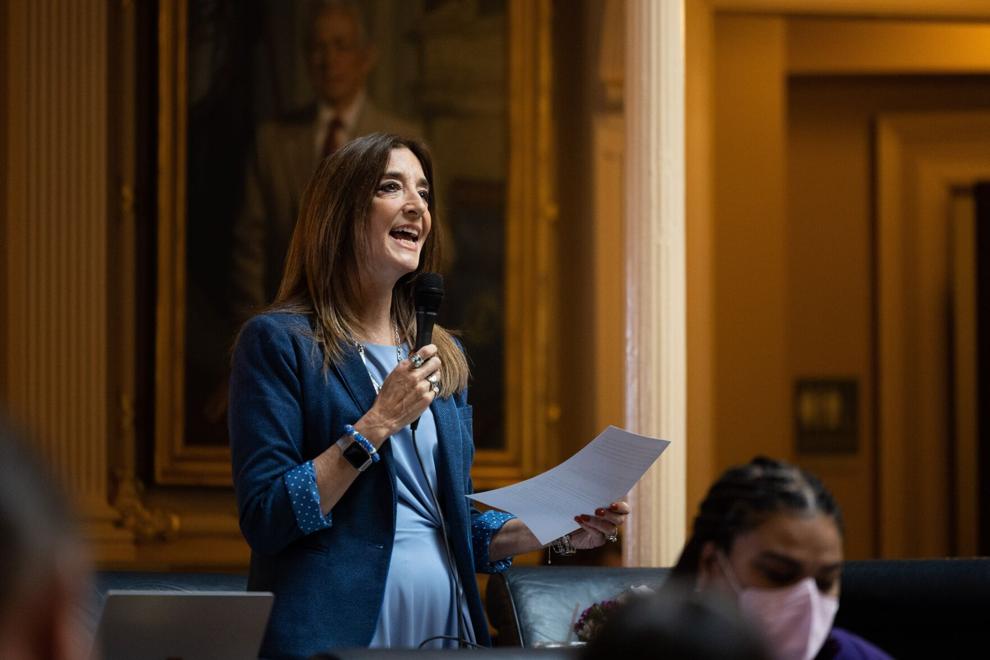 The group's priority is defending abortion rights and access to reproductive health care, one of Filler-Corn's longstanding priorities, beginning well before she was able to win passage of a bill in the Republican-controlled House in 2017 requiring health insurers to cover birth control pills. It was the first reproductive health bill in a decade to make it through the General Assembly.
"They asked, 'what's the answer?' and I said: 'the election, the election, the election,'" Filler-Corn said.
All 140 legislative seats are up for election in November. Republicans now lead the House. Democrats control the Senate.
Filler-Corn also took time for a session with Katrina Callsen, who is running in the Democratic primary in House District 54 for the strongly Democratic Charlottesville House district after Del. Sally Hudson decided to challenge state Sen. Creigh Deeds. Filler-Corn ended up endorsing Callsen a few days later, after her usual, detailed review of candidates' stances on issues and on how serious they are about winning, even if they are new.
Her return stop in Charlottesville was for Deeds' "Deeds Not Words Weekend of Action" campaign event.
"I think it's phone banking, rallies, maybe door-knocking," Filler-Corn said. "I love door-knocking, getting my sneakers on."
Though Hudson was a House colleague, Filler-Corn has worked with Deeds much longer: "He's someone who's always about 'how can we get there?'" rather than simply shrugging off ideas as too difficult to get through," she said.
While she says she is actively exploring a run for governor in 2025 — and adds that it does not hurt to be out meeting new people and potential supporters — Filler-Corn says what is driving her now is a focus on defending the sweeping new initiatives on gun violence, voting rights and labor protections that passed while she was speaker in 2020 and 2021.
House Democrats ousted her as leader of their caucus in April 2022 after Republicans regained control of the chamber. Democrats subsequently picked Del. Don Scott Jr., D-Portsmouth, as their leader in the chamber.
In Manassas, speaking to the League of Women Voters, Filler-Corn focused on their shared concern with making voting easier — and found another shared concern over school funding and the curriculum changes Gov. Glenn Youngkin and the GOP House majority are urging.
In Henrico, she gathered in a private home to join former Gov. Ralph Northam in rallying support for Del. Delores McQuinn, D-Richmond — a particularly close ally on gun and voting rights, as well as on a reproductive rights issues that has only recently come to fore: the religious freedom issue.
"When people talk about their faith and abortion, they forget that some religions have a different view," Filler-Corn said. Jewish law, for instance, mandates termination of a pregnancy in certain circumstances involving the life or health of the mother.
"I was talking to Delores, and she said: 'That's what my religion teaches, too,'" Filler-Corn said. The two have joined in a group to argue that American views on freedom of religion dictate against abortion bans and further restrictions than Virginia law now contemplates.
Filler-Corn's political action committee, continuing the tradition of speaker-organized PACs that former Speaker Vance Wilkins started 23 years ago, is already donating to legislative campaigns.
But her endorsements also come with other kinds of help, including practical, technical help.
So far, she has donated more than $100,000 to Democratic candidates for the legislature and in local races. It is aid that has come earlier than that which former speakers Wilkins, R-Amherst; Bill Howell, R-Stafford; and Kirk Cox, R-Colonial Heights, offered after they opted not to run for reelection. So far, the amounts are smaller.
Her first round in January and February included $2,500 to Debra Gardner, Alex Askew and Michael Feggans, all battling to win or regain competitive districts in Chesterfield County and Virginia Beach. In contrast, former Speaker Cox kicked off a $411,000 boost to Mary Margaret Kastelberg's unsuccessful bid for a Henrico district with a $30,000 donation in July 2019.
In Hampton Roads over Memorial Day weekend, Filler-Corn is looking beyond primaries to races that will be battlegrounds in Democratic efforts to flip the House and GOP efforts to defend their majority.
Speaker Todd Gilbert, R-Shenandoah, does not like to talk tactics regarding his efforts.
But "the speaker is working day and night to help retain and expand our Republican majority," spokesman Garren Shipley said.
Filler-Corn's endorsements include candidates for Virginia Beach and Norfolk districts that have swung back and forth in recent years, such as the one where Askew is running and the one where Feggans hopes to unseat Del. Karen Greenhalgh, R-Virginia Beach. In other competitive districts, she is backing two candidates: Gardner, in a competitive district, and former Del. Joshua Cole, seeking to come back to represent a Fredericksburg-area district.
She is hoping Rachel Levy can swing a Republican-leaning district based in western Hanover County, Louisa County and a small part of western Henrico where Del. Buddy Fowler, R-Hanover, is in a three-way nomination contest. She is also hoping that Lily Franklin can do the same in the Shenandoah Valley.
Her record working with others shapes her endorsements.

In a state Senate primary race that pits two former House colleagues against each other, Filler-Corn is backing Hala Ayala over Jennifer Carroll Foy, because she and Ayala worked together on issues even before Filler-Corn's first election to the House in 2010. That Senate seat, while largely in Prince William County, includes a dozen precincts in Filler-Corn's old district. Ayala was the 2021 Democratic nominee for lieutenant governor. Carroll Foy finished second in the five-way 2021 Democratic primary for governor.
Filler-Corn says issues matter, too. She has endorsed Saddam Salim over state Sen. Chap Petersen, D-Fairfax City, largely because Salim more closely shares her views on gun control, especially for assault-style weapons.
It all comes down to defending a legacy, she said.
"I'm out there because I want to be sure we don't lose what we gained," she said. "And I love campaigning."
Profiles: Meet the candidates in Virginia's June 20 primary election
This is a collection of stories about races in Virginia's primary elections on June 20.
The June 20 Democratic contest has attracted national attention a year after the U.S. Supreme Court overturned Roe v. Wade.
State Sens, Louise Lucas, D-Portsmouth, and Lionell Spruill Sr., D- Chesapeake, prominent lawmakers in Hampton Roads, are the only two Senate incumbents facing off in a June 20 primary.
Republicans Graven Craig, Del. Buddy Fowler and Philip Strother face off in a June 20 primary. The winner will compete against Democrat Rachel Levy. 
Rae Cousins, Ann-Frances Lambert and Richard Walker will vie for the party's nomination on June 20.
The district, which has a slight GOP lean, likely will be a battleground in the fall.
Dave Ress (804) 649-6948
@DaveRess1 on Twitter