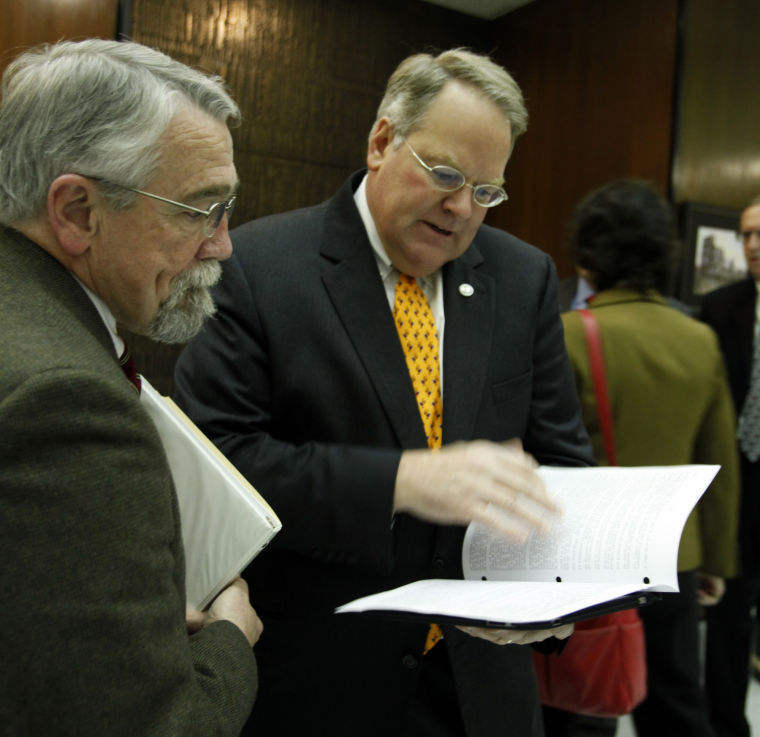 The federal government has given tentative agreement to the reforms Gov. Bob McDonnell sought as a precondition to the state expanding its Medicaid program under the Affordable Care Act.
The Centers for Medicare & Medicaid Services sent a letter last week to Virginia Secretary of Health and Human Resources Bill Hazel to outline areas of agreement between the federal and state governments, as well as the additional steps that lie ahead before reforms can be put fully into place.
"We at the Centers for Medicare & Medicaid Services (CMS) are committed to working toward expedited agreements on meaningful Medicaid reforms for the commonwealth of Virginia," said Cindy Mann, an administrator at the federal agency.
Hazel reviewed the letter Tuesday with Virginia Senate representatives on the conference committee that will determine amendments to the two-year state budget, most notably whether Virginia will expand its Medicaid program. House of Delegates members on the panel were invited but did not attend the briefing.
"That's what they wanted to know — what it meant," Hazel said of the briefing on the letter. "It's probably a one-of-a-kind letter."
It's not clear whether the letter's assurances will be enough to persuade McDonnell and House Republican leaders to allow the state Medicaid program to expand Jan. 1. Virginia could receive more than $2 billion in estimated federal spending in 2014 — 100 percent of the cost of extending coverage to about 250,000 uninsured Virginians.
Hazel said the governor's position remains "make sure we have the commitments to reforms in place before we expand."
The agreements specified in the letter are steps toward those final commitments, he said.
House members confirmed Tuesday that a number of Republican delegates signed a letter circulated by the Virginia Hospital and Healthcare Association supporting the Senate's position of allowing expansion next year if the federal government approves proposed alterations to the state Medicaid program.
In response, House opponents circulated another letter that urged the chamber to maintain its position that Medicaid expansion cannot occur without General Assembly approval next year.
"It's all about timing," said Sen. John Watkins, R-Powhatan, who was among the Senate budget conferees Hazel briefed Tuesday morning. "I think there could be some agreement with regard to the waivers and reforms everyone is eager for."
Del. Riley E. Ingram, R-Hopewell, said he has met privately with Hazel for assurances that the state can pull back from the Medicaid expansion if the federal government reduces its commitment to pay 100 percent of the cost for three years and no less than 90 percent thereafter.
"The main thing I want is safeguards," said Ingram, who is chairman of the House Appropriations subcommittee on health and human resources.
At the same time, Ingram wants to ensure that Virginia isn't left behind while other states receive billions of dollars in federal funds supplied in part by Virginia taxpayers.
"It's the law of the land — it's going to happen," he said. "I don't want us to be at the bottom of the pack."
The CMS letter outlines three areas of general agreement with the state that would require further negotiation before final approval:
• simplification of how the state administers the Medicaid program, including unified waiver programs for services delivered outside of institutions to the elderly and people with various disabilities;
• pilot programs to test changes in how Virginia delivers and pays for health care services under Medicaid; and
• cost-sharing requirements for people to receive benefits, primarily those who earn more than 100 percent of the federal poverty level, currently $11,170 a year for a single person and $23,050 a year for a family of four. The Affordable Care Act allows extension of Medicaid coverage to people who effectively earn up to 138 percent of the federal poverty level.
Currently, childless adults are not eligible for Medicaid no matter how little they earn. Parents can earn no more than 30 percent of the poverty level and people with disabilities no more than 80 percent in Virginia.
CMS and Virginia "agree that the federal government has very limited flexibility under the statute to waive statutory cost-sharing requirements for the expansion population, or for the existing lowest-income Medicaid population," Mann wrote.
"Cost-sharing for the expansion and current Medicaid populations, therefore, must conform to limits as established by statute and regulation," she added. "However, within those parameters, states have flexibility to vary cost-sharing across groups and for services, including for appropriate pilot projects to test payment and delivery reforms."
Virginia is asking for the reforms under a waiver allowed by Section 1115 of the Social Security Act. In addition, the state is working with the federal government on the details of an agreement to allow cost controls for expensive services to Virginians who qualify both for Medicaid and Medicare.
McDonnell and the General Assembly are requiring the proposed changes as a precondition for expanding Medicaid. The proposed House budget also would require extensive changes to existing programs, as well as subsequent legislative approval.
Hazel has told legislators publicly that putting off the decision on expansion would make it harder for the state Medicaid program to get ready by next year.
"My guess is we would be hard-pressed to start on Jan. 1, even if we got the go-ahead now," he said Tuesday.