MINERAL — Last December, Lucille Waddy went to the tiny office at the entrance to Six-O-Five Mobile Home Park with a money order for her rent, as she has done for nearly 20 years. Only then did she find out that the monthly cost of renting a lot for her mobile home had jumped from $445 to $625, an increase of more than 40%.
Waddy, 77, is living on Social Security retirement benefits, but she's paying the increased rent, although other residents are refusing and taking the issue to court.
"I didn't want to get put out," she said. "I don't have anywhere to go."
Waddy doesn't understand why the rent shot up. "I still don't know who owns the trailer park," she said.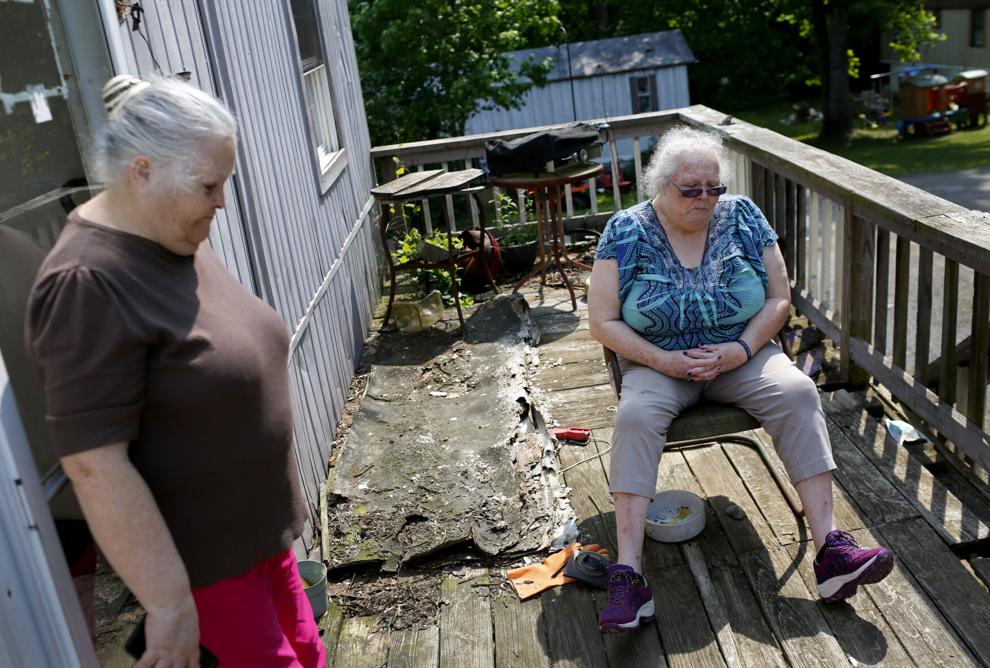 The answer is Homes of America LLC, a New Jersey-based spinoff of the same private equity firm that created Alden Global Capital, an investment firm that owns The Virginian-Pilot and Daily Press and other newspapers, including the Chicago Tribune. Alden, as a minority shareholder in Lee Enterprises Inc., failed in an attempted 2021 hostile takeover of Lee, the Iowa-based company that owns the Richmond Times-Dispatch.
That same year, Homes of America purchased Six-O-Five and The Hill Mobile Home Park in Bowling Green for $3.7 million from a Henrico County-based mobile home park company owned by Jimmy Benson, who confirmed the sale and said he is no longer involved in either property. The park here in Louisa, which accounted for $3.4 million of the sale price, has more than 100 lots, while the one in Bowling Green, near Fort Walker, a U.S. Army base formerly known as Fort A.P. Hill, has fewer than 30.

The new owner is part of a national wave of private investment companies that have attracted intense public scrutiny for buying mobile home parks and then jacking up lot rents and fees for residents who own manufactured homes that aren't actually mobile, but fixed to lots they don't own. The trend coincides with a decline in affordable housing, as rents rose during the COVID-19 pandemic, making manufactured homes an attractive option for investors, often at the expense of people who live in them.
"It's the only non-subsidized affordable housing, but it's not affordable," said Victoria Horrock, senior attorney at Legal Aid Justice Center in Richmond, which is representing almost a dozen residents at Six-O-Five, about 50 miles west of downtown Richmond.
Last fall, Gov. Glenn Youngkin made affordable housing a priority by launching his "Make Virginia Home" initiative to loosen restrictions on housing in local zoning ordinances and comprehensive plans. The governor made little progress on the issue in the General Assembly this year, but the Virginia Housing Commission is studying a number of policy proposals for possible action in the next legislative session in January.
Finding affordable housing has become a challenge in this part of Louisa, wedged between the Interstate 95 and 64 corridors, which make it attractive to people moving from Richmond, Charlottesville, Fredericksburg and even Northern Virginia. The area is already a mecca for owners of second homes near scenic Lake Anna, but housing is becoming less affordable for working class, elderly and disabled residents with limited income, often living in homes they often cannot afford to repair.
"You drive around the county and see places you think are uninhabited, but people are actually living there," said Kim Hyland, executive director of the Fluvanna-Louisa Housing Foundation.
'Where are they going to go?'
"Where are they going to go?" Hyland asked about Six-O-Five residents. "Louisa is right in the middle of all of it. It's being squeezed from every direction."
The mobile home park opened in the early 1970s and initially helped to house workers at the nearby North Anna Power Station operated by the Virginia Electric & Power Co., now known as Dominion Energy. The 34-acre property sits between U.S. Routes 522 and 33, 10 miles from Interstate 64 at Shannon Hill, but "it is most definitely not included in our growth areas," said Josh Gillespie, director of the Louisa Department of Community Development.
The county is working with Hyland's foundation to expand the supply of affordable housing in Louisa, using $775,000 in funding that Rep. Abigail Spanberger, D-7th, secured when she represented the area. It's also promoting other affordable housing options, including the right of homeowners to add accessory dwelling units, rehabilitation of existing vacant units, and development of county-approved apartment and neighborhood projects.
But if residents suddenly had to leave the mobile home park and find new housing, Gillespie said, "There would be very little in the way of rental opportunities immediately available probably within 30 miles."
Legal Aid has filed civil actions in Louisa County General District Court for 11 residents of Six-O-Five, alleging that the owner violated state law by raising their rents without the 60-day notice required under the Virginia Manufactured Home Lot Rental Act and seeking repayment of higher rents that some of its clients have already paid. It's also helping residents organize a community association to push for protection of all Six-O-Five residents against further rent increases.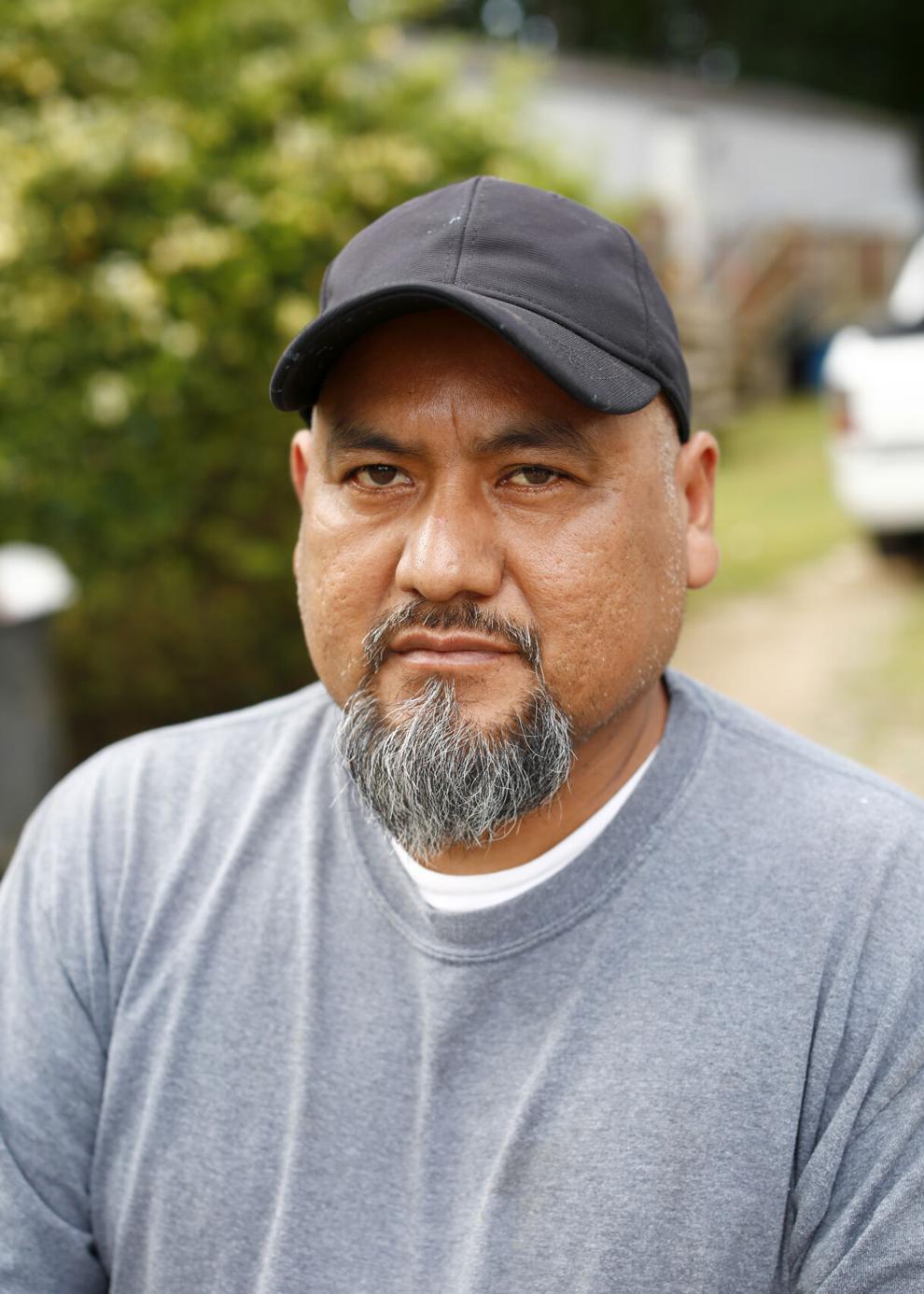 "You don't know when they're going to raise the rent again," said Gavino Felipe, who is leading the effort for residents. "You don't know when it's going to become 800 or 1,000" dollars a month, he said.
Felipe, who works at a local wooden pallet company, has lived at the park with his sister and niece for more than six years. Like many of the residents, Felipe is from Latin America and doesn't speak English. He said many of his neighbors work as laborers for construction and landscaping businesses.
Homes of America already faces ongoing litigation for its treatment of residents in a mobile home park it purchased in Christiansburg, as Cardinal News first reported in November, and five parks that it bought in Mercer County, W.Va., in the Bluefield area along the state line with Virginia.
'We don't matter to them'
In an article that Columbia Journalism Review published this month, freelance journalist Julie Reynolds reported that Homes of America had acquired more than 100 mobile home parks in 17 states since early 2021. Reynolds, who formerly worked for a California newspaper bought by Alden Global Capital, also detailed the ties between Homes of America and Smith Management LLC, which share the same address in Englewood, New Jersey.
The story estimates Randall Smith, founder of Smith Management and Alden, and Alden President Heath Freeman have invested more than $150 million in mobile home parks over the past two years.
Verifying those ties isn't easy because Homes of America is registered in Delaware, where ownership isn't required to be publicly disclosed. The company did not leave a message at the New Jersey phone number listed by the Better Business Bureau, which has not accredited it.
Chief Operating Officer Bryon Fields, a former intern at Alden and cornerback on the Duke University football team, did not return messages left on his telephone voicemail.
Laura (no last name given), listed by Six-O-Five as the primary contact for park residents, answered a call but said, "I have no comment at this time."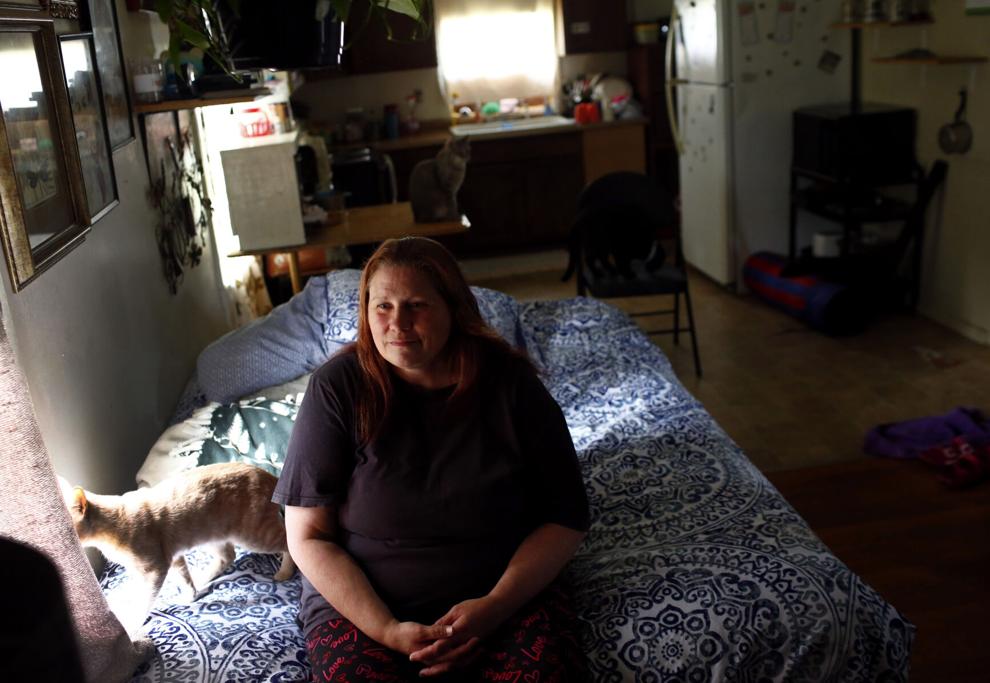 The lack of communication with Six-O-Five residents infuriates Dorothy Brimingham, one of the 11 plaintiffs in the civil actions against the park's owner. Brimingham, like Waddy and Felipe, said she learned of the rent increase when she went to the office to pay in December. She said she paid the higher rent initially, but not anymore. A hearing is scheduled on the cases on June 13.
"We don't matter to them," she said.
Brimingham, 48, has lived at Six-O-Five for more than four years. She shares the trailer with her husband and her 22-year-old son. She is disabled by a back condition — spinal stenosis and eight herniated disks — that she attributed to years of construction work and heavy lifting in warehouse jobs. She relies on disability payments, government food assistance and Medicaid health coverage, which she said could be jeopardized if her husband works and makes too much money.
"I'd like to go back and work, but my body won't let me," she said.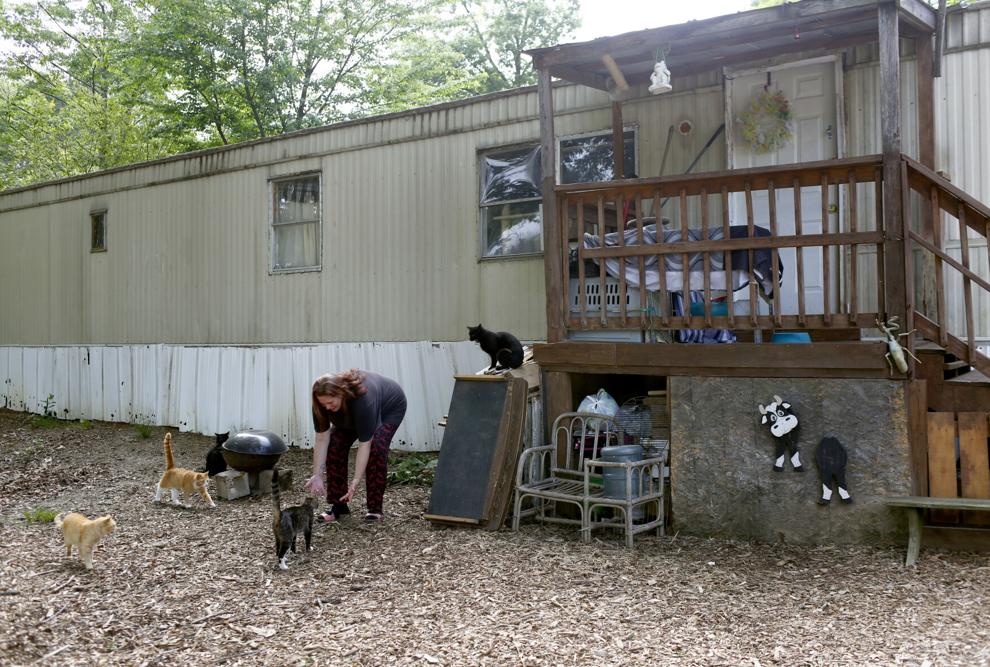 After paying her rent and electric bill, Brimingham said, "that leaves me $13 a month to live on."
She's also angry at a recent pitch by the owner to buy mobile homes that residents own. In a flier distributed to residents at the park, the owner touted a buyback product that "offers all homeowners flexibility and access to liquidity."
Brimingham called the proposal a ploy to take advantage of residents who are struggling to afford the higher rents. "They're being a snake in the grass talking about sell your trailers if you're tired of all the expenses of the park," she said in a text message.
Residents received notice last month that they will be billed each month for any current balance in their accounts, monthly rent "and other recurring charges," utility charges and an administrative fee of $5.50. Brimingham said the company had been charging her a $50 late fee each month even before the rent increase, even though she said she pays on time.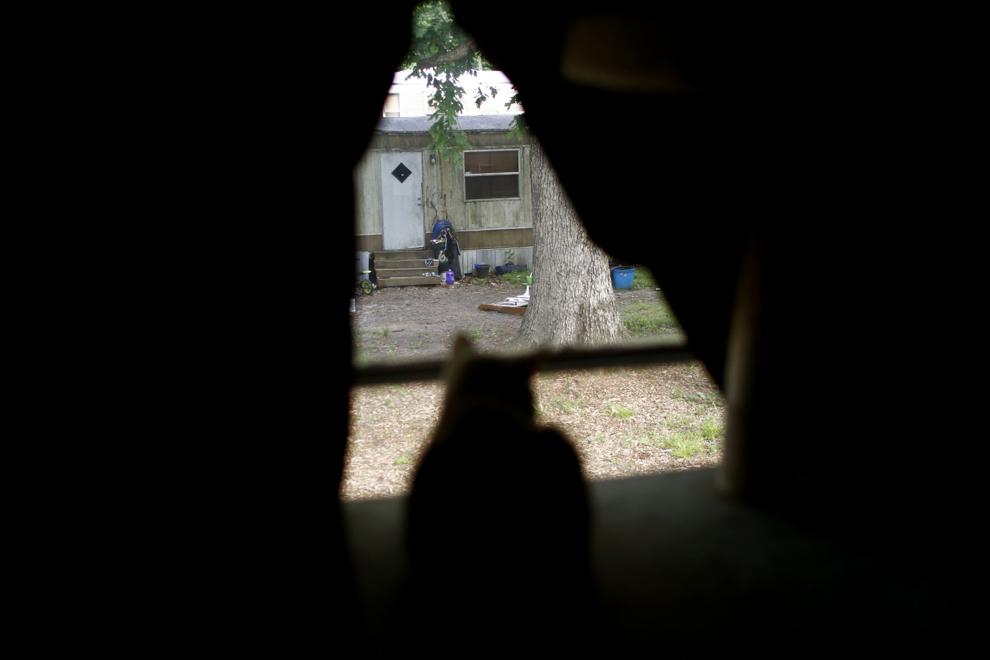 Horrock, the legal aid attorney, said the lease allows the owner to charge for trash removal, but not water and sewer service. Six-O-Five is served by well water and an on-site waste treatment station.
The park was already dilapidated and unkempt, but Brimingham says its condition has gotten worse. "There's trash everywhere," she said. "Half the trailers are empty. The roads are falling apart."
Hyland, at the Fluvanna-Louisa Housing Foundation, said, "It's really rough."
Gillespie, the community development director, agreed that the roads within the mobile home park "are in terrible condition."
He said the county has been pushing the new owner to fill potholes and improve the park's private roads as a top priority, followed by grounds maintenance and clearing out abandoned mobile home units.
Gillespie said the company has committed to repairs and having a park manager on-call full time, if not on-site.
Louisa spokesperson Cindy King said the new owner told the county that "the increased rent will directly benefit park maintenance."
Mobile home parks have become an attractive investment because of the income they generate, said Del. Carrie Coyner, R-Chesterfield, a zoning attorney who is pushing for state and local policies that elevate manufactured housing as an option for people who cannot afford market rents or home mortgages.
The return on investment "is very, very high because of how many units you have on such a small piece of property," Coyner said. "It is a very lucrative property to invest in and own."
The Norfolk real estate firm that advertised Six-O-Five and The Hill estimated the annual net operating income for the two parks at $373,509, based on income and expenses in the first nine months of 2019.
"It's a cash flow model: You pay money, you get rent in return," said Benson, who said he had owned Six-O-Five for about 10 years.
But critics of the industry say outside investors maximize those profits by raising rents, shifting operating expenses to residents and deferring maintenance of the parks.
"They want the profit, but they don't want to take care of the property," said Yvonne Maldonado, a former mobile home resident in New York who serves now as co-director of Manufactured Home Action, an advocacy group for residents of manufactured homes.
For residents who own manufactured homes that they cannot move, "there is literally no other place to go," Maldonado said.
This story has been updated to note that Cardinal News first reported that Homes of America faces ongoing litigation for its treatment of residents in a mobile home park it purchased in Christiansburg. This story initially credited the wrong news outlet for reporting that story.
Michael Martz (804) 649-6964
@mmartzrtd on Twitter