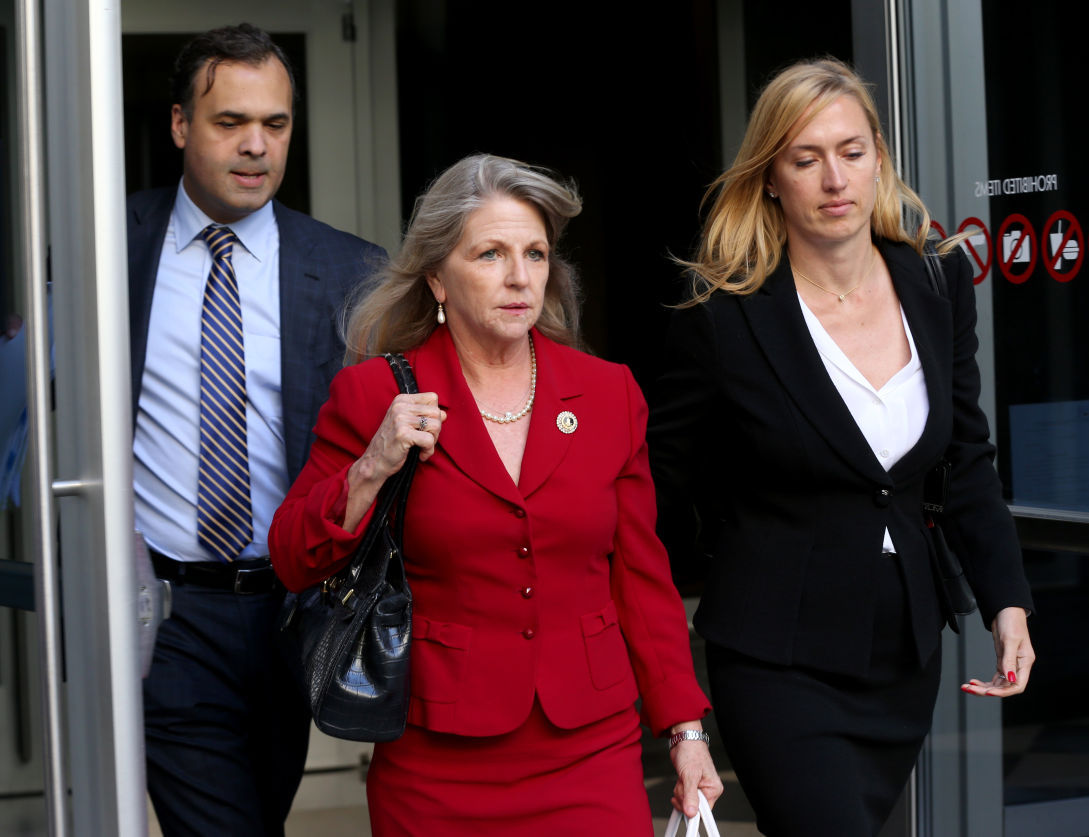 A federal judge Monday refused to toss out corruption convictions against former Gov. Bob McDonnell and his wife, Maureen, but acquitted Maureen of obstruction of justice.
"Substantial evidence exists to support the jury verdict that Mrs. McDonnell acted with corrupt intent. However, obstruction of justice requires more than just a misleading note," wrote U.S. District Judge James R. Spencer.
Spencer concluded, "Even viewing the evidence in the light most favorable to the government, there is insufficient evidence to warrant a guilty verdict."
Randall Eliason, former chief of the Public Corruption/Government Fraud Section at the U.S. Attorney's Office in Washington, said, "This is a win for the defense, of course — one less felony conviction — but in the end I doubt it will make much difference in her sentence."
Eliason said the potential penalty under the federal sentencing guidelines for obstruction "already paled by comparison with the penalties for the other counts, and those were all upheld."
The McDonnells were convicted Sept. 4 after a six-week jury trial — Maureen McDonnell on nine of 13 charges and Bob McDonnell on 11 of 13 counts. Bob McDonnell was not accused of obstruction of justice.
The McDonnells were charged in a 14-count indictment in January for allegedly taking some $177,000 worth of gifts and loans from Jonnie R. Williams Sr., the then-CEO of Star Scientific, in exchange for helping boost and legitimize a new dietary supplement, Anatabloc.
Bob McDonnell is to be sentenced on Jan. 6 and Maureen McDonnell on Feb. 20.
Spencer on Monday turned down post-trial requests for acquittals or new trials on all but the obstruction of justice charge. Arguments raised by their lawyers are expected to be raised on appeal.
A key issue raised in the pleadings is the question of what constitutes an "official act."
Bob McDonnell's lawyers argued there was no evidence introduced that the former governor ever promised to perform any specific official act for the benefit of Williams or his company.
Instead, the lawyers argued that at worst there were vague promises to help Williams obtain state studies for Star Scientific, which fails to establish corruption under federal law.
Spencer, however, wrote Monday that "the government provided substantial evidence for the jury to conclude that McDonnell knew that Williams was seeking, specifically, research studies for Star Scientific's Anatabloc product."
The evidence showed that McDonnell attempted to use his office to influence government decisions, Spencer wrote.
Spencer held that "official action" can include actions taken in furtherance of longer-term goals, and an official action "'is no less official because it is one in a series of steps to exercise influence or achieve an end.'"
Spencer wrote, "McDonnell did more than just provide access to Williams; he directed his employees to take action on research and studies for Anatabloc. And he did so corruptly."
The obstruction charge stems from a note Maureen McDonnell wrote to Williams in March 2013. The government alleges it was an attempt to falsely make it appear she and Williams had earlier agreed she would return some designer clothing he purchased for her.
In an eight-page ruling Monday, Spencer noted that there was no evidence Maureen McDonnell knew when she wrote the note that there was or would be a federal grand jury investigation.
"Although Mrs. McDonnell may have hoped that the misleading note would be provided to the future grand jury, there is insufficient evidence to enable (the jury) to conclude that Mrs. McDonnell knew this would happen," Spencer concluded.
Eliason said, "Although she was found not guilty of obstructing a grand jury investigation, the judge can still consider her conduct in sending the deceptive note in deciding where her sentence should fall, and could still potentially hold it against her."
fgreen@timesdispatch
(804) 649-6340