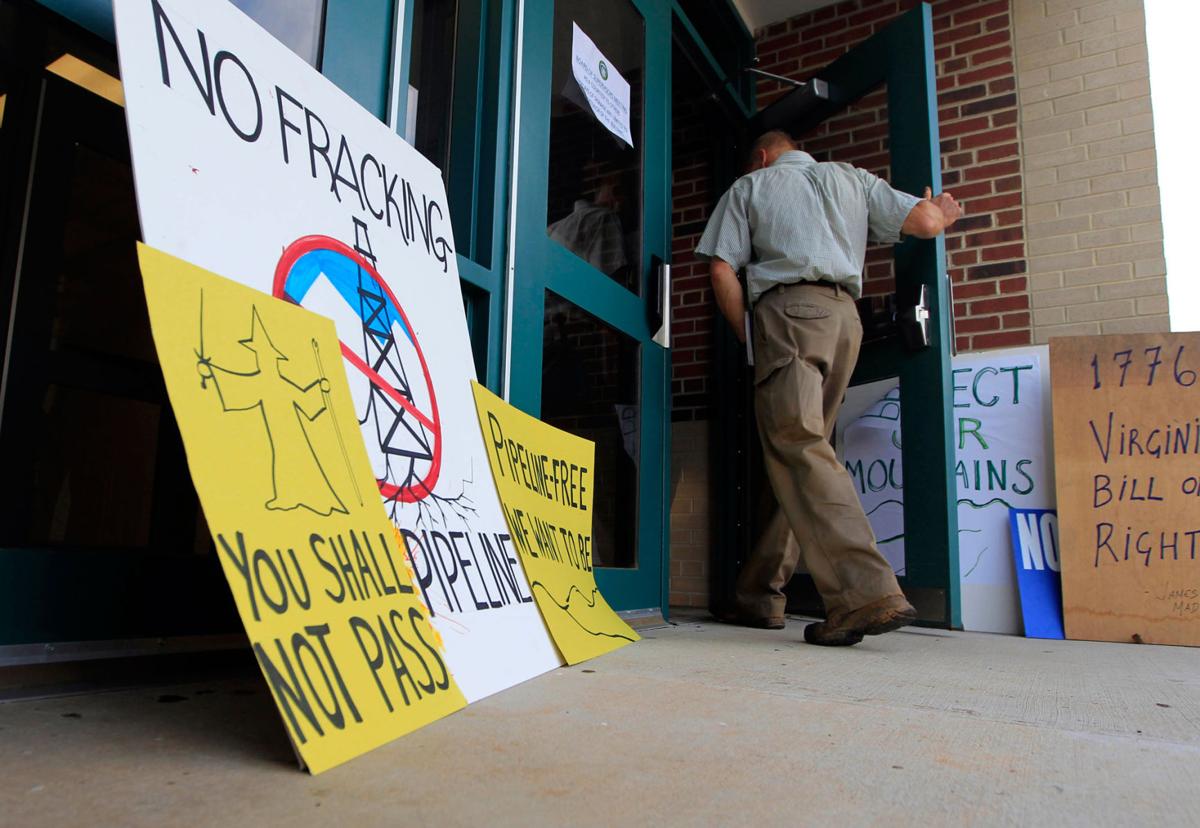 LOVINGSTON - Pressed by the Nelson County Board of Supervisors for details on the construction and operation of a proposed interstate natural-gas pipeline, officials with Dominion Resources acknowledged Tuesday night that they didn't have all the answers, but pledged to provide them as the project takes shape.
Dominion's Southeast Reliability Project would originate in West Virginia, run through Nelson and Buckingham counties and terminate in North Carolina. Overall, 35 miles of the 550-mile-long pipeline would run through Nelson County.
The first public meeting in Nelson on the project drew a standing-room-only crowd to the high school auditorium.
"We have not made a decision to go with this project," Chet Wade, a Dominion spokesman, told the crowd. "We want to provide as much information as we can as early as we can. ... [But] tonight we probably won't be able to answer all your questions," he said.
However, Wade and several other Dominion subject-matter specialists did provide new details Tuesday, including that the project would affect 225 parcels in Nelson. About a quarter of affected landowners have given permission to Dominion to survey their property, officials said.
In addition, during construction, the officials said, a 125-foot-wide right-of-way would be required. Once construction is completed, a 75-foot right-of-way would be required to maintain the pipeline. The pipeline would be three to five feet below ground, depending on the topography of the area and intended use of the land above.
The purpose of the pipeline, Wade said, would be to boost the availability of natural gas for the power-generation industry.
Before the meeting, outside the school, people carried large signs reading, for example, "No eminent domain for corporate gain" and, "This land is our land."
Speaking before the meeting, Anne Buteau, a founder of Friends of Nelson, one of several groups that have formed to oppose the pipeline project, said the lack of details concerns her. If advanced as proposed, the pipeline could be in service by 2018.
"It's very personal because it's going very close to our house if it happens," said Buteau, who lives in the Shipman area of the county near the James River.
In a news release earlier this week, Friends of Nelson said 13 residents are suing Dominion for not complying with state law regarding surveying of their properties.
Wearing a large blue sticker opposing the pipeline, Hilary Day, who owns property in the Nellysford area, said she was expecting to hear talking points instead of definitive answers on the project, which she said will have a negative impact beyond Central Virginia.
"The pipeline is part of the infrastructure of the fracking industry, and the fracking industry is just bad science," Day said. "It's destroying the Earth, it's destroying our water supplies, it's destroying our property values. I think that the fracking needs to stop, and it wouldn't make me happy to have the pipeline diverted somewhere else."
In hydraulic fracturing, or fracking, high-pressure water and chemicals are injected into the ground to extract natural gas. The pipeline plans do not include fracking along the route.
Dominion officials said they expect to have more details about surveying, construction and maintenance by next month, when another public meeting and an "open house" are planned in Nelson County.
Meanwhile, officials with a second proposed interstate pipeline that would have crossed through Central Virginia confirmed on Tuesday that their project has been halted for now.
Proposed by Houston-based Spectra Energy, that pipeline would have begun in Pennsylvania; run through Madison, Orange, Louisa and Fluvanna counties; and terminated in North Carolina.
"Spectra Energy is suspending its development work on the proposed Carolina project; however, we will be analyzing other opportunities in the region," company spokesman Arthur Diestel said in an email. "We will continue to evaluate opportunities in the region, which could include the proposed Spectra Energy Pipeline Project study corridor, and should there be developments, we will keep you informed."