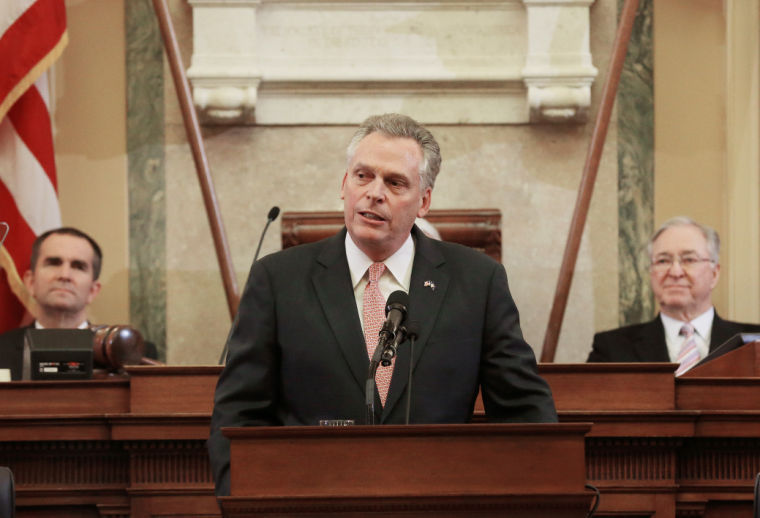 Gov. Terry McAuliffe wants the legislative panel empowered to authorize Medicaid expansion under the Affordable Care Act to make a decision sooner rather than later.
Just three days on the job, McAuliffe told lawmakers Monday night in his first address to a joint session of the General Assembly that he will seek a budget amendment requiring the Medicaid Innovation and Reform Commission to complete its work by the time the 2014 General Assembly adjourns.
Less than a month ago, Republican Gov. Bob McDonnell had unveiled a two-year, $95.9 billion budget that called for a budget amendment allowing the commission's work to continue until 2016.
"The commission has done useful work, but our citizens need an answer, without delay," the governor said, noting that Virginia stood to lose $2.1 billion in tax dollars annually if it did not agree to the expansion, which would provided medical coverage to an estimated 400,000 of Virginia's 1 million uninsured.
"These families have been waiting long enough," he said.
Medicaid is by far the most controversial issue likely to be debated this session by Democrats, who largely support he program, and Republicans, who doubt federal guarantees of subsidizing its costs.
The push for a Medicaid budget amendment was the most contested issue McAuliffe raised during an otherwise nonpartisan 45-minute speech.
The new governor also said he wanted to expand prekindergarten, reform the Standards of Learning, increase spending in agricultural exports and revise the tolling structure at the Midtown and Downtown tunnels in Hampton Roads.
On tolling, McAuliffe said he supports Virginia's "aggressive approach" to public-private partnerships on major road and transit construction projects but adds that in cases where tolling is necessary, "we must ensure that they are fair and equitable and make sense from a business standpoint."
"The tolls on the Midtown Tunnel Project do not meet this test," he said, adding that he has directed his nominee for Transportation secretary, Aubrey Layne, to create a plan to revise the tolling rate schedule and present it to the Commonwealth Transportation Board on Wednesday.
McAuliffe also expressed support for the Dream Act -- legislation to provide educational opportunities to the children of illegal immigrants residing in the commonwealth.
"Expanding access to higher education not only benefits our students, it benefits our economy," he said.
"That is why I support offering the children of immigrants who have been living, learning and paying taxes in this commonwealth for years that opportunity to study at our colleges and universities."
SOL reform is also a priority advanced by House Republicans.
McAuliffe called for an end to "over-testing our students" and said the state should examine essay testing and other ways to measure knowledge and cognitive reasoning.
"And we should free teachers to spend more time on new subject material."
He said he also plans to request a budget amendment to provide an additional $5 million for salary boosts intended to help Northern Virginia localities compete for people in costly parts of the state.
And he sprinkled his remarks to the lawmakers with nuggets of good economic news -- the commitment of 160 jobs by Telos in Loudoun County, and the return of Carnival Cruise lines to Norfolk.
"I am delighted to welcome Carnival back to Virginia next year, but my administration's goal is to encourage them to bring more ship calls and ultimately, regular homeport service to downtown Norfolk, and to continue to grow our tourism economy across the commonwealth," he said.
He also threw his support behind nonpartisan redistricting -- the once a decade redrawing of legislative district boundaries – and continuing the goal of his predecessors to conserve 400,000 acres of open land.
He said he's "deeply committed" to improving the state's ability to respond to natural disasters such as hurricanes, including risks that stem from climate change.
He's asked his nominee for secretary of Public Safety, Brian Moran, and Admiral John Harvey, his nominee for secretary of Veterans Affairs and Homeland Security, to work with lawmakers to implement the recommendations of a report on disaster preparedness planning written by the legislature's watchdog agency.
He also asks them to centralize homeland security and disaster preparedness functions within the Office of the Secretary of Public Safety.