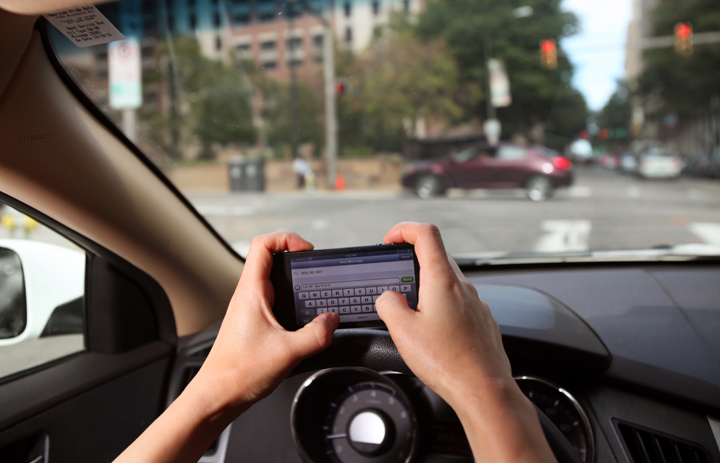 Virginia State Police say they have cited more than 300 motorists statewide for texting while driving during the first three months of a new Virginia law that makes it a primary rather than a secondary traffic offense.
But Tuesday's announcement comes as state officials are still struggling with how to interpret the finer points of the law and putting into place standardized training for state and local police officers on how to enforce it.
Questions about how the law should be interpreted as it relates to various communication devices and social media platforms prompted the Virginia Department of Criminal Justice Services, which has been tasked with developing a training curriculum, to ask the Virginia Attorney General's Office for an opinion.
"We have asked the Attorney General's Office for a legal explanation, because the types of prohibited communications under the statue could include posting messages to Facebook, Twitter, Instagram, Vine and any of a number of messaging applications," said Dana Schrad, executive director of the Virginia Association of Chiefs of Police and a member of the DCJS committee tasked with developing the training.
"As soon as we receive that feedback, we'll finalize the training program and get it out to all of our agencies," Schrard said.
State police said troopers have stopped and cited 328 drivers for violating the new texting law from July 1, the date it went into effect, through Sept. 28.
Broken down by state police regional offices, the Fairfax division, which includes most of Northern Virginia, issued 171 citations. That region was followed by the Richmond division, which encompasses all of central Virginia, with 56.
The Chesapeake division office issued 43, the Wytheville division 17, Appomattox 16, Salem 14, Culpeper 8 and the department's safety division 3.
The numbers, however, do not include drivers whose texting was deemed severe enough for them to be charged with the more serious offense of reckless driving.
State police said that since the law went into effect, troopers have been enforcing it just like any other primary traffic offense. The trooper must observe the driver's illegal conduct, which provides the officer with reasonable suspicion to initiate a traffic stop, said state police spokeswoman Corinne Geller.
Legal experts have said the law may prove difficult to enforce because the act of texting or reading a text may not be so easily observed — unlike a motorist swerving or driving in some other reckless manner.
State police have not tracked the number of convictions that resulted from the 328 citations the department issued between July and the end of September.
Under the revised law, the fine for texting has increased from $20 to $125 for a first offense and $250 for every subsequent violation. A reckless driving charge while texting now carries a mandatory minimum fine of $250.
The 328 citations issued by state police are on track to greatly surpass the number of tickets issued for texting statewide by all police agencies in Virginia in 2012. A total of 511 people were charged that year, when the law was still a secondary offense, according to the Virginia Criminal Sentencing Commission.
Locally, Chesterfield County police had issued 14 citations for texting from July 1 through Monday. Numbers for other area police departments were not immediately available.
In trying to develop a police training curriculum for the new law, Schrad said she and her colleagues observed that the statute's wording could be open to interpretation.
The law forbids a driver, while their vehicle is in motion, from manually entering multiple letters or text into a device as a means of communicating with another person. It also restricts a driver from reading any email or text message transmitted to, or stored with, the device.
"The law was kind of written around a principal of keeping people from being distracted from their driving while conducting personal communications with someone else via an electronic device," Schrad said. "And we call that texting."
"But in the technical vernacular, texting really just means sending someone a message via your cellphone to (the recipient's) mobile phone number," she added. "When in fact, there are all kinds of platforms and applications where you can do personal messaging through."
Schrad said the DCJS, with the help of Virginia Commonwealth University professor Bill Pelfrey and a number of law enforcement representatives, has developed a standardized training curriculum on how to implement and enforce the law. But she said the curriculum is being withheld until officials receive some direction from the Attorney General's Office on how far the law should be interpreted.
"We fell short of identifying the depth of the technology uses that we're talking about," Schrad said. "We don't feel we can release the curriculum and use it until we get this core issue answered."