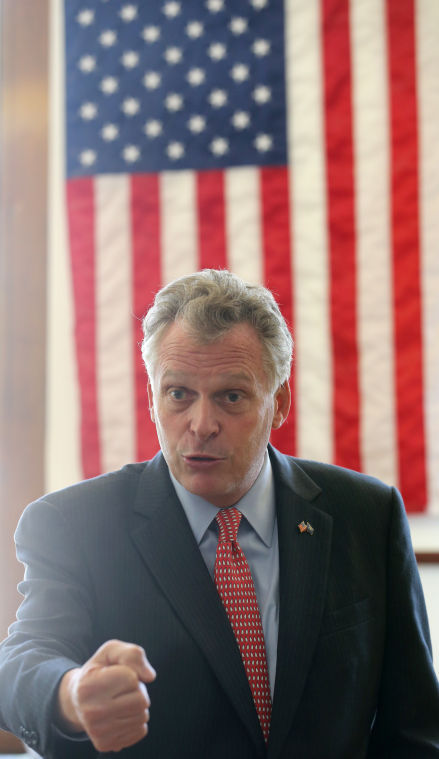 Time is running short for the General Assembly to act on a new budget to deal with a likely major revenue shortfall, but action appears unlikely until late in the month even with a July 1 deadline looming for the new fiscal year.
A key Senate Democrat will be out of the country on a long-planned family visit until June 24, leaving a week for the chamber to settle its three-month budget impasse with the House of Delegates over using federal funds to extend health care coverage to uninsured Virginians.
House Republicans appear cool to a compromise proposed by Sen. Emmett W. Hanger Jr., R-Augusta, to act on the proposed House budget and deal with expansion of health coverage simultaneously as a separate legislative issue.
"We're going to have to work these things out by the 1st of July," Hanger said Tuesday. "It would be best not to be doing it around the 30th of June."
The continuing stalemate has local governments feeling anxious about the prospects of deep cuts in state aid if the assembly does not adopt a budget by July 1 so they can dip into the state's rainy day fund to help fill a revenue gap estimated at $1.35 billion through the next two years.
"Everybody's credit rating is going to be affected because the state's credit rating is going to be affected," said Neal Menkes, director of fiscal policy at the Virginia Municipal League.
Gov. Terry McAuliffe said Tuesday that he remains hopeful that the legislature will adopt a budget by June 30 that includes expansion of health coverage through Medicaid or a proposed private marketplace.
McAuliffe, speaking after a breakfast meeting with the Greater Richmond Chamber, sidestepped questions about whether he would expand coverage through executive action.
"I'm still optimistic they will come to their senses," he said.
House budget negotiators will meet informally today for an update on the likely revenue shortfall and potential cuts to the two-year budget the assembly has yet to adopt. "My hope is we'll at least be able to get everybody into the proper perspective," said House Appropriations Committee Chairman S. Chris Jones, R-Suffolk.
Senate Finance Committee leaders, who held a similar briefing Thursday, will meet again Monday to consider their options for budget cuts, either with or without up to $675 million from the rainy day fund.
Hanger tried last week to break the impasse by proposing to act on the House budget bill and separate his proposal for expanding health coverage through a private insurance marketplace.
At the same time, he unveiled legislation he or the governor would introduce to authorize the McAuliffe administration to expand coverage on Oct. 1. The proposal would end the requirement that the Medicaid Innovation and Reform Commission approve expansion by a majority vote of members from the House and Senate. Instead, the commission could block or delay expansion by a simple majority.
"He made it an automatic with a veto, and I don't think that's something that's going to be reasonable," said Del. John M. O'Bannon III, R-Henrico, one of five House members on the commission who all oppose expansion of Medicaid or creation of a private marketplace under the Affordable Care Act.
O'Bannon said the House would discuss the makeup of the commission membership to ensure fair representation of opposing viewpoints in each chamber. "I still think you're going to need an affirmative vote and three out of five from each side to do it," he said.
Hanger said the House risks prolonging the budget battle unless it is willing to compromise on health coverage. "They need to understand that the majority of the Senate are unlikely to move forward unless we're serious about negotiating our differences and how to proceed with reforms and Medicaid."
Sen. John Watkins, R-Powhatan, said of the Hanger proposal: "I don't think the Democrats are going to buy into it. They don't think the House will play it straight."
Hanger's proposal also has run into trouble with Senate Democratic Leader Richard L. Saslaw, D-Fairfax, who said Tuesday that the Senate will act on the budget "just as soon as the House sends our budget back." House leaders say their bill is the traditional vehicle for the budget and they want to keep it that way.
Travel schedules also could complicate matters.
Sen. Janet D. Howell, D-Fairfax, a senior member of the Senate Finance Committee and one of the Democratic-controlled chamber's budget conferees, is leaving on a vacation that will take her out of the country until June 24 — six days before the fiscal year expires.
Howell is taking her granddaughter on a trip to South Africa.
"I'm sure nothing will happen until I get back," she said.
Howell said she has seen little progress since the General Assembly adjourned March 8 without an agreement on a proposed $96 billion, two-year budget. The legislature reconvened in special session March 24 but has not met since April 23.
"I have put my whole life on hold since March 8, and this is one thing that's very important to my family," said Howell, who had planned a longer trip but cut it short because "the time is ticking."
Saslaw also plans some time away from the commonwealth to travel to California next week to visit his daughter, who just had a baby.
House Republicans have spent the past few days raising money, swinging golf clubs and clinking scotch glasses at The Homestead in Hot Springs for their 10th annual House Majority Retreat.
Senate Democrats are scheduled to spend a few days of their own at The Homestead — in the last week of June.
The prospect of further delay concerns Jones, the Appropriations chairman, who said the Senate and House need to get a budget bill into conference committee in time to resolve differences over spending priorities and likely cuts.
"If you don't have something in conference, you really can't get a budget," he said.
Robert D. Holsworth, a former political analyst at Virginia Commonwealth University who is now a public policy consultant, said Tuesday, "There is real worry about what the rating agencies will do with the (state) credit rating if this goes on long past July 1."
If that happens, Holsworth said, the public is likely to say "a plague on all your houses" to McAuliffe — and to legislators who will be up for re-election next year.
"My sense is very few people win in these things," he said.