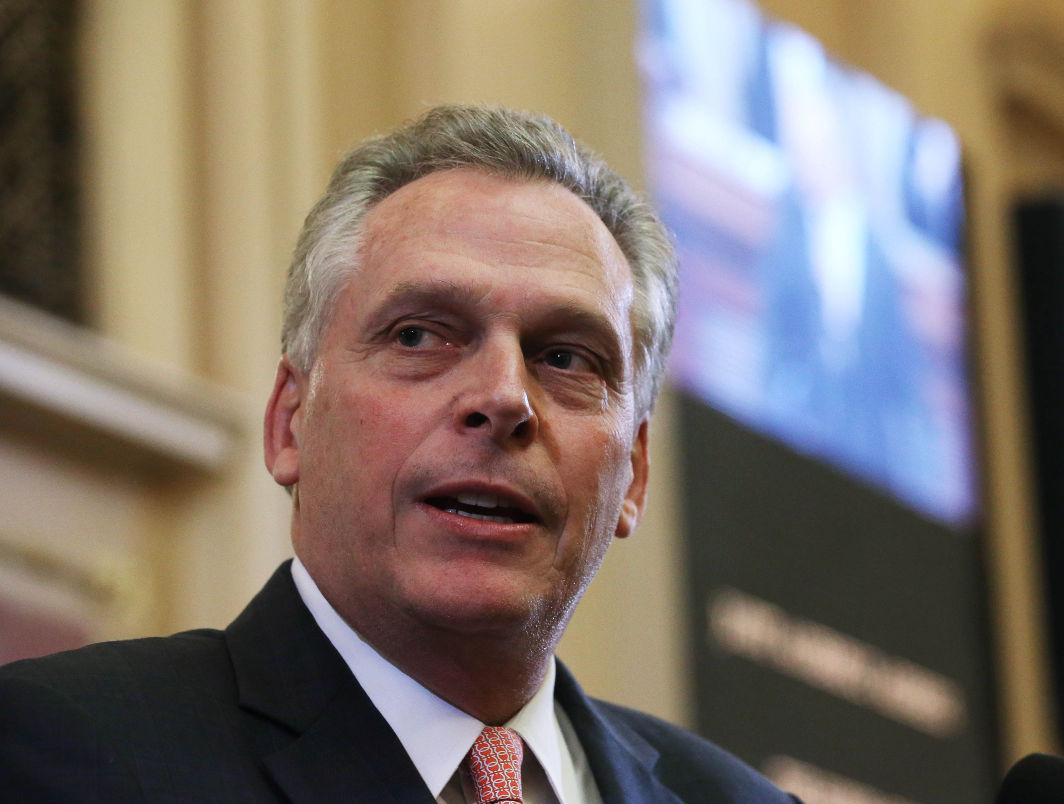 Gov. Terry McAuliffe on Wednesday launched a workforce initiative with a goal of adding 50,000 STEM-H credentials to chart "a new economic way forward."
At a leadership summit of the Virginia Community College System, McAuliffe signed an executive order establishing the New Virginia Economy Workforce Initiative to increase attainment rates in credentials in science, technology, engineering, math and health during his administration.
Noting that he is "joined at the hip" with VCCS goals, McAuliffe said 500,000 new jobs will be created in eight years as 930,000 people will be retiring.
"That is 1.4 million new jobs we need to fill," he said, and more than half will be in STEM-H fields requiring post-secondary credentials.
These high-paying jobs will be readily accessible to workers who have credentials that "align with the jobs of the future," he said.
His initiative will help meet the current training gap that leaves STEM-H jobs unfilled, McAuliffe said, and will diversify the state's economy to make it less reliant of federal jobs and grants.
About 30 percent of the state's economy currently is tied to federal jobs, he said.
"The economy of the past … is over," he said.
The initiative would target "sub-baccalaureate" credentials through a new Commonwealth Consortium for Advanced Research and Statistics to provide "real-time data" to meet industry needs.
The new credentials will include licenses, apprenticeships and associate degrees in jobs that will have "high individual wages and bring a substantial return on investment to the gross state product," the executive order states.
It establishes a timeline for state agencies to work together to identify industry priorities and put a plan in place by Dec. 31. The plan will implement common metrics and methods to measure postsecondary training, employment and professional mobility.
The initiative also calls for the plan to create a seamless transition for military veterans into the workforce and will request 10,000 businesses sign an "Our Patriot Pledge" to commit to hiring veterans.
With more than 840,000 veterans living in Virginia, McAuliffe also pledged to double the number of veterans hired by the end of the administration through the Virginia Values Veterans (V3) program, which educates employers to recruit, hire and retain veterans.
After his talk to about 300 VCCS administrators from the system's 23 colleges, McAuliffe said his plan would be more targeted than the goal set by his predecessor to increase by 100,000 the number of degrees awarded by 2025.
"A degree without a skill set to match with the jobs that are available today is not what I'm focusing on," he said. "We have jobs available today that we can't fill."
He said his initiative will focus on credentials that would immediately align with what the data show are workforce needs.
VCCS Chancellor Glenn DuBois said the initiative will reinforce a new goal, announced during the two-day leadership meeting, to triple the number of credentials awarded by community colleges annually by 2021. That would raise the number from the current 38,000 to 114,000 annually, a VCCS spokesman said.
VCCS also will seek to ensure that a member of every household in Virginia holds a post-secondary credential by 2025.
DuBois said more associate degrees than bachelor's degrees will be needed in the future.
The attainment goals set under then-Gov. Bob McDonnell in the 2011 Higher Education Opportunity Act are inadequate, he said.
"The 100,000 is woefully short of where we need to be by 2025," he said. "We just need to up our game — 100,000 is not going to get us to the playoffs."