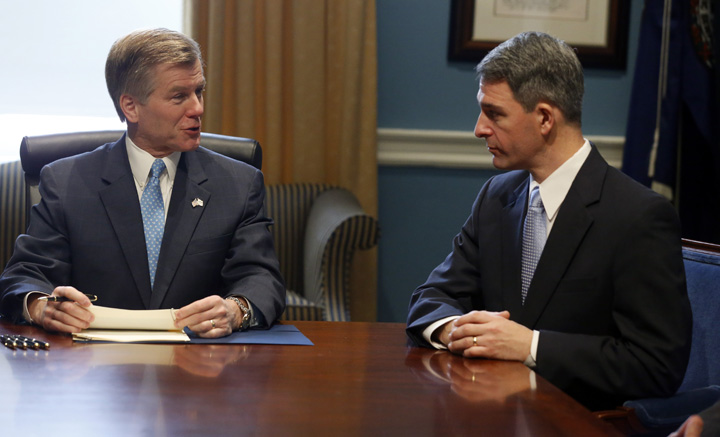 Virginia's top two statewide elected officials were on the defensive Friday over their relationship with an ingratiating Goochland County businessman who has dispensed thousands of dollars in gifts and political donations while struggling to keep his company solvent and out of legal trouble.
Gov. Bob McDonnell considers Jonnie R. Williams Sr. a friend, according to a spokesman. And Attorney General Ken Cuccinelli, according to an aide, has a "friendly relationship" with the CEO of Star Scientific, the former tobacco company turned nutritional supplement purveyor that has come under federal investigation over securities issues.
Aides to McDonnell and Cuccinelli offered emailed responses to questions posed by the Richmond Times-Dispatch. While a spokesman said Cuccinelli "has disclosed and detailed everything that Jonnie Williams ever gave him," a spokesman for the governor was less definitive.
"Gifts and contributions from Mr. Williams and many other individuals and companies were disclosed on the governor's statements of economic interest in 2011 and 2012," said Jeff Caldwell, a McDonnell spokesman.
"If any amendments to any of the governor's required personal or PAC disclosure statements are made, or have been made, it will be a matter of public record."
McDonnell has not amended his disclosures in recent days, Caldwell said.
The relationships with Williams present challenges for McDonnell and Cuccinelli, including entangling the wedding of McDonnell's daughter with an ongoing criminal investigation into alleged improprieties at the governor's mansion by its former executive chef.
And Cuccinelli's ownership of more than $10,000 in Star Scientific stock has cast a shadow over the attorney general's handling of a lingering lawsuit filed against the state by Williams' company over a $700,000 tax assessment of a Mecklenburg County property.
On Friday, after mounting pressure by Democratic critics, Cuccinelli announced the appointment of outside counsel to defend the state in the July 2011 lawsuit filed by Star Scientific challenging the assessment. Cuccinelli tapped Stephen D. Rosenthal, a former state attorney general; and former state Solicitor General William H. Hurd.
"To be clear, there was absolutely no conflict of interest with the Attorney General's Office," Brian Gottstein, a spokesman for the attorney general, said in a statement released Friday. He said the decision was made "in an abundance of caution and to move past what has become an unnecessary distraction for the office and the attorney general."
Gottstein said Cuccinelli was not personally involved in the case.
Hurd also represents some current and former Mecklenburg School Board members in an unrelated lawsuit against the Virginia State Police.
Gottstein said Cuccinelli's first purchase of Star Scientific stock in 2010 — his sole individual stock investment — came after he saw one of Star's research announcements online.
He said Cuccinelli was not aware that Star Scientific had filed suit against the state in July 2011 when he purchased more Star Scientific stock in September 2011.
Cuccinelli did not until 2012 disclose his holdings in Henrico County-based Star Scientific. His office says that is because he did not realize the holdings topped $10,000, the threshold for disclosure.
But by that time, Cuccinelli and McDonnell were very familiar with Williams.
McDonnell, a former attorney general, met Williams about five years ago as he was laying the groundwork for his run for governor. Cuccinelli, now the presumptive GOP nominee for governor, has known Williams nearly that long, having met him at a charity event to which he was invited to speak.
Statements of economic interest show that Williams provided $800 worth of lodging for Cuccinelli at his Goochland mansion in 2010, while the attorney general was still commuting from Fairfax County to his office in Richmond. Williams also lent Cuccinelli the use of a lake home and boat.
A box of Star Scientific's dietary supplement Anatabloc, valued at $6,700, represents about half of the gifts reported by the attorney general, according to Gottstein.
Gottstein said the gift was "unsolicited and unexpectedly arrived in the office after the attorney general asked Mr. Williams about the latest project he was working on."
Williams and his company have been even more generous to McDonnell.
In 2009, Star Scientific contributed more than $28,000 to the McDonnell for Governor campaign and provided nearly $80,000 in air travel on its corporate jet in 2010 to McDonnell's Opportunity Virginia political action committee, according to the Virginia Public Access Project, a nonpartisan tracker of money in politics.
The governor received $2,268 in lodging and entertainment from Williams in 2011 and more than $7,300 in airfare, lodging and expenses in a trip to Massachusetts paid for by Star Scientific in 2012.
Caldwell defended an August 2011 luncheon for Star Scientific at the Executive Mansion organized by first lady Maureen McDonnell's office, at which the governor made an appearance. The luncheon was "one of hundreds of events hosted at the Executive Mansion by the first family in support of Virginia businesses, universities and multiple other groups," he said.
Star Scientific's most significant political contribution, more than $101,000, was made to a former attorney general, Jerry W. Kilgore, the Republican nominee for governor in 2005.
Neither Williams nor Kilgore, who is now Williams' lawyer, responded to requests for interviews.
And neither McDonnell nor Cuccinelli were willing to directly discuss their relationship with Williams and Star Scientific, opting instead to have spokesmen provide responses to written questions.
"The governor has had no discussion with the attorney general regarding any legal action involving the commonwealth and Star Scientific," Caldwell said.
McDonnell has come under scrutiny following a report by The Washington Post that detailed a $15,000 gift from Williams to pay for catering at the 2011 wedding of McDonnell's daughter Cailin.
Complicating Williams' generosity to the McDonnell family is that the catering at the wedding was supplied by a company owned by Todd Schneider, then the executive chef at the governor's mansion. Last month, Schneider was indicted on four felony counts of embezzlement in 2011 and 2012.
Cuccinelli's office is the prosecuting agency in the Schneider case, which was investigated by the Virginia State Police. Schneider's attorney, Steve Benjamin, did not return calls Friday.
Staff writers Olympia Meola, Michael Martz and Frank Green contributed to this report.