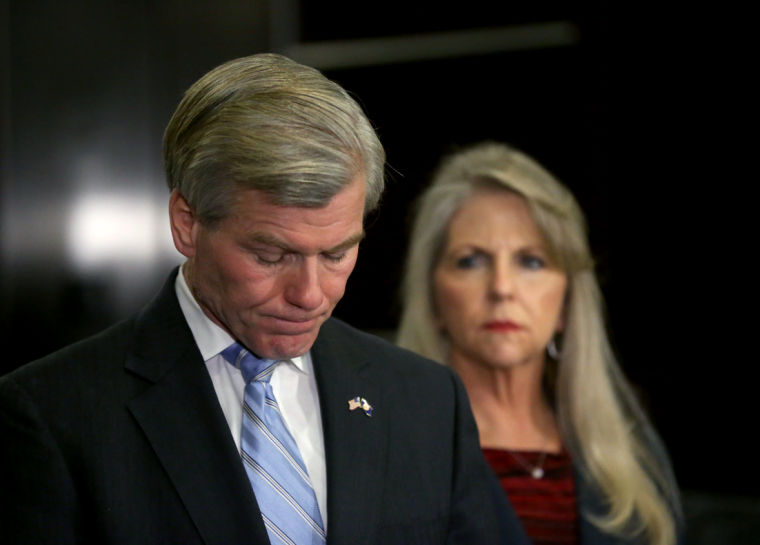 On Jan. 16, 2010, Bob McDonnell carried his wife, Maureen, over the threshold of Virginia's Executive Mansion — their state-subsidized home for the next four years.
McDonnell, brown-haired, smiling and self-assured in his morning coat, had just taken the oath of office as the commonwealth's 71st governor, swearing to uphold and defend the constitutions of the United States and Virginia. In this jubilant moment, he was upholding a carefree Maureen, blond and dressed in white, her gold clamshell purse flung open.
Now, the McDonnells are in a very different place. Graying, somber and drawn, they are on the threshold of a July 28 corruption trial on charges that they conspired to sell for personal gain the state's highest office, whose previous occupants include Patrick Henry and Thomas Jefferson.
The McDonnells deny the charges, arguing in legal briefs that federal prosecutors have no evidence that the couple agreed to use their power to help dietary supplement impresario Jonnie R. Williams Sr., who feted them with more than $165,000 in designer clothing, jewelry, golf trips, cash, stock and loans.
Instead, the McDonnells counter that prosecutors have criminalized routine political conduct to win high-profile grand jury indictments.
If convicted, the McDonnells could become Virginia's first Executive Mansion couple to go to prison.
"This is the closest thing to a Greek tragedy that we've had in Virginia politics," said Larry Sabato, head of the Center for Politics at the University of Virginia.
"The man was talked about as a presidential and vice presidential candidate. He had high popularity in Virginia. For a while, he was seen as potentially one of Virginia's great modern governors," Sabato said. "And it's all evaporated."
Regardless of the trial's outcome, the McDonnells' stunning fall from public grace to the brink of personal and financial ruin has shaken Virginia's cozy political establishment to its core, offering a cautionary tale that elicits outrage and regret.
How and why things went wrong for the former first couple is the subject of heated debate, inside and outside the Richmond courtroom where their fate will be decided in a trial that is expected to last five to six weeks.
Prosecutors have advanced a theory that, in part, suggests financial desperation — perhaps brought on by sagging real estate investments, wedding expenses, college costs and other obligations — drove the McDonnells to use the governor's office in exchange for fiscal favors from Williams.
Defense attorneys have labeled the accusation false, arguing as recently as Tuesday that the governor's family partners in the real estate ventures had the financial resources to cover real estate debts, and that Bob and Maureen McDonnell had a "positive net worth" and sound finances.
"The notion that, between the two of them, they couldn't come up with a … mortgage payment is silly," defense lawyer Daniel I. Small said in court Tuesday.
The McDonnells arguably arrived at the stately Executive Mansion without the wealth of a number of its previous occupants.
Raised in a middle-class home in Northern Virginia, Bob McDonnell earned a law degree from Pat Robertson's Regent University in 1989 and practiced in a small firm while he served in the General Assembly as a Republican delegate from Virginia Beach from 1992 to 2006. He also spent 21 years in the Army and Army Reserve, retiring as a lieutenant colonel in 1997.
McDonnell and his wife, a former Washington Redskins cheerleader, had five children, all of whom were high school- or college-age when McDonnell was elected attorney general in 2005, a full-time job that pays $150,000 a year.
McDonnell's election as governor in 2009 did little to increase his take-home pay, providing a salary of $175,000.
During his time in office, McDonnell's suits were more department store than designer. He toted his gubernatorial paperwork around in a plastic milk crate, which he wanted to fix with duct tape after it broke.
But the governor's salary did not keep them from investing in a number of substantial real estate holdings, some by themselves, others in partnership with Bob McDonnell's sister, also named Maureen.
The McDonnells invested heavily in real estate in 2005, as property values were still rising, and in 2006 and early 2007, as they began to plummet.
They bought stakes in four residential properties — two vacation homes in Virginia Beach, a mountain retreat at the Wintergreen resort in Nelson County and an $835,000 home in Henrico County's tony Wyndham subdivision — purchased for a total of $3.8 million.
At the height of the scandal last year, the properties were assessed at about $3.2 million, and the Wyndham house — the McDonnells' primary residence — was underwater.
Maureen McDonnell raised financial stress on several occasions with Williams, from her request for a designer dress to wear to the governor's inauguration to a $50,000 loan to a $15,000 check to pay for the catering of their daughter Cailin's wedding at the Executive Mansion in 2011.
Disclosure of the wedding gift by Todd Schneider, the former Executive Mansion chef who was under investigation for alleged theft of food from the residence, alerted authorities to the cozy relationship that had evolved between Williams and the first couple.
Whatever the McDonnells' financial condition may have been, interviews, disclosure forms and court documents suggest that once the family occupied the Executive Mansion, they indulged an appetite for the high life that was largely financed with other people's money.
The McDonnell family accepted numerous gifts and trips from wealthy donors to sporting events like a Notre Dame football game and the Final Four of the NCAA men's basketball tournament, in addition to a $23,000 vacation, mountain stays and all-expenses-paid outings at golf resorts.
At the mansion, there were frequent parties that fell outside what had traditionally been state-sponsored events, and raids on the kitchen pantry for return trips to college for the McDonnell children.
"Entitled" was the word used by one state worker who had dealt with the family on a daily basis.
The first family refused to leave the mansion until the night before the inauguration of the new governor, when the McDonnells and their children held a party that left the historic house a mess — and without a single hanger.
"This was a … middle-class family that had ambitions far larger than their budget, and so once they achieved the goal of the governorship, they weren't ready psychologically for what was going to come," Sabato said. He said he's seen over the years a difference between public officials who come from money and those who don't.
"The ones who are already wealthy have a kind of independence from many of the temptations that present themselves to someone in high office," he said.
Whether the McDonnells had a financial need or simply a desire for the finer things, Williams was there — and eager to make friends with the first couple. He had laid the groundwork for their relationship at an early stage, spending more than $100,000 on in-kind contributions of airfare on his private jet to fly Bob McDonnell and staff members across the state during his 2009 campaign for governor.
Williams, according to interviews and documents related to the case, was desperate in his own right to win government research grants and funding for Anatabloc, the unregulated dietary supplement he was purveying to keep afloat his perennially money-losing company, then called Star Scientific and based in Henrico.
When the McDonnells asked, Williams generally obliged — at one point purchasing a $6,500 Rolex watch for Maureen McDonnell to give to her husband as a Christmas gift.
Even friends and political allies of the couple shake their heads over the extent to which the first family allowed others, most notably Williams, to pay their way while in the mansion.
"The governor and the first lady succumbed to blandishments from Jonnie Williams," Sabato said. "It's as old as human nature, really. There's nothing extraordinary about it except that he went from Mount Everest to Death Valley."
McDonnell andhis attorneys maintain that Williams received no special treatment, consideration or funding in exchange for his largess.
The former governor has asserted that campaign finance rulings by the U.S. Supreme Court strike at the heart of the government's case by underscoring that "ingratiation and access ... are not corruption."
Prosecutors say Williams received considerations. For example, he was treated to a luncheon at the Executive Mansion in August 2011 for what amounted to a launch party for Anatabloc, and was given access to state officials and meetings facilitated by the governor and first lady.
And while some say the McDonnell case proves it's time to end the state's decades-long culture of gift giving to lawmakers from special interests, others wonder whether the McDonnells have been caught in a broad interpretation of the law that fails to differentiate political corruption from everyday political conduct.
The defense has numerous supporters on this front, including a group of former Virginia attorneys general who petitioned the court on McDonnell's behalf, criticizing the U.S. Department of Justice for literally making a federal case out of it.
The judge has granted McDonnell 30 blank subpoenas. His lawyers could call former governors to testify to the gifts they received from powerful donors.
Even if the defense strategy is successful, the tragedy of Bob and Maureen McDonnell may have already been written.
The scandal has effectively neutralized Bob McDonnell's ability to make a prosperous living the way many former governors have — by cashing in their political chips after their service is over and landing high-paying, cushy jobs in top law firms or at state universities.
Any felony conviction will result in the loss of McDonnell's law license — his primary means of earning a living. Williams, who faces no charges, has been given broad immunity from prosecution for his role in the McDonnell scandal and investigations into his company.
Even if McDonnell and his wife are exonerated, they are likely to face debts from their defense. The former governor's legal defense fund has estimated the trial's cost will exceed $1 million. According to its most recent filing, McDonnell's "Restoration Fund" has mustered only $250,000 toward his defense.
Recently, McDonnell began teaching at Liberty University, the private Lynchburg school founded by the evangelical Christian conservative Jerry Falwell.
Aside from his appearances in court, the former governor has begun to step out in friendly and familiar environs.
In May, the McDonnells attended the graduation of their twin boys, Sean and Bobby, at the University of Virginia.
The former governor also showed up at last month's annual "Burgers with Bill" political event held in Innsbrook by his friend and former running mate, Bill Bolling.
The featured guest was Mitt Romney, the GOP's 2012 presidential nominee and a former Massachusetts governor. But McDonnell arguably drew the most attention, standing on the fringes of the crowd with one of his sons.
"I've got immense support from my family and friends, but it's been an extraordinarily difficult time for me and my family," McDonnell said. "I've been in public life for 37 years but I've never experienced anything like this, where people have questioned my integrity. But I have immense faith in God and the justice system, and we'll get through this."
Despite the encouraging words and support, there is a silence that surrounds McDonnell these days. Some of his closest friends and political allies are reluctant to speak of his troubles and how far the first family's fortunes have fallen since they crossed the threshold of the Executive Mansion, full of promise.
"That's what they're going to have to live with for many years to come," Sabato said. "What might have been."