Jonnie Williams Sr. wasn't looking for friends.
He was looking for "credibility."
The CEO of Star Scientific wanted the kind of credibility that could come from the endorsement of the governor of Virginia, or his wife — and the doors that would open for research studies and sales for a company that was pinning its hopes on a tobacco-derived dietary supplement.
Williams, in his second day of immunized testimony on Day 4 of the federal corruption trial of Bob and Maureen McDonnell, said he believed that to achieve his goal, he needed to spend wads of money on the former first family.
He said the spending — in golf trips, vacations, free flights, dresses, handbags, a Rolex watch, and more than $145,000 in cash gifts and loans — was not a token of friendship, but the cost of doing business.
"The McDonnells were not my personal friends," Williams said on the witness stand, just a few steps away from the former governor and his wife.
Asked by federal prosecutor Michael Dry why he gave the gifts to the McDonnells, Williams responded: "I thought it was good for my company."
Williams also said his business overtures did not include a romantic relationship with Maureen McDonnell, whom defense attorneys had suggested had a crush on the smooth-talking, free-spending millionaire that contributed to the disintegration of the McDonnell marriage. Williams added that she didn't consider the relationship a romance, either.
But Williams said indulging the first family's luxury wants and financial needs was the reason he received Executive Mansion access for his product, Anatabloc, and access to the first couple and executive branch officials.
"Are you 100 percent sure that Bob McDonnell agreed to help your company because of the loans and gifts?" defense lawyer William Burck asked Williams during cross-examination Thursday.
"I am 100 percent sure," Williams replied.
That contention could be vigorously challenged today when cross-examination of the government's star witness resumes in federal court in Richmond.
Prosecutors on Thursday painted a portrait of a first family that greedily gobbled up anything Williams offered, and wasn't shy about asking for more — including loans to bail it out of financial trouble on its real estate investments.
Williams told the jury that at one point he had to say no. It was when he received a call from the McDonnells' daughter Cailin, who, prompted by her mother, said she had picked out a car for Williams to buy for her.
"I told her I just couldn't buy a car," Williams said he told Maureen McDonnell in a subsequent phone call. "I just couldn't do anything like that." Asked why, Williams said: "It's too visible."
But on other occasions, the Star Scientific CEO said yes — such as to Maureen McDonnell's request for a $6,000-plus Rolex watch to give her husband.
"It was a bad decision. … I made a mistake when I bought the watch. I knew it was wrong. I shouldn't have to buy things like that to get the help I needed," he told the jury of eight men and four women, who were given the opportunity to handle and inspect the now-notorious timepiece.
Williams also said yes — within 12 minutes — to a request from the governor for a $20,000 loan. And then there was a $50,000 loan that he discussed with the governor during a private meeting at his office that he said both he and the governor did not want disclosed.
Williams went on to say: "I did not want anyone to know I was helping the governor financially with his problems, while he was helping our company," Williams told the court.
Help provided to Star Scientific in exchange for personal gifts and loans is central to the government's corruption case, which posits that the McDonnells used the official acts of the governor's office to assist Williams because of his generosity in lifting their flagging personal finances.
The McDonnells have insisted that Williams received no special treatment from the governor as a result of the gifts and monetary assistance.
Rather, defense attorneys have charged that Williams is a "master manipulator" who duped the first family and later duped the federal government into an immunity deal that amounts to a get-out-of-jail-free card that protects him from charges of securities violations in exchange for his "evolving" allegations of first couple corruption.
Here are more highlights of Thursday's proceedings:
Governor watched Star's stock closely
Dry presented as evidence a series of messages showing that the governor was closely following Star Scientific stock.
"Stock looking good. Well done," read one text from McDonnell on June 13, 2012.
"Stock looks good," McDonnell wrote again on July 3.
Williams responded to the governor that same day to let him know that results of human clinical trials on his product would be published on Aug. 8.
"If you need cash, let me know," he wrote to the governor, adding that his business "was about to break out strong."
Luxury weekend on the cape
Williams also told the court that he expensed to Star Scientific a summertime trip to the exclusive Chatham Bars Inn on Cape Cod, Mass., which included McDonnell and his wife; McDonnell's friend and political action committee director Phil Cox, and his spouse; and a doctor with whom Williams worked on Anatabloc.
Star picked up the tab for lodging, golf, sailing, private airfare on Williams' jet and a clambake on the beach of the luxury resort, capping the evening with a $5,000 bottle of Louis XIII cognac.
Williams said he expensed the trip because "I was working the entire weekend. I was working ... to help get the governor more involved."
Williams and McDonnell not only shared many meals and trips and golf, they also shared a chef and a landscaper.
Williams testified that Maureen McDonnell asked him for a recommendation — presumably after the first family had parted ways with chef Todd Schneider. Williams offered his chef — "Chef Leo" — to the McDonnells provided that the governor would not require his services on Thanksgiving or Christmas.
On Christmas 2012, Williams poked fun at McDonnell by texting a picture of Chef Leo and Williams' wife posing in front of his Christmas tree at Williams' Goochland County mansion.
The message he got back was a picture of the governor, smirking as he showed off what appeared to be the Rolex watch Williams had purchased for Maureen McDonnell to give to the governor roughly a year earlier.
"It looks like the Rolex I purchased in Malibu," Williams told the courtroom when the picture popped up for all to see. He said he did not know whether McDonnell knew that he, not his wife, had purchased the watch.
At the request of Maureen McDonnell, Williams also provided the services of his brother, Donnie, a retired police officer, to do landscaping work at the McDonnells' home in Henrico County's Wyndham neighborhood. He said the governor was aware that his brother was doing work at his home, which lasted several weeks.
Stock transfer to 'keep them out of my cash'
Williams testified that in February 2012, he was discussing a way to transfer stock certificates to Bob McDonnell so the then-governor could borrow against it to help with the beach properties he owned. The plan had two advantages, Williams said, and "one was to keep them out of my cash."
The other, he said, was that "I didn't want anyone to know what I was doing. ... I think it's a problem (that) I'm loaning him money."
Dry pressed Williams to be more specific and told him to "stop beating around the bush."
Williams continued, "It may be wrong, I think it's wrong" and it could be a violation of the law.
"I should never have written the checks," Williams said, apparently in reference to earlier checks for $50,000 and $15,000.
Williams said he was concerned such an arrangement would have to be reported to the federal Securities and Exchange Commission. He said McDonnell told him that he had his own disclosure problem.
The government presented an exhibit of a handwritten note outlining a way in which Williams could lend McDonnell money by allowing him to purchase stock options he owned at a fraction of their value.
Asked why he wanted to keep the loan transaction a secret, Williams said he was concerned about disclosure requirements, and thought it could be against the law.
Williams said that ultimately the stock transfer plan did not work out because there was no way to avoid reporting it.
'I didn't want anybody to know'
Williams said that in an internal corporate questionnaire — necessary for preparing Star's annual report to shareholders in 2012 — he answered "false" on whether he was aware of payments or bribes to government officials. He acknowledged to prosecutors that he should have checked "true," but checked "false" instead, because he wanted to conceal his financial relationship with McDonnell.
At that point, Williams' beneficence included a $50,000 loan to McDonnell for his struggling resort property, $15,000 to pay for catering at a McDonnell daughter's wedding at the Executive Mansion in June 2011, a $20,000 New York shopping spree for the first lady, and the Rolex watch.
"It should have been marked 'true' because I was making payments," he said.
"For what?" asked Dry, the prosecutor.
"For help for our company," Williams said.
Williams said he would have lied on the documents again because "I didn't want anybody to know."
At the August 2011 luncheon for Anatabloc at the Executive Mansion, Williams testified that McDonnell, who spent about 45 minutes at the event, asked questions and was "generally supportive" of the product.
"That was the purpose," he testified.
A small sample of Anatabloc was at every place setting for the luncheon. Williams said the affair lent "credibility" to his efforts to promote and develop the product, for which he was seeking research grants and funding from the state tobacco commission.
Williams said he distributed eight grants of $25,000 at the lunch to "prime the pump" and persuade Virginia doctors and other researchers to prepare grant applications for research funding.
The first lady also travelled with Williams to Sarasota, Fla., and spoke for Star Scientific at Anatabloc launches in Richmond; Flint, Mich.; and Newport Beach, Calif.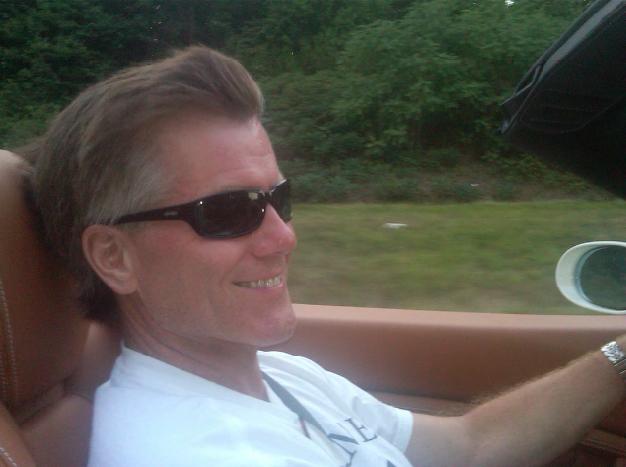 Continuing his testimony, Williams said that just prior to the governor's family using his vacation home at Smith Mountain Lake, Maureen McDonnell suggested Williams make one of his cars available for use by the governor. Williams quoted Maureen as saying, We never get to do things like that."
He arranged to have his Ferrari there. She called him twice, he said, to ask when it would arrive. He said he told her it was on the way.
"I asked her not to let children drive it," Williams testified.
Williams said the model was a Ferrari California.
"Is that a convertible or a hard top?" Dry asked.
"It's both," William said.
Maureen McDonnell buys stock
Williams later learned that the first lady may have also been motivated to support his product — he said she told him she had purchased Star Scientific stock with the $50,000 loan he had recently given to the McDonnell family to help it through what she had described as tough financial times.
"I thought I loaned you that money to pay your bills," Williams told the courtroom, recounting his conversation with the first lady.
He said he called his product a "risky investment" and urged her to sell the stock.
Williams also testified to a letter he sent the governor proposing a "Virginia study" of his product at the Virginia Commonwealth University and University of Virginia medical schools. He said the governor had requested he send the letter after discussing Star's product with him on a five-hour flight back with the governor on Williams' private jet from a California political event.
Williams testified that one day in February or March 2013, he returned to his home in Goochland and discovered a box on his kitchen counter.
"It looked like most of the things from the shopping spree in New York and this letter," he said. Williams testified Wednesday that he spent $20,000 on dresses and other clothing for Maureen McDonnell on a 2010 shopping trip to New York.
The handwritten letter, shown to the jury, was from Maureen McDonnell. It began: "I can't begin to thank you (for) how special you made me feel on (CM's) wedding day and on our 35th Wedding Anniversary Day all dressed up in the beautiful outfits you adorned me in on both momentous occasions."
The note continued that she hoped Williams' daughter will be able to enjoy the outfits and, if not, she wrote that she was sure there were many charitable organizations that could auction them off "for a wonderful cause having been worn only once by the First Lady of Virginia."
Dry asked Williams how he felt about getting the box and letter. "I sat down in the chair in the den and read this letter over and over," he said. "This letter was a fabrication," Williams said. "I felt sorry for her."
Williams admitted lying when he was first interviewed by agents on Jan. 23, 2013, telling them that he did not receive anything from the governor in exchange for his largesse.
Dry asked why he did not tell the truth. Williams said, "The questions all led me to believe the governor was in trouble, or may be in trouble, and if he was in trouble, I would be also."
Asked why he agreed to cooperate with authorities on July 1, 2013, Williams said, "It was the right thing to do." And, he conceded, "I was worried about myself" and the cooperation came with an immunity agreement.
Thursday's full day of testimony ended with the beginning of Williams' cross-examination — during which the soft-spoken witness rambled through his business career, virtually uninterrupted, for 35 minutes straight.
"We're going to stop here, primarily because I can't take another second," U.S. District Judge James R. Spencer said shortly before 5:30 p.m.
When Bob McDonnell ran for governor in 2009, he depicted his family as the Cleavers: bustling and wholesome. Five years later, running for his life, McDonnell is depicting his family as the Bundys: bitter and dysfunctional.
Williams, a star witness in the federal corruption trial against former Gov. Bob McDonnell and his wife, took the stand late Wednesday.
Testimony from McDonnell's son, Jonnie Williams' executive assistant and general manager of the Kinloch Golf Club, provide details on the relationship between Jonnie Williams and the McDonnells.