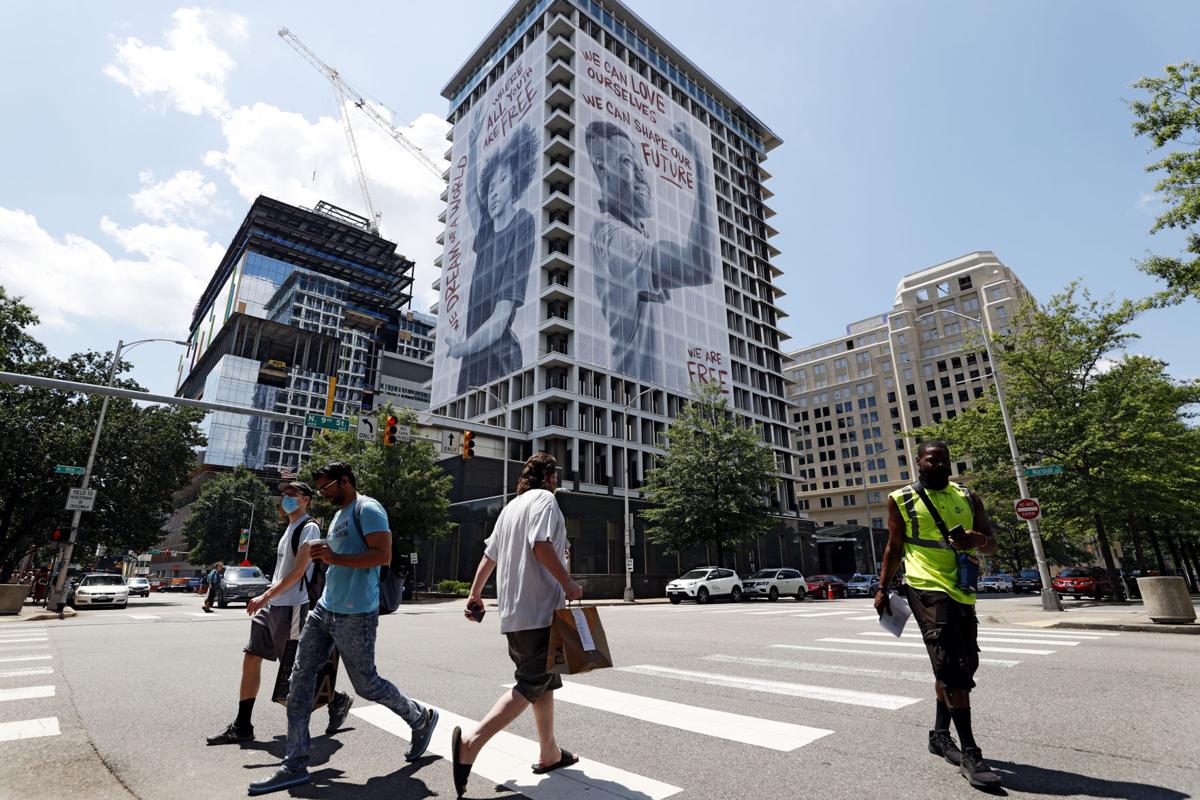 Richmond Mayor Levar Stoney wants to use fresh federal COVID-19 emergency aid to build and enhance community centers, provide $3,000 bonuses for first responders, boost affordable housing programs and redevelop public housing.
Stoney on Monday presented the City Council with an outline of a $155 million draft spending plan for the aid Congress and federal officials allotted to the city through the American Rescue Plan Act that passed earlier this year.
While the Stoney administration has yet to introduce a formal budget and appropriation ordinance, the mayor said he wants the council to adopt the special budget plan by the end of next month.
"We owe it to our loved ones to continue to be strong. We must continue to be resilient. And I know City Council shares my commitment to emerge from this crisis and seize the opportunity we have to make life better in our city," said Stoney, who has been conferring with individual council members in recent weeks.
After the mayor's presentation on Monday, several council members noted they had recently started discussing their own expenditure plans after their summer recess in August.
City Council President Cynthia Newbille said additional work sessions and public outreach sessions are being planned so that officials and residents can examine the spending plan.
The mayor's plan does not include any allocations for Richmond Public Schools, which is set to receive its own $123 million allotment from the same federal aid package.
Here is a summary of the plan the mayor presented Monday:
City parks and community centers
Half of the funding, $78 million, is being proposed to upgrade community centers so that they can provide a wider array of public services; facilitating access to financial and housing assistance, basic health care, youth programming, wellness education and workforce training.
Specifically, the plan for parks and community centers feature:
$20 million for improvements to the TB Smith Community Center near the Davee Gardens neighborhood in South Side;
$20 million to build a new community center at Lucks Field in Church Hill;
$16 million to finalize improvements to the Southside Community Center;
$8 million for the renovation of the Calhoun Center and its pool in Gilpin Court;
$12 million for implementation of the James River Master Plan in the James River Branch Trail, Forest Hill Park and Texas Beach areas; and
$2 million for the creation of a park system master plan and acquisition of land to build new parks.
Stoney said the administration selected the specific project sites because they are near neighborhoods with the highest poverty rates in the city. About 100,000 city residents, he added, will be within a 10-minute walk of one of the community centers.
"This investment will allow us to transform how we offer city services to residents and help us create a more connected, accessible and green city," he said.
Housing and redevelopment
The two-year budget plan includes $20 million for the city's Affordable Housing Trust Fund, $6.8 million for the redevelopment of Creighton Court and $5.5 million for the Highland Grove redevelopment project that's slated to add 122 new homes where Dove Court was formerly located in North Richmond.
The investment in the city's housing trust fund would meet a City Council resolution to allocate $10 million to it annually starting this year. (The current budget allocates $2.9 million.)
Stoney last year proposed a plan to use new real estate tax revenues from properties with expiring tax abatements for the affordable housing fund. Administration officials, however, estimated that the approach would not generate $10 million for the fund until 2025.
The money proposed for the first phase of the two redevelopment projects would begin the process of converting the public housing sites into "mixed-income" communities. Later Monday night, the City Council approved a preliminary plan for the phased demolition of the 504-unit Creighton Court complex, which would be replaced by 700 new apartments, town houses and other housing over the next 10 years.
The plan also includes a separate $8.2 million to assist property owners with weatherization, pipe replacement and home rehabilitation projects.
$3,000 bonuses for public safety employees
The plan includes $5 million to cover $3,000 bonuses for police, firefighters, 911 call operators and Richmond Ambulance Authority employees.
The 2021-2022 budget for the fiscal year that began on July 1 includes a 3.25% pay increase for all city employees, but city officials say they're still hearing concerns from public safety employees about relatively low pay and mandatory overtime due to staffing shortages.
According to the Richmond Police Department, 89 of its employees either resigned or retired between June 1, 2020, and June 15, 2021. Stoney and several council members planned to hold a private meeting to discuss the turnover and morale issues among police last month, but walked away when the city attorney said it needed to be public.
Stoney said the bonus is a reward for front-line workers who served during the pandemic. He said the administration is also developing plans to adjust the current fiscal year's budget so that the same $3,000 bonus can be given to all other city employees.
Health, child care, outreach and public safety
The mayor's plan includes $5 million to establish a new special fund that would be managed by the Richmond City Health District. Stoney said the fund could be used to support COVID-19 vaccination outreach, food access and security, substance-use disorder treatment and infant and maternal health initiatives.
The plan also includes $2 million to support child care efforts through the office of Children and Families, $1.4 million for a COVID response reserve fund, $1.5 million for the Office of Community Wealth Building's workforce development and Community Ambassadors program, $1.5 million for a gun violence prevention initiative and $2 million for lighting improvements and security cameras in residential and business areas.
Climate change and stormwater improvements
Later Monday night, the City Council adopted a resolution declaring a climate emergency that threatens the city.
With the council calling on the mayor's administration to develop plans to address the crisis, the mayor's proposed federal aid budget includes $1.5 million for a "climate risk assessment" and an update of the city's urban forestry master plan. The plan also includes $13.5 million to address stormwater and drainage issues in areas of the city where flooding is a frequent issue.