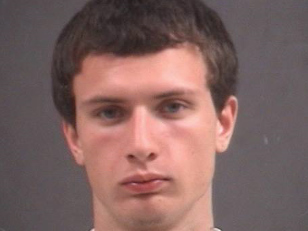 A Chesterfield County teen was convicted today of maliciously wounding another teen after firing indiscriminately into a crowd in a shooting that sparked concern about crime at one of the county's oldest and most popular parks.
Matthew D. Vance, 18, pleaded no contest to malicious wounding, discharging a firearm in a public place with injury and felonious use of a firearm in a July 20 incident at Rockwood Park that left 17-year-old Terrell Bailey with a gunshot wound to the stomach.
Circuit Judge Frederick G. Rockwell III accepted Vance's pleas and set sentencing for April 7. He could be sentenced up to 28 years in prison for all three offenses.
The shooting was sparked by an altercation on Rockwood's basketball courts that quickly escalated after Vance left but then returned with a .38-caliber revolver that he had acquired just a week earlier.
According to a summary of evidence by prosecutor Laura S. Khawaja, the incident began as Vance was playing basketball with others about 6:30 p.m. During a game, Vance accused another participant of playing too rough and punched that person in the back of the head.
Vance left in a car but returned a short time later with two friends after retrieving a gun from a home where he was staying. Meanwhile, the player that Vance had punched earlier called some of his friends, although he told Vance that everything was OK between them.
But the friends approached Vance as he was sitting on a park bench, and at one point Vance stood up, pulled a gun from his waistband and fired a single shot into the air that scattered the crowd. Vance then leveled the weapon and fired two more shots as the crowd dispersed.
One shot struck Bailey, a bystander not involved in the altercation, in his lower right abdomen.
An acquaintance of Vance later described the shooting to police as being similar to a scene from the video game Grand Theft Auto.
Vance fled the park with a friend and was dropped off at fast-food restaurant on Midlothian Turnpike. About 1:30 the next morning, Vance was arrested during a traffic stop after police identified him as a suspect.
Defense attorneys Mark Englisby and Randy Carl suggested that Vance acted in self defense after he was surrounded by as many as eight people and was punched and kicked two or three times. However, Khawaja said the evidence is in dispute about whether Vance was attacked or approached aggressively.
Vance also claimed that he saw another person at the park with a gun -– an assertion that couldn't be corroborated by police.
The 17-year-old victim, who attended today's hearing with his father, was hospitalized four days after the shooting and required another two weeks to physically recover.
"He was very, very lucky," Khawaja said.
Rockwell postponed Vance's sentencing after the teen's attorneys briefly described some physical and sexual abuse he suffered as a child and placement in foster homes. At the time of the shooting, Vance had been living with a friend on Newbys Bridge Road after leaving a group home on July 1.
Until his arrest for the shooting, Vance had no criminal record. He now faces additional charges of breaking and entering and grand larceny for an unrelated offense.
"I need a picture of who this young man is," the judge said.