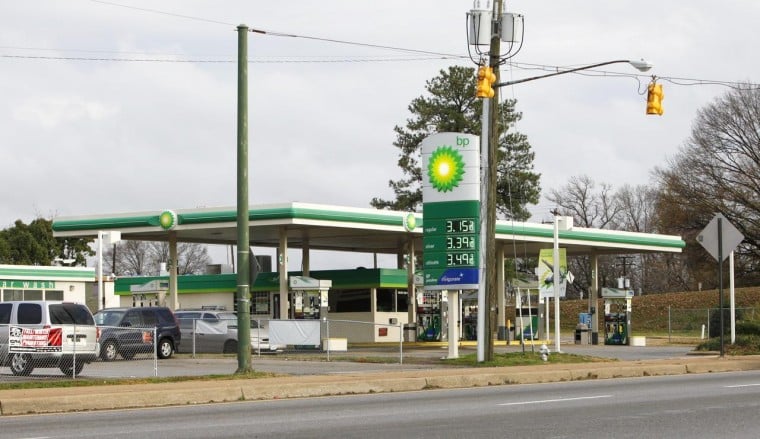 The 16-year-old accused of killing two people in less than seven hours last week in Richmond has several felony convictions, including one for a violent crime.
Toby Smith Jr. is accused of stealing Blaine Tyler's gun inside a gas station last week and fatally shooting him after Tyler chased Smith inside the store.
The Richmond teenager also is accused of fatally shooting Pierre Walter "Pete" Cosby hours later in an attempted robbery in the Oak Grove neighborhood in South Richmond.
Smith, who was arrested Monday and charged in last week's two killings, was convicted in 2010 of malicious wounding, grand larceny and burglary, according to court papers filed in Richmond Juvenile and Domestic Relations District Court.
Tyee Marquel Hamiel, another 16-year-old Richmonder, also faces charges in Tyler's killing but not in Cosby's. Hamiel's criminal history includes convictions in 2007 of grand larceny and malicious wounding, according to court records.
Smith and Hamiel also were convicted of attempted grand larceny on the same day in August of this year, the records show.
"This isn't the first time that they've been in trouble together," said Richmond Assistant Commonwealth's Attorney Andy Johnson.
Johnson declined to discuss the specifics of the suspects' prior cases because they involve juvenile records, including what sentences they received.
The court records were filed this week as part of the discovery process for the current cases against Smith and Hamiel. The documents do not list sentencing information or details about the crimes.
Judge Marilynn C. Goss of Richmond Juvenile and Domestic Relations District Court denied a motion by a Richmond Times-Dispatch reporter to view portions of the case files for the previous convictions. She ruled that the prior hearings were closed and that the information on the cases, including any sentences handed down, would remain confidential.
Johnson, speaking generally about juvenile cases, said it is rare in Richmond for a juvenile to be sent to detention after his or her case is adjudicated.
"Our goal is to try to get through to these kids before they become adults so we don't automatically lock them up every time they do something wrong," he said.
However, in the cases now pending against Smith and Hamiel, prosecutors will try to have the teens tried as adults and, if the suspects are convicted of murder charges, they could face up to life in adult prison.
Smith's attorney, Robert D. Shrader Jr., and Hamiel's attorney, John G. Lafratta, declined to discuss the cases against their clients.
No one answered the door Friday at the home of Smith's mother in the 300 block of East 11th Street in the Blackwell neighborhood in South Richmond. Court papers list that address as the home of Smith but also give another address for him.
A woman who answered the door Friday at Hamiel's mother's home at the Midlothian Village Apartments in South Richmond said she would have no comment. No one came to the door at the home Hamiel shared with a sister in the 2400 block of Atwell Lane near Jefferson Davis Highway and Bellemeade Road.
Authorities say last week's homicides both involved a robbery or attempted robberies, but it was unclear why or how each victim was selected. Also unknown is whether either suspect knew either victim.
Tyler, a customer at the BP station, was killed about 8:15 p.m. Friday, Nov. 25, inside the store. According to court papers, Smith and Hamiel arrived at the BP together on a single scooter and followed Tyler into the store.
Tyler, 48, had a concealed-carry permit, but his handgun was plainly visible that night in his holster, Johnson said.
"The suspects walk in and one immediately reached for Mr. Tyler's gun," Johnson said. Tyler did not draw his weapon.
According to court papers, Smith took Tyler's gun during a struggle and shot Tyler in the chest after the victim chased Smith inside the store. Authorities said they could not confirm that Tyler was killed with his own gun until they get the results of forensics testing. They also are awaiting test results to show whether the gun used to kill Tyler was the one used to shoot Cosby.
Cosby, 32, was sitting with a woman in a car in the 1700 block of Edwards Avenue about 2:30 a.m. last Saturday, when Smith walked up and tried to rob them, according to court documents. The woman hurried out of the car and heard gunshots as she ran. Police found Cosby dead in the vehicle.
Smith faces 17 charges, including two counts of murder in the deaths of Tyler and Cosby, along with robbery of Tyler and two counts of attempted robbery in the Edwards Avenue slaying. Hamiel faces eight charges, including murder and robbery of Tyler.
Preliminary hearings for both teens are set for Jan. 30.