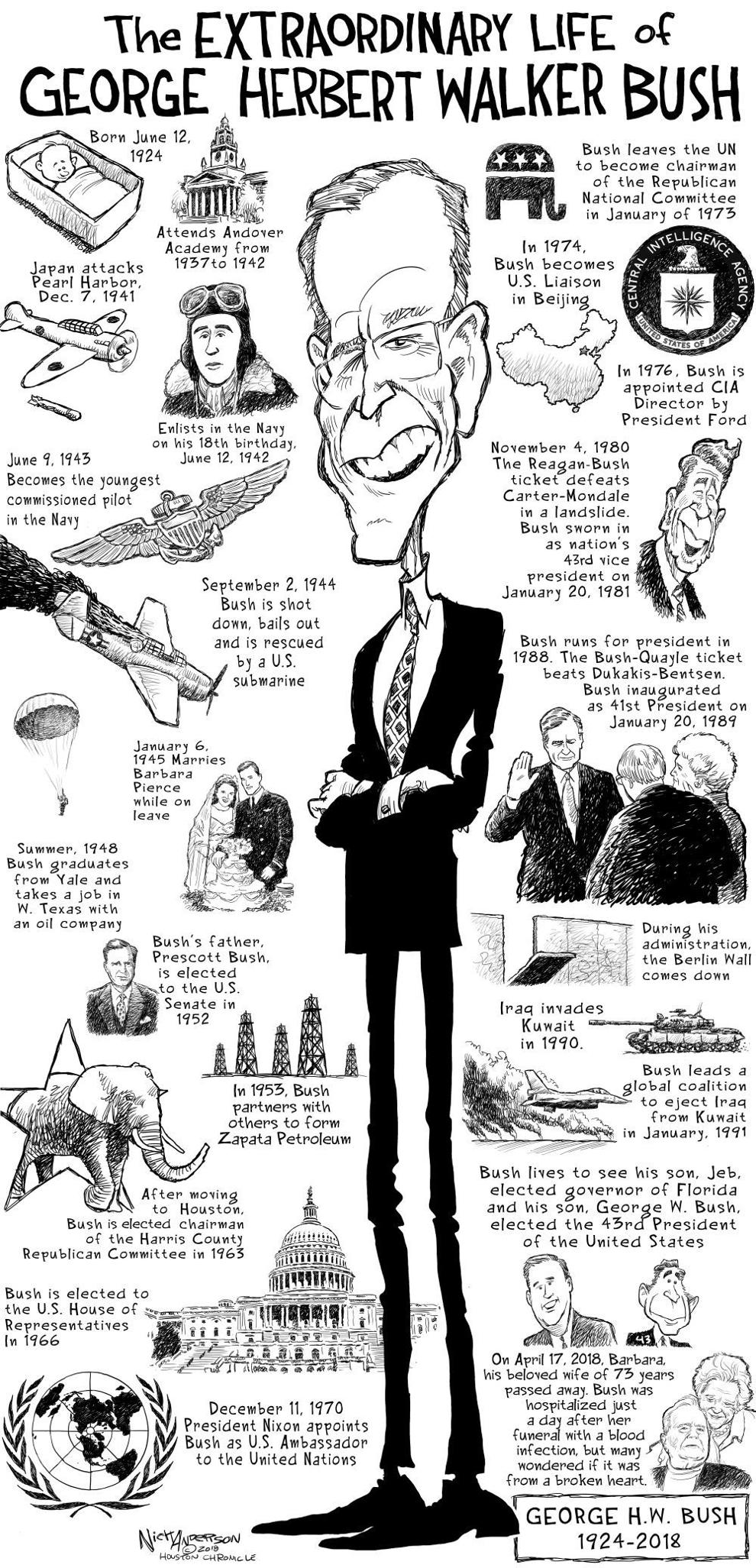 One of the memorable tribute cartoons to George H.W. Bush this week involves an editor's planning, a long-term gestation and a Houston cartoonist's willingness to work with the paper that fired him.
It was about five years ago that Nick Anderson, the Pulitzer-Prize-winning political cartoonist, began to work on a large illustration that tracked many of the major events of Bush's life, including his World War II service as a Navy pilot and his term as the 41st president.
"Bush had gone into the hospital, and my editor (Jeff Cohen) at the time thought it would be a good idea to have something special planned for the editorial page," recounts Anderson, who was then the Houston Chronicle's staff cartoonist. "He wanted something more than the usual obituary cartoon."
Anderson launched into the project, spending several months on it in between his daily cartoons. "It was just a matter of researching his life, and illustrating the major highlights, and there were many," says Anderson of the artwork, which he titled "The Extraordinary Life of George Herbert Walker Bush."
Then, "I left the last panel unfinished," he says, "because I wanted to be able to update it."
In the summer of 2017, however, the Hearst-owned Chronicle fired Anderson, who happened to be the only full-time staff political cartoonist in all of Texas.
His cartoons drew significant online traffic at times, Anderson told The Washington Post then, but "unfortunately, the powers that be decided a full-time cartoonist was not going to be a part of (the business) model."
As for the "Extraordinary Life" artwork, Anderson says he "kind of forgot about it after losing my job."
When Bush was hospitalized last April, however - following the death of wife Barbara after 73 years together - "I felt like I needed to alert the new editorial page staff" of the cartoon's existence, says Anderson, whose cartoons are syndicated by The Washington Post Writers Group.
"I had created it on Houston Chronicle time," he says, "so I felt an ethical obligation to let them run it, if they wanted to - which they did."
After the former president died Friday at age 94, Anderson made a few tweaks to the illustration, coordinating with the new editorial-page editor.
Many readers praised the piece on social media, even as some suggested that the Chronicle should rehire Anderson.
"It was fun to work with the Houston Chronicle editorial team again, if only for a fleeting moment," Anderson says. "That's one of the things I miss most about being a full-time journalist - being a part of a team, reacting to historical events (and people) and feeling like you have a small part in how they're remembered."
---
Photos: George H.W. Bush lies in state at U.S. Capitol
The nation's capital embraced George H.W. Bush in death with solemn ceremony and high tributes to his service and decency, as the remains of the 41st president took their place in the Capitol Rotunda for three days of mourning and praise by the political elite and everyday citizens alike.