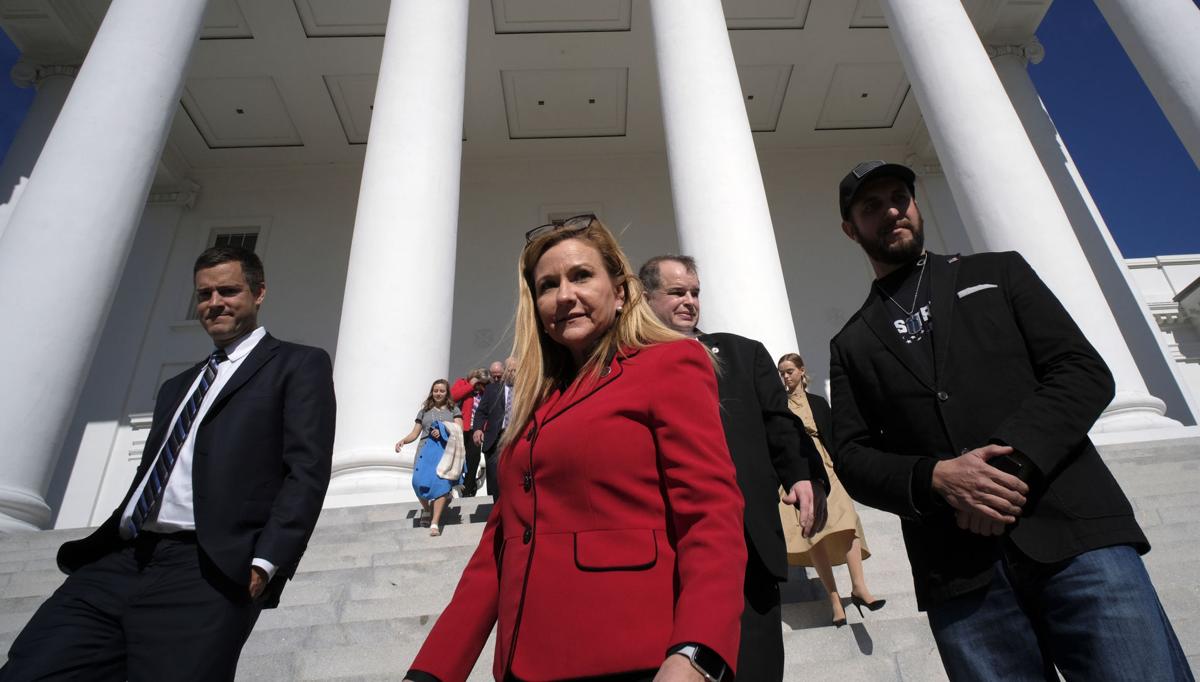 A Second Amendment supporter who created a Facebook group in support of Sen. Amanda Chase, R-Chesterfield, says the senator tried to take some control of it, and then threatened him with legal action and denied knowing him after he refused.
Jonathan Scott, a GOP activist who moved from Chesterfield County to Maryland last summer, created a Second Amendment Facebook group in September as gun rights supporters picked up political steam. Scott, describing himself as "pure grassroots," said he doesn't work for campaigns.
Chase and her staff took interest in his group after Democrats won control of the legislature in November and the group was growing, he said. Chase joined the group, he said.
Chase had announced in late 2019 that she would run for governor in 2025. But after Scott learned from her staff she might run in 2021, he said, he made a second Facebook group, in January, called "Supporters of State Senator Amanda Freeman Chase for Governor of Virginia." Chase announced her campaign for governor in February.
The group was a closed discussion group for members only. And that is the group that has become controversial. Four months later, the group still exists, and for a time, Chase was a member and posted in the group.
But last month, she demanded her staff be given control of moderating in the group, according to a message she sent Scott, which he provided. After Scott declined — wanting to keep the group a forum for grassroots discussion separate from her campaign — she publicly denounced the group, said she did not know who was behind the group, and called it "fake."
Chase said in an interview that she wants to work out the situation, but she's not being allowed back in the group to respond to posts and she thinks it's disingenuous that the group bears her name but not all of the posts are supportive.
According to text messages Scott provided for this story, Chase demanded he give one of her aides control within the group and threatened a lawsuit. In the interview Chase declined to discuss potential legal action, other than to say she has spoken with an attorney.
Scott, who initially said he lived in Chesterfield but later Saturday acknowledged he and his wife moved to Maryland last summer, said in a phone interview he was stunned to be threatened by a lawmaker he supported. He shared text messages with Chase to rebut her public claim that she doesn't know who created the group.
Philip Search, an aide to Chase, sent a message to a group moderator on Jan. 27. "I like what you've done with the group. Would you like me to send you content to put up?" Search wrote.
Search and another aide to Chase, who no longer works for her, called Scott with other requests, Scott said.
Scott wanted to keep the Facebook group a grassroots discussion group and told them he wanted to keep it separate from Chase's campaign and not use it for political donations, which he believed was their goal, he said.
Chase said she disables her online donation links during the General Assembly session and her staff knows not to try to raise money during session, which is illegal.
"I just kept saying, hey, look, we're not a campaign site," Scott said.
Scott provided call logs from his phone showing calls with Search on Feb. 25 and calls with Chase's then-aide on Feb. 27, March 13, March 16 and April 21.
In April, Chase communicated directly with Scott by text asking questions about the group, according to the text messages he provided. She became upset, the messages show, and the back-and-forth between Chase and Scott became contentious.
"I would ask that myself or someone from my team be added as an administrator," she wrote via text. She asked that one of the group's administrators be removed.
She told him she understood the group was up to 30,000 followers. But Scott told her he looked at the metrics and the group was at 11,194 members, and that was the largest it had been.
Members of the group post frequently. Much of the recent discussion involves Gov. Ralph Northam, lockdown orders, COVID-19, and a wide range of political issues.
Scott said in the interview that he believes Chase left the group on her own. Chase said she was kicked out by one of the administrators after they had a back-and-forth over one of her votes.
She wrote to Scott on April 21: "It's apparent to me that you and [another administrator] were not really supporters. ... I know what you're both up to and it's both disingenuous and intellectually dishonest."
She told him he should add her back into the group or delete it. "I really don't want to get my attorney involved or take to Facebook to expose what you and [another administrator] have done but you leave me no choice."
Scott wrote to her that he was "floored."
"I do not appreciate being threatened by a Virginia legislator," he wrote to her. "Threats are beneath any individual seeking the highest office in our beloved Virginia. It's a sad day. You had such promise."
Chase addressed Scott's group on her own Facebook page in a video she posted April 21.
"I'm now finding out that the administrators who I'm really not familiar with ... that they're using this for nefarious reasons and I've actually asked them to delete the account altogether," Chase said in the video.
Chase posted again on her Facebook on Wednesday:
"Those with an alternative agenda have created a FAKE Supporter of Senator Amanda Chase for Governor page.
"They have lured thousands of my unsuspecting supporters to this page.
"Our Facebook Supporters page is Chase for Governor."
Scott responded in a comment on her page: "You misled Virginians about not knowing who founded the group. You accepted an invite to join the group and your campaign staff was informed of the creation of the group and its goals.
"You remained part of the group for two months before demanding control of it. You demanded we place your Campaign Manager as administrator. Thus making it a campaign site. A 'dark' campaign site."
Asked to provide any screenshots of the page's administrators that she said attacked her, Chase responded that Scott was "promoting" Sen. Jill Holtzman Vogel, R-Fauquier, as a candidate. Chase provided a screenshot from one post in the group in which Scott — in a discussion about Vogel — wrote that she had a good voting record, had done well in her statewide race for lieutenant governor in 2017, and "belongs in any conversation."
Chase said in the interview: "I'm not going to be a victim. People know that."
She added: "My hope is to resolve this by either adding me back to the group and allowing me to speak when my name is mentioned so I can defend my record, or change the name of the group to another name. Those are two acceptable options."