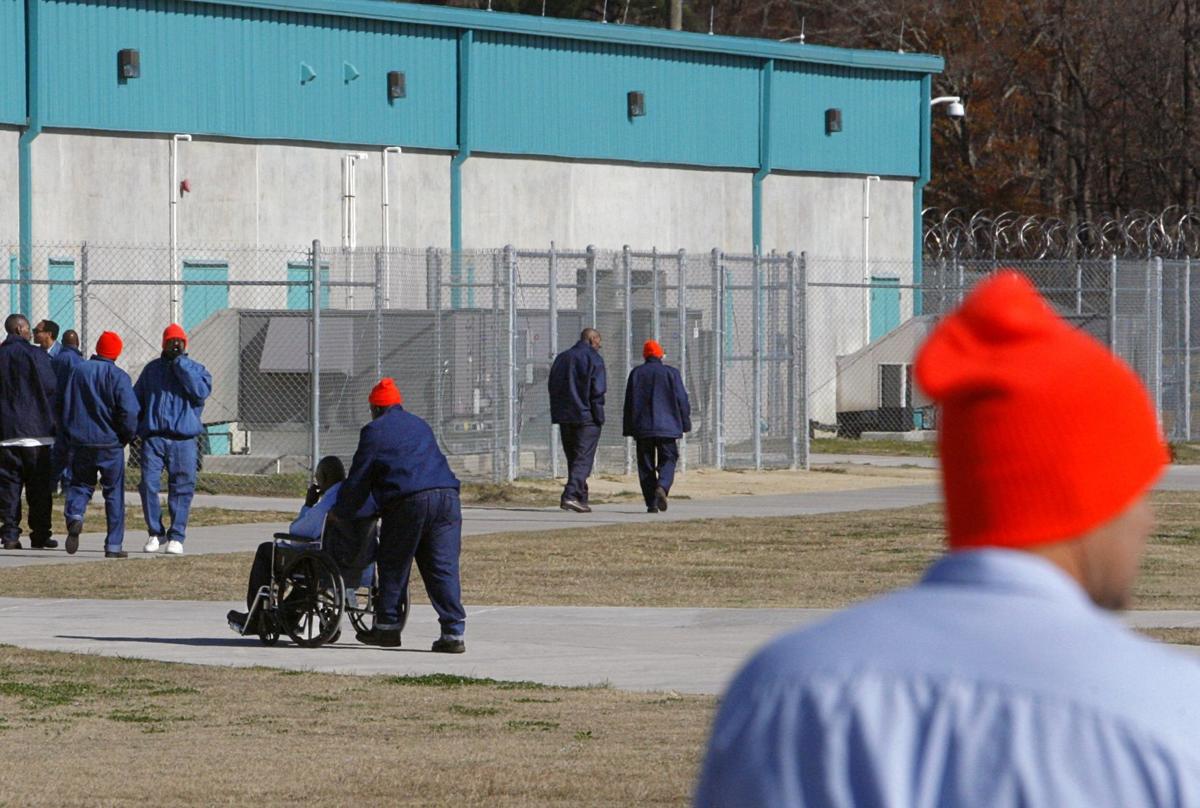 Fear has crept into the warrens of Virginia's 30,000-inmate prison system along with the COVID-19 virus, which has thus far infected more than 40 inmates and staff members in at least seven facilities.
Advocates are calling for the release of at-risk prison, jail and juvenile correctional center inmates as soon as possible through means including parole, geriatric release and clemency by Gov. Ralph Northam for long-term inmates with a short time left to serve.
A suit was filed Wednesday in federal court on behalf of 27 inmates at 12 prisons alleging, among other things, that their Eighth Amendment rights are being violated by Virginia's failure to reduce the state prisoner density in light of COVID-19.
The suit aside, the administration says it shares the sense of urgency of advocates and that few possible solutions are off the table. Among officials' concerns, however, is a 2016 ruling by the Virginia Supreme Court that could impede the use of gubernatorial clemency to release a class of offenders without considering each inmate individually.
Adrianne Bennett, chair of the Virginia Parole Board, said that "this moment in time calls for an urgent response. We know that. But we also have to make sure that the response is within the parameters of the law and that we are acting responsibly."
As of 5 p.m. Wednesday, the Virginia Department of Corrections said that 21 inmates had been diagnosed with COVID-19: 12 at the Virginia Correctional Center for Women in Goochland County — three of whom have been hospitalized; six at the Central Virginia Correctional Unit 13, another women's facility located in Chesterfield County; one at Sussex II State Prison in Waverly; and two from Sussex II who have been hospitalized.
Also, 21 staff members have tested positive, including 12 at the Virginia Correctional Center for Women and one at the Deerfield Correctional Center in Capron, which holds many elderly prisoners and those with other serious illnesses — with more than 100 in wheelchairs.
In addition, at least one resident each at the Bon Air Juvenile Correctional Center and the Virginia Center for Behavioral Rehabilitation have the virus.
"This is so scary. Every day, another woman leaves this unit sick and scared. We are all really scared," wrote Jennifer Grissom at VCCW to an advocate with the Coalition for Justice on Tuesday.
Donald Herrington, an inmate at Deerfield, wrote in an email to the Richmond Times-Dispatch that "a fear is going over the inmates. We cannot do social distancing. They have 88 people packed in the pod ... for 23 hours a day."
He said last week that the staff passed out family contact information forms for the inmates to fill out.
"They have stated because of this situation they want them all up to date as their way of preparing for the worst," he said. "Not a good sign."
Bennett and the four other members of the Parole Board are aware of the concern.
"We are being flooded right now by phone calls and emails from people that are desperate because they're worried for some loved one behind bars. A tsunami of emails and phone calls," she said.
Bennett said the board is also hearing from crime victims.
"The fear is real for the victims — that the person who offended against them is going to be released in a broad-stroke pardon," she said.
Virginia ended parole for crimes committed on or after Jan. 1, 1995. But there are still 1,600 to 1,700 inmates eligible for parole for old crimes and an additional 1,000 or so eligible for conditional geriatric release by the Parole Board.
Inmates age 60 and above who have served 10 years or more of their sentence, or those 65 and older who have served at least five years, are eligible for geriatric release.
Advocates say these 2,600 inmates are among the most at risk for serious complications and death from COVID-19, because of their age. But also because of their older age, they are the least likely to reoffend.
They also argue it would be relatively easy to determine which DOC offenders have a year or two left to serve on their sentences and have good recent institutional records so the governor can release them.
At a news conference, Secretary of Public Safety Brian Moran made reference to a 2016 ruling by the Virginia Supreme Court that shot down then-Gov. Terry McAuliffe's executive order restoring voting rights to 206,000 felons in the state, holding that every case has to be considered on an individual basis.
The majority opinion held that "never before have any of the prior 71 Virginia governors issued a clemency order of any kind — including pardons, reprieves, commutations, and restoration orders — to a class of unnamed felons without regard for the nature of the crimes or any other individual circumstances relevant to the request."
Bennett said that "just because someone is on the cusp of getting out of prison doesn't mean that they don't come out with a risk to public safety, and the only way to know that is an individual assessment of that person and that takes time."
She said each inmate up for release consideration is being looked at thoroughly, but the board is looking at more cases at one time than in the past. Bennett leaves the job next week to assume a juvenile and domestic relations judgeship in Virginia Beach.
Moran said last week that the Parole Board granted release in 95 cases last month, far more than have been released in prior months.
Advocates contend far more can and needs to be done, and it needs to be done much faster.
In a letter March 27 to advocates, Moran wrote, "The Parole Board must continue to prioritize public safety, follow statutory requirements, and uphold the rights of victims during this unprecedented time.
"The Parole Board is authorizing the immediate release of all parole granted offenders who are currently in re-entry programming if they have approved home plans and once victims have been notified," Moran added.
"Challenges involving the release of older offenders and offenders with underlying health conditions are exponentially greater now than prior to the pandemic," Moran wrote.
"The Parole Board is concerned about the increased potential for exposure to the virus in other congregate care facilities and the decreasing number of available hospital beds.
"The Parole Board will continue to work creatively to find placements when release is appropriate," he added.
While some inmates have family or places to go, many do not. Bennett complained that advocacy groups are urging releases but that "they're not doing anything to help the population" by finding appropriate settings for them in the community.
There are individuals and organizations that need help in creating places for inmates to go when they leave prisons and they need help, she said.