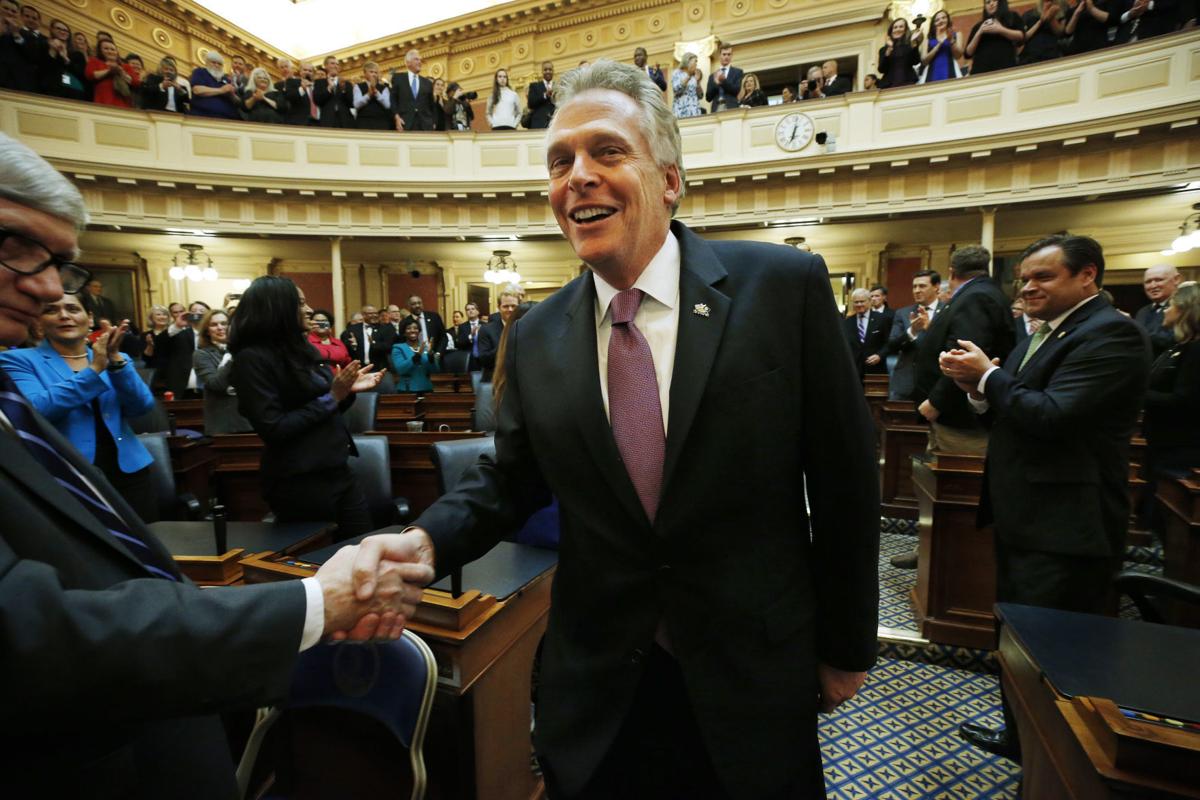 Former Gov. Terry McAuliffe, who is considering a run for governor again in 2021, announced Friday that he'd hired the executive director of the Democratic Party of Virginia to run his PAC — a move that would leave DPVA with just one African American among 15 paid staff members.
Chris Bolling is not leaving the party until the end of the year. The party on Friday announced that he would be replaced by Andrew Whitley, who is white. Whitley was the executive director of the Democrats' "coordinated campaign" in the most recent General Assembly election and managed the primary campaign of Senate Democratic Leader Dick Saslaw, D-Fairfax.
The DPVA's online staff list, which includes Chairwoman Susan Swecker, would include no African Americans without Bolling on it. One other staffer who is African American is not listed, and three additional listed staffers are people of color.
Asked by email Friday if candidates of color were considered for the executive director's job and how many candidates were interviewed, DPVA officials declined to comment.
Alexsis Rodgers, a longtime Democratic activist in Virginia and president of the Virginia Young Democrats, a DPVA branch, emailed Swecker and called Whitley on Friday after seeing the news release about his hire. She also posted concerns on social media about DPVA's hiring process.
"These could be public job posts and it's been my experience that sometimes they are posted online," she said in an interview, saying her concerns were not about Whitley but the hiring process. "There should be consistency in this process because these are important jobs for the Democratic Party."
She wrote on Twitter: "It can be really challenging to hold your friends accountable, but we have to do it if we want to build a stronger Party."
Ravi Perry, chair of the Department of Political Science at Howard University and a former professor at Virginia Commonwealth University who closely studies Virginia politics, said McAuliffe is bringing on a top operative in Bolling, who has good credentials in the black community.
There's no logical reason McAuliffe would do that if he wasn't planning to run for governor, Perry said. "It certainly is a very clear indication that he would likely be announcing for governor again."
McAuliffe knows women and people of color are increasingly significant factors in Virginia's elections and have won many offices in Virginia's legislature themselves, Perry said.
But he said the fact that the Democratic Party of Virginia doesn't have a diverse staff in the post-Obama era is a problem. And the lack of diversity is happening even after the Democratic Party called en masse for Gov. Ralph Northam's resignation in February over a scandal related to a racist photo in his medical school yearbook.
"We're in the year where we are commemorating the 400-year anniversary of the first captured Africans brought to our shores … so this is certainly the time, if they are going to diversify, to do it," Perry said.
Nationally, the Democratic Congressional Campaign Committee faced a staff shake-up this summer after complaints about a lack of diversity.
"Chris's work on Virginia Democratic campaigns — including mine — over the last decade has played a huge part in making Virginia the Democratic commonwealth it is today," McAuliffe said in a statement. "I am tremendously excited to have Chris on board at Common Good where we will help ensure our new Democratic majorities are able to deliver on the big progressive legislative promises that we successfully campaigned on."
Bolling has been executive director of the DPVA since 2017, and said in a statement he was proud to move on to McAuliffe's PAC "to ensure bold, progressive change in the commonwealth and take Virginia to the next level."
After seriously exploring a run for the Democratic presidential nomination, McAuliffe announced on CNN in April that he had opted not to run. Asked by journalist Chris Cuomo during the interview he would run for governor, McAuliffe gave a muddled answer, saying he wanted first to help House and Senate campaigns in Virginia.
Virginia governors are not allowed to serve consecutive terms but can run again in the future after their four-year term ends.
Elected Democratic leaders in a DPVA news release, including House Speaker-designee Eileen Filler-Corn, D-Fairfax, praised the choice of Whitley to be new executive director.
"The Democratic Party of Virginia has never been stronger, and with Andrew at the helm we're in the perfect position to continue building on our accomplishments and deliver real progressive change for the people of our commonwealth," Senate Democratic Caucus Chair Mamie Locke, D-Hampton, said in the statement.
"Across the country and across the commonwealth, Andrew has been a part of some of the most important and successful Democratic campaigns over the last few years," Sen. Louise Lucas, D-Portsmouth, the DPVA's vice chair of outreach, said in the statement.