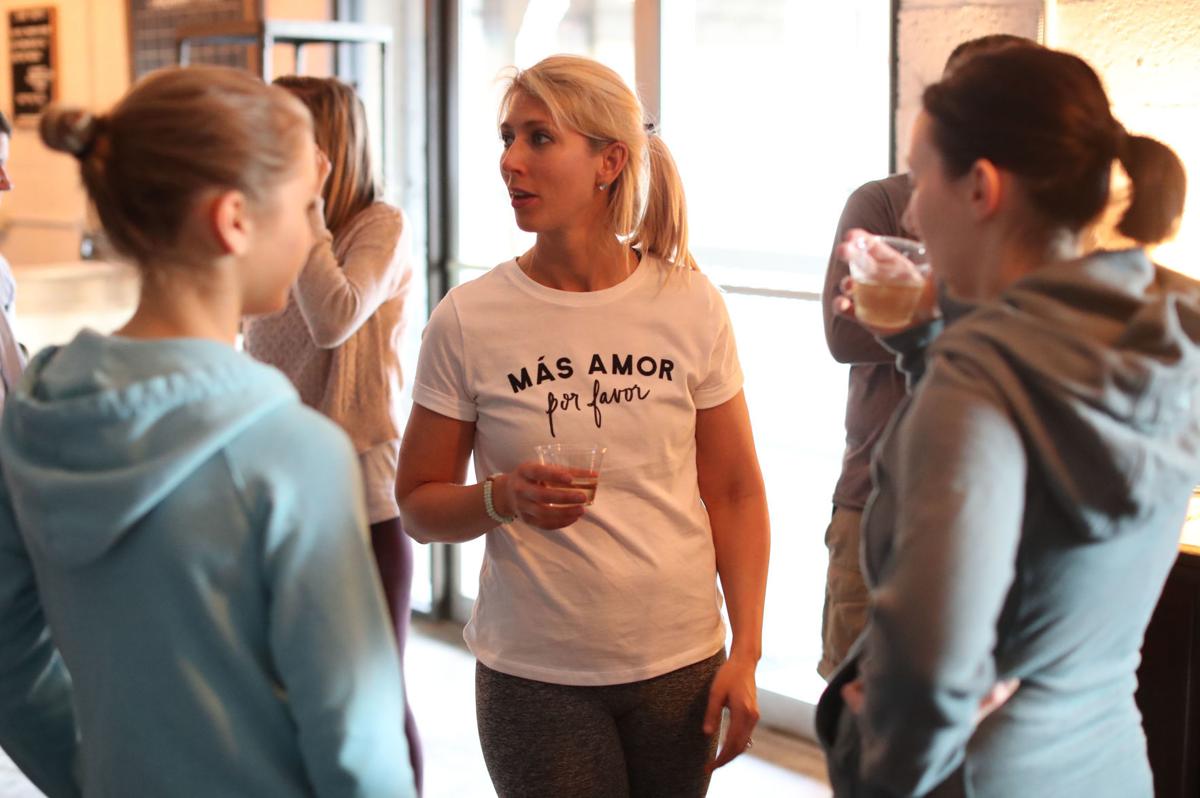 CHARLOTTESVILLE — As the clock struck 7 p.m. at Santosha Yoga in Crozet, 18 yogis rolled into the fetal position, sent "loving and kind thoughts" to the backside in front of them, then beat a quick path to waiting glasses of chilled wine.
The March 30 "Friday Wine Down" yoga class was just the second such event for Santosha this year, but it marks a burgeoning trend among yoga studios and independent yoga teachers. To survive financially, many are carving out ever more narrow and quirky niches to attract a loyal clientele.
Santosha's draw is so compelling, in fact, that at least two women admitted to skipping the yoga part entirely.
Santosha's owners, Chloe Watkins and Ashley Holland, hit on the wine angle almost immediately when they bonded at a couples' class and discovered they both had connections to the local wine industry — and they both dreamed of opening a yoga studio.
"It was the right partnership, the right timing and the right spot," Holland said. "All of that fell into place together."
That is exactly the sort of symbiosis that fitness-studio business consultant Lise Kuecker urges her clients to seek out in a saturated market like Charlottesville.
"They're not just competing against yoga studios," Kuecker said. "They're competing against every other boutique studio in town plus ACAC and the YMCA, where they're going to get many of the same yoga instructors."
It's hard to pinpoint just how saturated the yoga market is. But there are at least 60 yoga teachers within 40 miles of Charlottesville in Yoga Alliance's online directory alone, and 26 boutique fitness studios listed at Lululemon, a purveyor of upscale activewear.
According to 2016 research by Yoga Alliance, 28 percent of Americans had done yoga. Of those, 45 percent prefer to do it in a studio. That all translates into maybe 11,000 locals who might be interested in paying for yoga.
A two-room studio probably needs 250 to 300 regular clients to provide an owner a "comfortable lifestyle," according to Kuecker's calculations. And, she said, only 15 percent of people who buy introductory packages become long-term clients.
Some enterprising yoga instructors, such as Shannon McElroy and Catherine McMahon, sidestep this math by creating their own class offerings outside the studio setting.
McElroy teaches "Pints and Poses," a monthly class at Random Row Brewery. For $10, students get a Hatha-style yoga class and a pint of beer.
"We're not actually drinking beer in my class," she said. "I like to focus on yoga and then enjoy the aftermath — the beer part — afterwards."
She also teaches a few yoga classes at ACAC and is a part-time nurse.
Catherine McMahon teaches at five studios in the area, but her personal niche is teaching standup paddleboard yoga at Beaver Creek Lake in western Albemarle County.
Instead of investing to build a studio, she bought seven boards and agreed to pay a 6 percent cut to the county for the use of the reservoir.
She can teach maybe 10 students at a time, but she's still constrained financially by the fact that it's seasonal work and her body won't let her teach more than two paddleboard classes per day.
McMahon has been running her business, Mango SUP and Yoga Adventures, for five years.
"I'm a one-woman show," she said. "I have to figure out whether I want employees or to keep doing my own thing, or to go in a different direction completely."