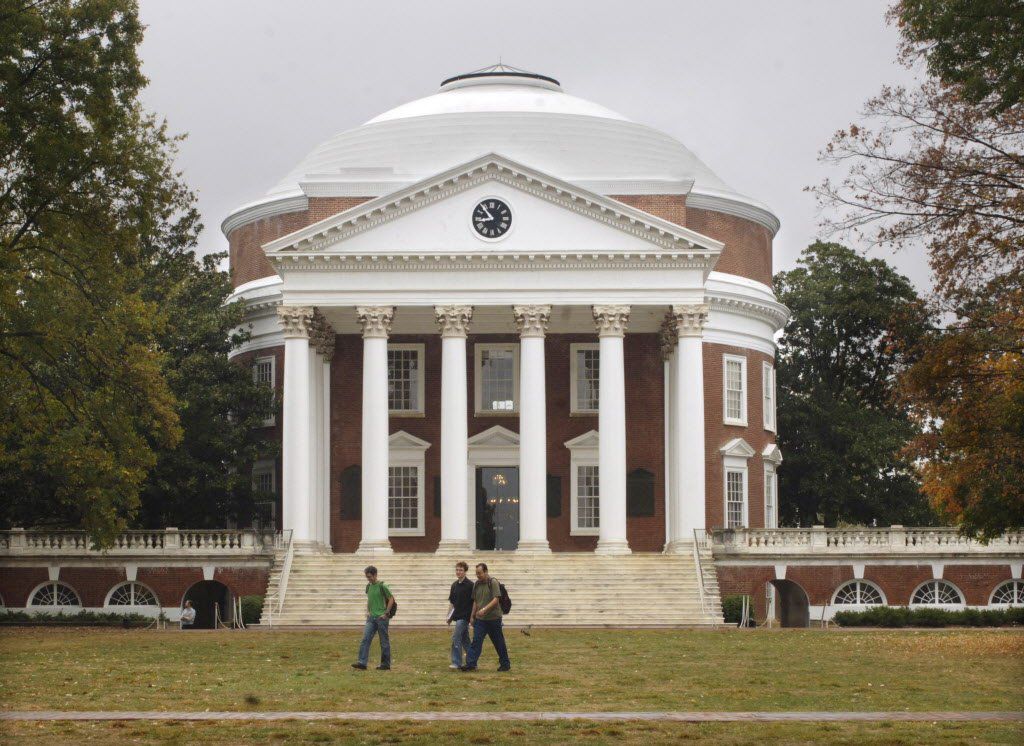 Amid criticism from professors and students asking that she not use the university's founder as "a moral compass," University of Virginia President Teresa Sullivan is defending her use of a Thomas Jefferson quotation.
"Quoting Jefferson (or any historical figure) does not imply an endorsement of all the social structures and beliefs of his time, such as slavery and the exclusion of women and people of color from the university," Sullivan said in an online response Monday to a letter signed by 469 faculty members and students.
But Sullivan acknowledged "the university's complicated Jeffersonian legacy" and endorsed their right to object to her choice of the quotation she used in her message last week calling for unity and civility after the presidential election.
"By coincidence, on this exact day 191 years ago — November 9, 1825, in the first year of classes at U.Va. — Thomas Jefferson wrote to a friend that University of Virginia students 'are not of ordinary significance only: they are exactly the persons who are to succeed to the government of our country, and to rule its future enmities, its friendships and fortunes.' I encourage today's U.Va. students to embrace that responsibility," Sullivan wrote last week.
In her response to the letter, Sullivan said that "words have power" and "quoting any person is to acknowledge the potency of that person's words."
"In my message last week, I agreed with Mr. Jefferson's words expressing the idea that U.Va. students would help to lead our Republic. He believed that 200 years ago, and I believe it today," she said.
Jefferson scholar Peter S. Onuf said by email that he endorses Sullivan's response but not the sentiments in the letter.
"We need to engage with Jefferson, not to pretend that this complex, deeply flawed figure did not exist — or has nothing to say to us," said Onuf, the emeritus Thomas Jefferson professor of history at U.Va. and senior research fellow at Monticello.
Jefferson is easily the most quoted person at U.Va. — his words are melded to fit almost any scenario on campus. But the slave-holding third president is under increasing scrutiny as the university prepares to celebrate its bicentennial next year and launch a major fundraising campaign.
That sentiment was expressed in the letter to Sullivan drafted by Noelle Hurd, an assistant professor of psychology.
"Though we realize that some members of our university community may be inspired by quotes from Jefferson, we hope to bring to light that many of us are deeply offended by attempts of the administration to guide our moral behavior through their use," the letter stated.
The letter noted that Jefferson "was deeply involved in the racist history of this university" and cited "other memorable Jefferson quotes," such as that blacks "are inferior to the whites in the endowments of body and mind."
"We would like for our administration to understand that although some members of this community may have come to this university because of Thomas Jefferson's legacy, others of us came here in spite of it," the letter states. "For many of us, the inclusion of Jefferson quotations in these e-mails undermines the message of unity, equality and civility that you are attempting to convey."
Lawrie Balfour, a politics professor who signed the letter, told The Cavalier Daily that they were grateful that Sullivan responded to anxiety following the election but felt it was the wrong moment to turn to Jefferson because of recent incidents of identity-related hate speech.
"I've been here 15 years," Balfour told the student newspaper. "Again and again, I have found that at moments when the community needs reassurance and Jefferson appears, it undoes I think the really important work that administrators and others are trying to do."