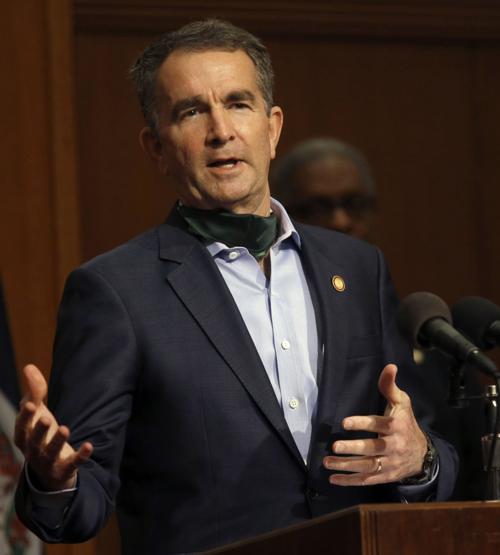 Buried in the more than 180 proposed amendments to the state budget that the General Assembly will consider Wednesday are two simple requests that could rescue programs that enabled disabled Virginians to live outside of state institutions.
Gov. Ralph Northam has quietly asked the legislature for temporary state authority to relax requirements for organizations that provide home and community-based services through Medicaid to people with intellectual and developmental disabilities.
The changes include a plan to redirect currently budgeted Medicaid money to help organizations that have had to close day support programs in response to the coronavirus pandemic and instead provide those services, without payment, in group homes and other residential facilities.
"We want to provide some flexibility to these providers to keep them stable, to keep them afloat to deliver the services in the community that we need them to do," Deputy Secretary of Finance Joe Flores said in an interview on Tuesday.
Since the public health crisis began, more than 150 private providers have shut down their programs, primarily day support services for disabled Virginians who must stay home instead. The state wants authority to make retainer payments to them through Medicaid so the businesses can survive.
"That's going to be a lifeline to these day programs," said Jennifer Fidura, executive director of the Virginia Network of Private Providers.
Lutheran Family Services of Virginia has closed day support programs in Roanoke, Lynchburg and Charlottesville that help disabled people stay out of institutional care. They also include people who have been moved out of the state training centers that have closed under a settlement agreement between Virginia and the U.S. Department of Justice in 2012.
"These are individuals who may have come from one of the state institutions," Chief Executive Officer Ray Ratke said Tuesday.
His organization has not laid off or furloughed staff, but has shifted them to provide support services to disabled residents of group homes that it operates. However, Medicaid rules do not allow Lutheran Family Services to bill for the services in that setting.
"It puts all of it in jeopardy," Ratke said. "We have all of these expenses and we don't have any revenue to support them."
Help has been slow in coming from the state, which suddenly was facing a potential $1 billion revenue shortfall in the last three months of the fiscal year as Virginia's Medicaid agency proposed a package of changes that included more than $170 million in additional costs to the state general fund budget that pays for the core services of government.
"Anything that required general fund dollars, we put on the back burner," Flores said.
The Department of Medical Assistance Services, which runs the state Medicaid program, proposed a package of amendments to four state waiver programs to serve people in their communities and outside of institutions. The governor's office asked the agency to separate those amendments that would not require additional spending from those that would.
However, the administration concluded that it could not make many of the changes, including the retainer payments to providers, without General Assembly approval.
Northam submitted amendments to the budgets for the current fiscal year that ends June 30 and next two years, beginning July 1, that would give the governor temporary authority to make immediate changes to the state's Medicaid assistance programs under the emergency.
If approved by the assembly, the state then will submit its proposed amendments to Medicaid waiver programs to the federal government, which already has proposed similar flexibility for 27 states.
"With an emergency declaration, they can loosen up requirements at the federal level," Flores said.
But the most essential change is the proposal to redirect existing state Medicaid funding to allow retainer payments for providers for services they can't safely deliver during the public health emergency, such as day support and community engagement programs.
The payments would cost the state about $12 million through the end of June and would be matched by up to $15 million in federal Medicaid funds, but the state already has accounted for the money in its annual Medicaid forecast.
The state would ask federal approval to "make payments to some of these providers to keep them afloat for the next three months," Flores said.
Lutheran Family Services says it also needs flexibility to bill for services it provides to clients in group homes and other residential settings instead of program centers. The organization serves 50 to 75 people in day programs across Virginia, as well as 32 in group homes. Its development services division employs 180 to 190 people.
"We're able to move some staff," the same staff that provides day support, "to group homes, but you can't bill for that service," Ratke said.
Advocates for people with intellectual and developmental disabilities also were counting on provisions of the proposed budget that would use almost $86 million in additional state and federal funds to raise rates for service providers. But the appropriation was among $2 billion in new spending that Northam suspended to wait for a clearer economic outlook before making cuts.
"With so many Virginians facing new uncertainties, now is not the time to backtrack on funding that will protect some of our most vulnerable families from going further into crisis," said Kim Goodloe, president of the Arc of Virginia.
But with an estimated $3 billion revenue loss looming, state officials say they are looking for ways to help without committing funds the state may need to survive the crisis.
"This will provide some relief to some of these providers," Flores said. "It's not going to make them whole."