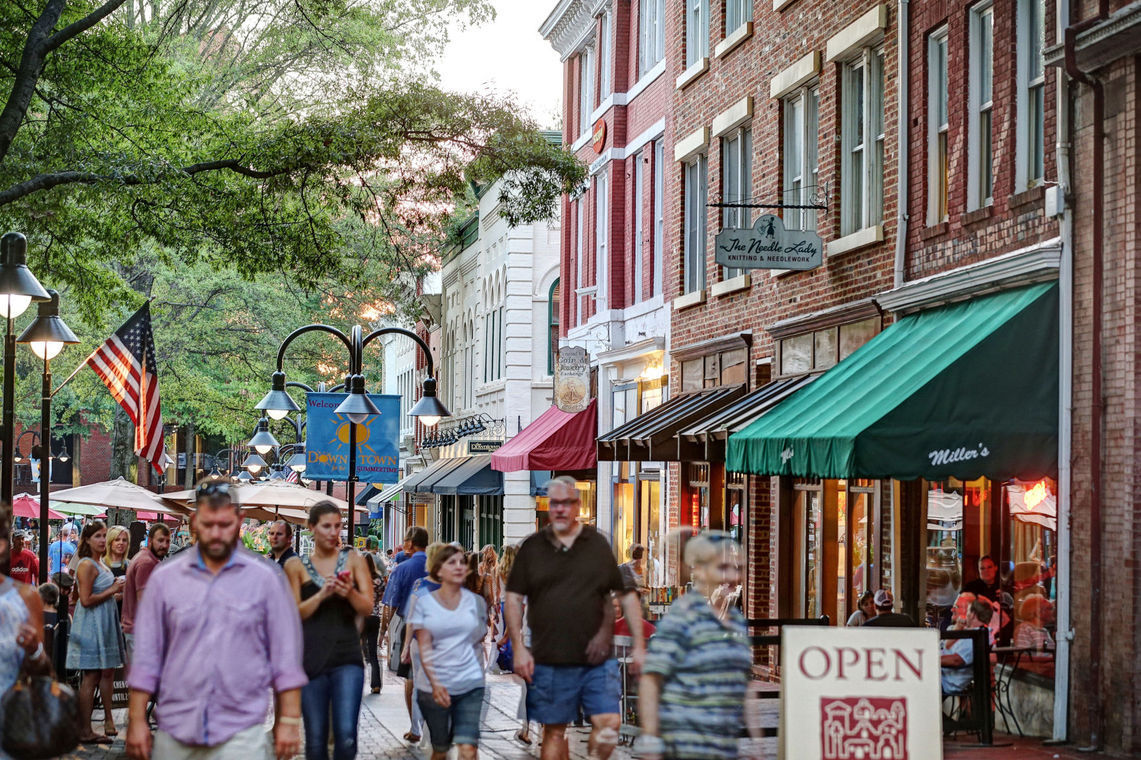 Without the Downtown Mall — a nationally renowned pedestrian walkway filled with businesses, people and ambiance — downtown might never have become the crown jewel of Charlottesville, a destination that complements the region's historic treasures and the University of Virginia.
Just take a walk down the beautifully bricked path and enjoy the sights and sounds. Take in the restaurants and bars down the stretch that's a third of a mile long. Go shopping at the boutique stores on the mall's eight blocks. Check out the newly restored blade of the Paramount Theater, a throwback to a time before the mall even existed, when automobiles still ruled the busy main street corridor.
During the day, workers downtown can escape their duties to go to the mall for lunch or enjoy the weather. On weekends, university families, townies and tourists, young and old, from all over can be seen patronizing downtown.
The Downtown Mall is the lifeblood of Charlottesville.
But it wasn't always that way, even well after the city dedicated the mall 40 years ago on July 3, 1976.
It all started a little more than 40 years ago, when an economic paradigm shift left hundreds of downtown centers throughout the country with fewer customers, many of whom were settling into suburban developments and patronizing new shopping centers and strip malls.
That trend started in Charlottesville in the 1950s with the development of the Meadowbrook Shopping Center and the Barracks Road Shopping Center.
"It reflected what was happening nationally," said Steven G. Meeks, president of the Albemarle Charlottesville Historical Society.
"With the advent of chain stores and things like that, it created this scenario where new strip malls were popping up because downtown areas couldn't accommodate that type of growth," he said.
To prevent total decay in the downtown area, Meeks said, the city chose to hire consultants to provide help in creating a master plan for development and growth.
He said those early recommendations eventually led to the urban renewal movement that resulted in the redevelopment of mixed-use zones such as Vinegar Hill and Garrett Square and helped give way to the mindset that urban planning should center on automobile traffic.
Almost a decade after those planning changes were adopted, new car-friendly suburban developments continued to appropriate some of downtown's market share.
From 1966 to 1970, downtown's share of Charlottesville's total retail sales fell by 2.8 percent, whereas Barracks Road increased by 14.2 percent.
It was around that time in the 1960s that an idea for a pedestrian mall downtown came forward.
Meeks said the idea may have first been floated by a consultant the city hired, as it was becoming a popular solution that promised city officials that customers and residents would flock to an attractive pedestrian corridor and revitalize business and retail sales.
By the mid-1970s, the City Council and City Hall administration advocated for and ultimately approved the plan for the Downtown Mall. That administration included longtime City Manager Cole Hendrix and Councilors Charles Barbour, the council's first African-American member, and Jill Rinehart, the first woman to serve on the council.
The plan created by world-renowned architectural firm Lawrence Halprin & Associates originally envisioned a longer stretch of the pedestrian street and extended farther into some of the side streets, but community opposition resulted in a smaller project with less funding, ultimately coming out to more than $2 million at the start.
At a 1974 council hearing, Hendrix, who supported the project, explained why he and other city officials were so adamant about the plan, despite opposition from business owners who worried that removing automobile traffic would actually harm business instead of help it.
"What's at stake is more than just any individual's downtown business," he said. "What's at stake is the whole downtown as it relates to the total community."
In February 1974, after months of community meetings, planning retreats and design charrettes, the council approved the project.
The mall opened during the country's bicentennial celebrations.
According to Satyendra Huja, a former city mayor and urban planner hired by the city in 1973, more blocks were added to the mall within the next few years after the 1976 dedication.
Huja said business owners had come around to accept the pedestrian mall.
But the mall struggled for the next decade or so, and questions about its viability were raised.
Meeks said the change did drive out a few business owners at the time, helping shape what's now Albemarle County's urban ring.
"Change is difficult for people," Huja said. "Even if it's for our own good, it's difficult. Some people resisted the change."
With that in mind, Huja said, city officials knew it'd take more than a brick walkway to save downtown.
Plans for what is now the Omni Charlottesville Hotel began in 1978 when the city started looking to develop the west end of the mall, the former site of the historically black Vinegar Hill neighborhood.
In 1983, in a controversial move, the city decided to lend a developer $9.5 million to build a hotel and conference center. A 3 percent meals tax and an increase in the lodging tax were approved to help with the financing. In 1985, the city-owned Radisson Hotel was sold to the firm that hired the Omni-Dunfrey Corp. to manage it. It opened in May and was renamed the Omni Charlottesville later that year.
As the recession of 1988 hit, a group of business leaders known as Downtown Charlottesville Inc., which pushed for the mall in the late '60s, started Fridays After Five, an outdoor concert series, in an attempt to attract more people to the mall. DCI morphed into the Charlottesville Downtown Foundation.
Kirby Hutto was hired by the downtown foundation in 1992 as the special events director, mainly to run Fridays After Five.
Hutto described the early days of the event, when it was held on the bricks of the Downtown Mall, and the stage would move from one end of the mall to the other, "half because merchants wanted it in front of them, and the other half didn't want it."
After wrapping up the event at about 10 p.m., Hutto said, organizers would go out to the mall and it would be empty.
"I mean, you could roll a bowling ball and not hit a thing, just that desolate," he said.
When the city began focusing on downtown arts and entertainment, Hutto said, that really opened the door for many of the businesses there today, and it encouraged more retail and restaurants to have later hours.
An amphitheater was built by the city on the east end of the mall in 1994, and Fridays After Five began using it in the 1995 season. In 2004, it was announced that the venue was being replaced by a larger amphitheater and would be run by one of local developer Coran Capshaw's companies, Charlottesville Pavilion LLC.
Hutto was hired by Capshaw to be the general manager for the Pavilion. The Charlottesville Downtown Foundation dismantled in 2005 and Capshaw's company eventually bought the rights to Fridays After Five.
"We actually struck a deal to buy the name, buy their assets and be able to basically adopt that event and make it one of the key points of our programming," Hutto said.
He said he thinks the event continues to be successful today because it has been consistent in its focus — showcasing local bands, providing an opportunity for area nonprofits to raise money through beer sales and remaining free.
"I think part of the real appeal is that folks can just wander in, they can check it out, they can meet their friends and go get dinner," Hutto said. "You're not making an obligation that you're going to have to stay there for the whole night, so it is much more of a social hour than strictly a concert event."
Del. David J. Toscano, D-Charlottesville, who served on the City Council from 1990 until 2002 and as mayor from 1994 to 1996, said the second phase of the mall came while he was on the council, beginning with Fridays After Five and continuing with more redevelopment on the west end.
"The big push came when [developer] Lee Danielson sat down with me and said to me with a straight face, 'I want to build an ice park in Charlottesville,' and I said, 'You want to do what?'" he said.
"Eventually, he convinced me that this could really have a big impact on downtown and all he needed us to do was to open a street — he didn't want any money; he had his own."
The council approved the controversial one-way northbound opening of West Second Street in 1994, and construction began by Danielson and Colin Rolph, another developer, on the Ice Park and the Regal Cinema.
Both projects were completed in 1996, and West Second Street opened to northbound traffic in April of that year.
In 2001, the developers started to see the Ice Park differently, with Danielson calling it a "financial drain [that] should be shut down," and Rolph saying it will remain on the Downtown Mall long into the future.
The developers ended up splitting their partnership and properties in 2002. Danielson took four vacant buildings near the middle of the mall and Rolph took the Ice Park, the cinema and other properties.
The cinema changed to an "art-house format" in late 2012 before closing in 2014. In October 2015, the 10-screen Violet Crown Cinema opened in its place, with a full bar and restaurant.
In 2007, Danielson became involved in a project with CNET founder Halsey Minor — the Landmark Hotel, a nine-story luxury property. They broke ground on the estimated $30 million project in early 2008. Later that year, Minor fired Danielson.
In 2009, Minor sued Danielson, and in 2010, the company Minor started to oversee the project filed for Chapter 11 bankruptcy.
Developer John Dewberry, the owner of Dewberry Capital, purchased the unfinished structure at an auction in June 2012 for $6.25 million.
In 2013, after the still-empty Landmark was vandalized, the city served Dewberry with a letter requesting that the property be secured. Dewberry later installed a taller fence and blocked off open stairwells.
Dewberry Capital doesn't plan to start construction on the Landmark until after the opening of a similar hotel in Charleston, South Carolina, which is expected later this month.
Over the years, safety on the mall has been a serious concern for the community. While there have been only a few high-profile robberies, attacks and other incidents on the mall, a general sense of a lack of security and other issues have spurred calls to action over the years.
In April 2003, the City Council passed two amendments to the city code to add a panhandling section, forbidding the solicitation of money or other things of value and the sale of goods or services in an aggressive manner in any public area. It also limited where people could sell goods or services.
It was modified in 2010 after city staff received a large number of complaints from downtown business people and visitors about an increase in unwanted solicitations.
Attorney Jeffrey Fogel filed a lawsuit against Charlottesville in 2011 on behalf of a group of panhandlers over the update to the city code, claiming it violated First and Fourteenth Amendment rights.
In 2015, a judge sided with Fogel and the panhandlers, saying the "buffer zone" portion of the ordinance violated the First Amendment because it targeted certain types of speech.
Another high-profile incident raised concerns about security — the abduction and murder of UVa student Hannah Graham in 2014.
While private security cameras were pivotal in the Graham investigation, officials and some in the community said public cameras could have sped up the investigation and made it less intensive, as authorities had to obtain footage from cooperative businesses.
Public security cameras will be placed on nine light fixtures that overlook traffic intersections on the mall.
A city police spokesman said there's no strict timeline for when the cameras will go online, but he said officials are in the process of preparing formal requests to obtain quotes for a camera system. Officials estimate the cameras will cost between $75,000 and $100,000.
One proposed solution to cover the cost is a not-new idea to create a special tax district downtown, which would allow business owners to pool their money together for various uses.
"The [Business Improvement District tax] would be very important, as it would give us more money for branding and promoting the mall," said George Benford, chairman of the Downtown Business Association of Charlottesville.
Benford, a former downtown business owner who succeeded Bob Stroh at DBAC earlier this year, said he hopes to make the business association more active in local politics by advocating for action or endorsing measures when there's consensus in the downtown business community.
While the uncertainty about the planned boutique Landmark Hotel continues, even with a projected 2018 grand opening, other proposals, such as security cameras and parking meters, are supposed to come to fruition fairly soon.
Another longtime concern, parking, could be changing soon.
Amid a legal dispute over the rates in the Water Street Parking Garage, the city has decided to tackle the downtown parking issue by creating a city department dedicated to public parking.
Although the garage was built more than 20 years ago, one of its main stakeholders is pushing hard to charge rates that reflect customer demand, rather than keeping them at a low cost set by the city despite alleged capital improvement needs and a limited supply of parking downtown.
With $500,000 allocated to get the department off the ground, the city has approved a pilot program that will bring more parking meters downtown.
More than 100 parking meters could go up later this year within a 15-block area around downtown. Parking at one of these metered spaces is expected to cost $2 an hour, with a 30-minute grace period.
As the Landmark Hotel is expected to undergo a new round of design reviews and planning conferences before construction resumes, parking for that building and the growing Court Square area just north of the mall will be issues the city and the business community will need to resolve.
And those efforts to expand parking likely will need to accommodate several other developments that might be built in the next decade.
The downtown area is poised to see a huge boost in pedestrian and automobile traffic when the Market Plaza development opens, which is expected to happen in 2018.
Currently under construction, the mixed-use, nine-story building and plaza on Water Street that will host the weekly City Market will be an anchor in a new development stage for downtown.
While traffic on East Second Street probably will not be closed to vehicles anytime soon, a number of other projects that evoke the original mall's plan for pedestrian-friendly side streets have been slated for the corridor.
Being developed in conjunction with the city's plan for its Strategic Investment Area, a 330-acre zone predominately south of downtown, East Second Street will serve as a connection to Friendship Court and the IX Art Park, two sites that are slated for major redevelopment in the coming years.
According to analysts with Cunningham | Quill Architects, the population within the SIA — approximately 1,300, per 2012 estimates — soon could double to 2,645 if the area is built out in accordance with what's been planned for the area.
Noting several of those projects, Alexander Ikefuna, director of the city's Neighborhood Developments Services department, said these projects will "change the skyline of the Downtown Mall."
The nonprofit Piedmont Housing Alliance plans to purchase a larger share of Friendship Court in the fall of 2018 and to redevelop the 150-unit subsidized apartment complex into a mixed-unit development.
According to a draft master plan published recently, 480 units could be built on the site over a 10-year period. The alliance has told families and individuals that 150 of those units will continue to be subsidized through federal Section 8 vouchers. Another 50 units will be supported, but with another form of subsidy.
At the IX Art Park, plans are being made to make the space into a large civic plaza that includes an outdoor amphitheater, performance space, retail shops and residential lofts, according to a website for the development.
In addition to those major projects, a new nine-story office complex with a four-story parking structure on Second Street Southeast recently was proposed.
"These are huge initiatives that will increase quality of life in the SIA area and compliment redevelopment opportunities within the downtown area," Ikefuna said. "In terms of direction, we're thinking about the sustainability and vitality of the mall as an active destination for pedestrians, tourists and residents of the area and the region."
Beth Meyer, dean of UVa's School of Architecture, said the Downtown Mall continues to be successful for a number of reasons: it's in a college town, it has narrow city blocks (which helps pedestrian movement) and it benefits from smart traffic decisions.
"Cole Hendrix and Satyendra Huja, the city manager and the city planner, were involved in the early planning and design and worked with the consultants for the mall in the 1970s," she said. "They stayed in those jobs until the '90s; they were committed to the idea and they didn't lose faith."
"They knew that it was going to take a while for the city's economy to transition to deal with suburbia. … I think if we had had a change of staff more frequently, somebody may have just given up on it."
Some of her points come from the late Bill Lucy, who was a professor of urban and environmental planning at UVa and served on the city's Planning Commission. Those points include how the trees play a role in the mall's success, Meyer said, creating shade and an environment where restaurants wanted to have outside seating.
"Other people have said, 'Oh, it was the movie theater, it was the skating rink,' but Bill was pretty convinced that a decent microclimate where it was comfortable to be outside made a big difference," she said.
Its simplicity and the fact that the mall could accommodate change and be altered over time, she said, also have helped.
"It's not a simple story — I think it's a combination of politics, people and programming," Meyer said. "There's a constellation of things that happened 15 years after it opened; there was a lot of patience before then."
While not all pedestrian malls have been successful, the concept has left a legacy that can be seen in trends today.
In New York City, the Department of Transportation is working with nonprofits to create public spaces for pedestrians on portions of underused streets. Meyer also pointed out a shift from indoor shopping malls to open-air centers that attempt to "pedestrianize" the shopping experience.
But, Meyer said she is concerned the mall is not as public a space as it used to be.
"When it opened, there were over 100 movable chairs for anybody who wanted to sit down, and it's become privatized, more of a commercial space than a public space, yet it was paid for by public money," she said. "Right now, I think ... it's on the edge of being too private, given that it should be a public space where you can hang out if you don't have a lot of money."
Meyer, who is working on a book about Halprin, said he understood his design was a framework that would be altered and interpreted differently over time.
"Larry's general sense about his vision and how things change is [that] he wanted places to endure, and the issue wasn't whether it was his design or not, but how it was loved and lived," she said. "I think he would be, on one hand, happy that it's been so lived and also a bit concerned about the narrow band of people in the city who feel at home there."
Regardless of the consternation over parking, amenities and public safety, the mall has managed to thrive in recent years, living up to the potential that city officials and other advocates said eventually would happen over time.
Since 1959, when the first pedestrian mall in the United States opened in Kalamazoo, Michigan, hundreds of streets in cities large and small were turned into pedestrian malls. Many have failed for a variety of reasons and only a few dozen still exist.
Charlottesville's Downtown Mall may have avoided such a fate and saved the downtown area from complete decay, but it's been the subject of much debate over the past 40 years. And maybe for good reason, as it's fostered a community that is vibrant and willing to dispute what ultimately will help or harm the city.
For some residents and businesses, many of these disputes over developments and activities on the mall may have seemed to spell doom to some degree, but one thing is certain now: the Downtown Mall is still here, and it won't be going away anytime soon.
Chris Suarez is a reporter for The Daily Progress. Contact him at (434) 978-7274, csuarez@dailyprogress.com or @Suarez_CM on Twitter.