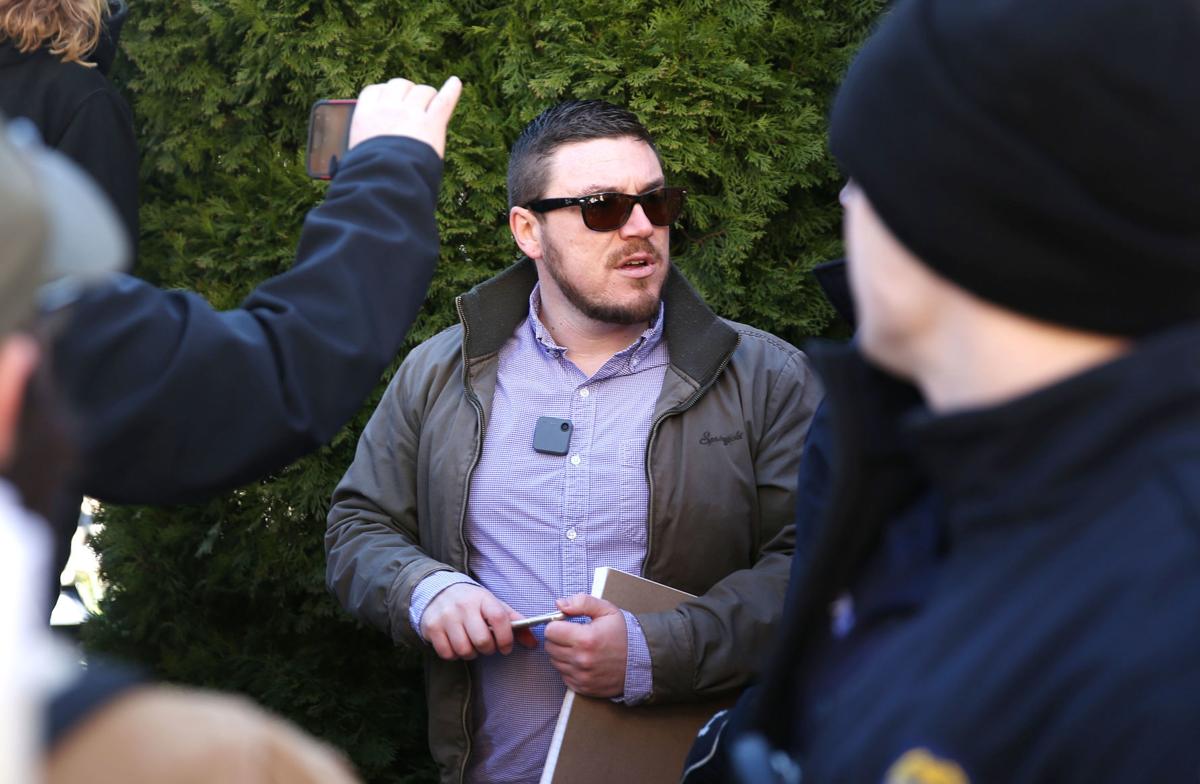 CHARLOTTESVILLE — A Charlottesville judge decided Friday that a local activist violated Virginia's anti-dueling statute when she screamed curses at Jason Kessler.
Kessler cited the statute in his $500 lawsuit against Donna Gasapo, whom he said used insulting language that tended toward violence and a breach of the peace. Kessler said he sued for a small amount of money based on the principle of the matter and a desire to preserve public civility.
With dozens of supporters seated behind her in Charlottesville General District Court on Friday, Gasapo never denied yelling curse words at Kessler on March 16 outside of DeAndre Harris' assault trial in the same courthouse.
But her attorney said she was protected by the First Amendment to express rhetorical hyperbole and make exaggerated statements.
Representing himself, Kessler argued that Gasapo's words — "F--- you ... f--- you, a------ ... crybaby Kessler" — were fighting words and could have incited violence. In the video that Kessler played as evidence, Gasapo also can be heard calling Kessler a "murderer." Kessler said Gasapo was falsely assigning him blame for the death of Heather Heyer, who was killed in a car attack on the day of the Unite the Right rally, which Kessler organized.
In his suit, Kessler asked that Gasapo be held responsible for the actions that might stem from her words.
"This is an opportunity to bring civility back to our community," said Kessler.
Gasapo's attorney, Pam Starsia, rebutted Kessler's claims and said he did not suffer any actual damages from her client's words. Identifying Kessler as a public figure, Starsia said there were higher standards for proving malice in someone's words.
When asked about her words, Gasapo said she uttered them in anger and was upset that Kessler would show up to Harris' trial, as Harris was a victim of the violence on Aug. 12. She said she was trying to drown out his hateful words.
"Someone in our community was murdered," Gasapo said. "White supremacists stormed into our city. It doesn't sit well with me."
Kessler said he felt his character was damaged when Gasapo called him a murderer and that her choice of words could have provoked him to violence.
"There was a chance that I could respond violently and I don't want that to happen," he said.
Following the incident, Kessler said he posted the video of Gasapo yelling at him on social media as part of his coverage of the Harris trial. Kessler said he was reporting on the trial for an online news source and wanted to show the public the protesters' conduct.
Judge Robert H. Downer Jr. agreed with Starsia and said that Kessler is a public figure and that Gasapo is free to make statements of rhetorical hyperbole. But, he said, he believed her words did threaten to breach the peace and could have incited the addressee to fight.
However, Downer also said he did not believe Kessler was damaged in any way, particularly because Kessler posted the video online. Instead of the $500 that Kessler asked for, Gasapo will be responsible for paying $5 in damages.
Following the hearing, Starsia said she disagreed with Downer's decision and said an appeal would not be off the table.
"I'm comforted by the fact that the judge recognized that Mr. Kessler was not damaged in any way here," Starsia said. "We'll have to discuss our options."
"I think we should all be very concerned about what this ruling means in terms of opening up other frivolous harassment suits against members of our community who are expressing their opinions and their very real feelings of frustration, which we believe are protected by the First Amendment," she said.