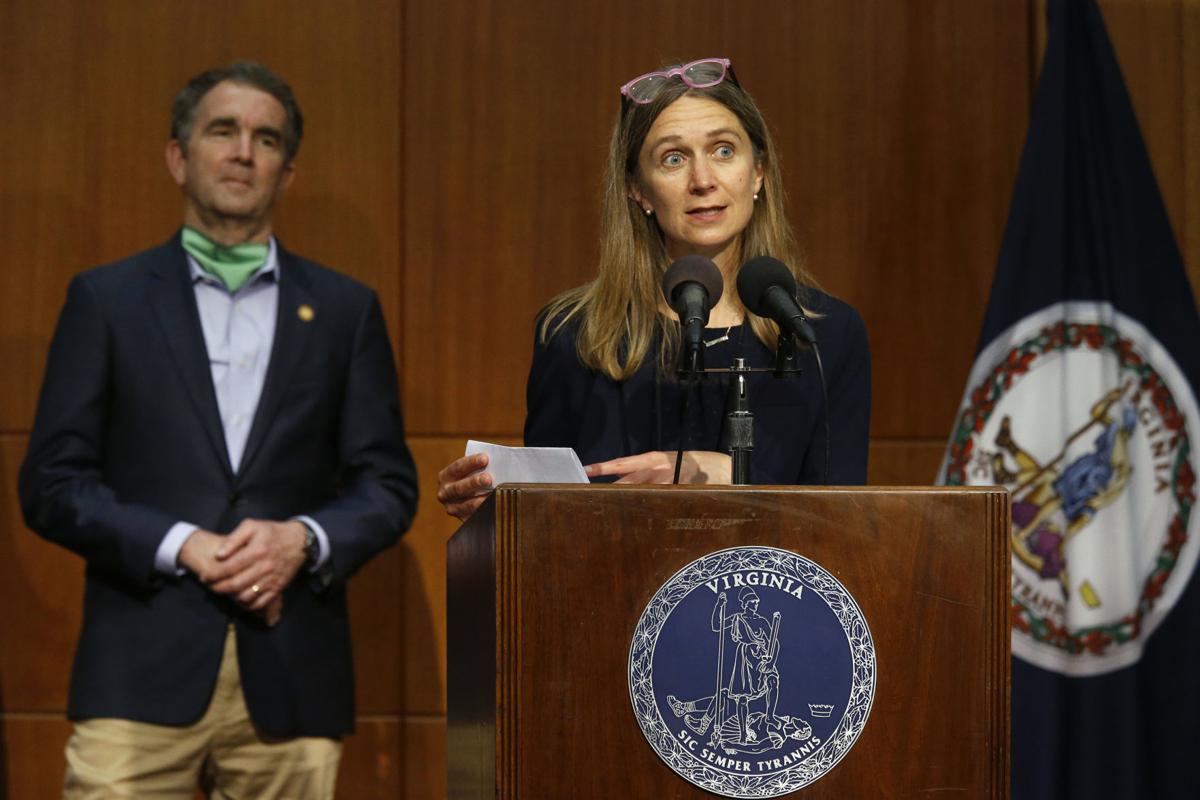 As COVID-19 cases surge elsewhere in the country, pandemic trends in Virginia suggest containment of the virus here remains on a steady trajectory.
Virginia's position was precarious heading into the Fourth of July holiday — the first weekend under more relaxed public restrictions that will see many restaurants and stores open at capacity.
On Thursday, meanwhile, the U.S. reported an all-time high of 53,000 new coronavirus cases, following a string of six consecutive record-setting days.
In a state where enforcement of individual COVID-19 restrictions has largely relied on the honor system, collective behavior will determine whether Virginia will join other states seeing surges ahead of a cure or vaccine.
"Trends look good right now. But as with any communicable disease, we have to remain vigilant," said Dr. Laurie Forlano, deputy commissioner of population health at the Virginia Department of Health. "We should not think that we are immune — no pun intended — to what is happening in other parts of the country if we get too complacent."
For now, the number of new state cases per day hovers just above 500, from a peak of 1,195 on May 31. Compare that to Florida, which has 2½ times the population of Virginia, but nevertheless saw around 9,500 new cases a day over the last week.
The share of positive cases among people tested — known as the positivity rate — continues on a downward trend in Virginia at just over 6% from a peak of 21% in late April. Health experts suggest a positivity rate below 10% is an adequate number to allow state health officials to detect new cases and outbreaks.
The number of people tested for an active COVID-19 infection in Virginia is at about 10,000 per day, which a low positivity rate suggests is adequate. The number of people hospitalized each day for COVID-19 remains largely steady and far below the state's hospital capacity.
There are two early trends in Virginia, however, worth keeping an eye on: a stagnant trend of new cases, and a slight uptick in reported deaths.
After a dramatic decline in new cases over the first two weeks of June that saw the epidemiological curve take a nosedive, the state's trend line of new cases has mostly remained flat for the past two weeks.
As for deaths from COVID-19, Virginia has seen a slight uptick in new deaths reported every day, starting two weeks ago, on June 22.
Forlano said a clearer picture of COVID-19 deaths in the state will emerge from looking at exactly when individual deaths occurred, not when they were reported. That process can take two weeks or longer, she said, and involves procuring death certificates and other information.
The state's tally of deaths by when they occurred suggests a firm downward decline, but it has a backlog of about 40 deaths.
Forlano said state officials will continue to track the data for indicators of a resurgence. On Tuesday, the Northam administration said it is "taking a cautious approach and is prepared to implement tighter restrictions if needed."
"We want these trends to continue, but if our public health metrics begin moving in the wrong direction, I will not hesitate to take action to protect the health and safety of our communities," Northam said in a statement.
Elsewhere in the U.S. South and West, the time for early indicators has passed.
Florida last week repeatedly broke records for new daily case counts in the state at around 9,000 per day, as some localities rushed to implement mitigation measures ahead of the holiday weekend.
According to The Associated Press, all but 10 states are seeing their number of new cases swing upward over the past two weeks. Florida joins Arizona, California and Texas on the list of states with the most dramatic increases in new cases, and imperiled hospital capacity.
President Donald Trump on Thursday sought to downplay current surges, which have hit states with GOP governors.
"We have some areas where we're putting out the flames or the fires, and that's working out well. We're working very closely with governors, and I think it's working out very well. I think you'll see that shortly," he said during a White House news briefing.
Forlano said officials in Virginia are looking at states facing surges to glean lessons for the commonwealth.
"We are looking and paying attention," Forlano said. "From what I can gather, it's behavior that may not represent the best choices. People being in large gatherings, not wearing masks — I don't know the full extent, but it certainly looks that way."
Forlano added that some public restrictions that went into effect in states where COVID-19 cases are surging have been in place in Virginia for weeks or even months.
In the case of Texas, for example, Gov. Greg Abbott issued a face mask mandate on Thursday, weeks after Northam issued one in Virginia.
Forlano also pointed to the decision to delay the reopening of bars in the state. The Northam administration on Tuesday announced that when Virginia's restaurants reopen for service, bar seating will remain prohibited "to reduce the likelihood of patrons gathering in bar areas without observing social distancing guidelines."
Forlano said that decision was based on COVID-19 trend data showing that roughly one-third of Virginia's COVID-19 cases were diagnosed in people between the ages of 20 and 39.
Due to the virus's incubation period, it may take two weeks or longer to discern the impact of heightened holiday weekend activities — including travel to and from states and areas facing surges.
State officials have so far declined to outline rules of restrictions regarding travel, meaning there are no testing or self-quarantining requirements. Still, Forlano said those traveling to high-risk areas are advised to follow health precautions and, upon return, monitor their symptoms and isolate if they become ill.
(804) 649-6254
Twitter: @MelLeonor_