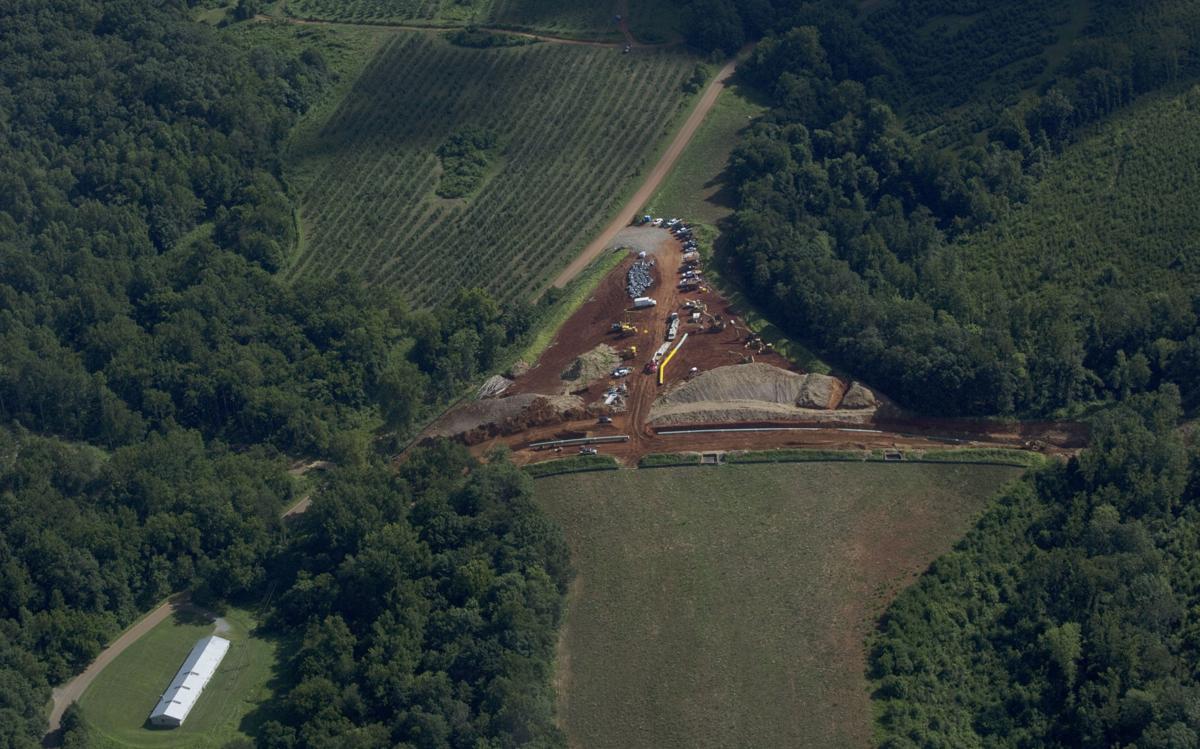 ROANOKE — The Mountain Valley Pipeline is under criminal investigation into possible violations of the Clean Water Act and other federal laws.
EQM Midstream Partners, the lead company in the joint venture, made the disclosure in an annual report filed Thursday with the U.S. Securities and Exchange Commission.
Since construction of the buried natural gas pipeline through Southwest Virginia started last year, crews have repeatedly run afoul of regulations meant to keep muddy runoff from contaminating nearby streams and rivers.
Although the Mountain Valley Pipeline has been named in enforcement actions brought by the Virginia Department of Environmental Quality, and in a lawsuit filed by Attorney General Mark Herring, this week's filing is the first confirmation of a criminal investigation.
On Jan. 7, EQM received a letter from the U.S. attorney's office in Roanoke stating that it and the Environmental Protection Agency were looking into criminal and civil violations related to pipeline construction, according to the SEC filing.
About a month later, a grand jury subpoena was issued "requesting certain documents related to the MVP" from Aug. 1 to the present, EQM reported.
"The MVP Joint Venture is complying with the letter and subpoena but cannot predict whether any action will ultimately be brought by the U.S. Attorney's Office or what the outcome of such an action would be," it said.
An EPA spokesman said the agency does not comment on potential or ongoing investigations. Brian McGinn, a spokesman for the U.S. attorney's office, also declined to comment, citing a similar policy of neither confirming nor denying the existence of an ongoing investigation.
Last month, two attorneys told The Roanoke Times that they had asked the EPA in November to investigate what they called "a substantial body of evidence" gathered by Preserve Bent Mountain, an organization they represent.
Photographs and other documentation from construction sites indicate that work in streams and wetlands continued well past Oct. 5, when a permit for such activity was suspended by the U.S. Army Corps of Engineers, the attorneys said.
It was unclear Friday whether their request prompted the criminal investigation.
Chainsaw crews began cutting trees in February 2018, clearing a 125-foot wide swath for the 303-mile pipeline through West Virginia and Southwest Virginia. By spring, heavy equipment had moved in to grade land along steep mountainsides and dig trenches for the 42-inch diameter steel pipe.
Herring's lawsuit, filed on behalf of DEQ and the State Water Control Board, alleges more than 300 violations of erosion and sediment control measures, beginning as early as May 2018.
The criminal probe appears to be focused on events that began later in what is expected to be a two-year construction period for the $4.6 billion project.
In their January letter to Mountain Valley, federal prosecutors directed the five companies that comprise the joint venture — along with their contractors, suppliers and other entities involved with construction — to preserve any relevant documents dating back to Sept. 1.
The grand jury subpoena, which came a month later, was for documents going back to Aug. 1.
Environmental groups and other pipeline opponents were saying last summer that the worst environmental damage was yet to come, when Mountain Valley would begin blasting bedrock and digging trenches along the bottoms of streams to bury the pipe.
A lawsuit filed by the Sierra Club and others challenged a permit issued by the Army Corps of Engineers that allowed stream crossings in West Virginia.
The 4th U.S. Circuit Court of Appeals vacated the permit Oct. 2. Based on that ruling, a second Army Corps permit that covered Southwest Virginia was suspended three days later.
If Mountain Valley continued to work in streams and wetlands after losing its authorization from the Army Corps, that could constitute a criminal violation, Bondurant, a former federal prosecutor, said earlier.
Publicly traded companies are required by law to report any legal proceedings that might affect their operations to the SEC, which is responsible for protecting investors and maintaining public trust in U.S. markets.
In past filings, EQM has documented a number of lawsuits, most of them filed by environmental groups against regulatory agencies that granted permits or certifications to Mountain Valley.
Thursday's filing marked the first time a criminal investigation was mentioned.
On the same day, executives with EQM held a teleconference to discuss 2018 year-end results with financial analysts. They talked about the loss of several permits due to legal challenges, but did not bring up the criminal investigation.
Despite all the regulatory and legal difficulties to date, company officials said the project is still on schedule to be completed by the end of the year, when it will begin to transport natural gas to customers in the Mid-Atlantic and Southeastern regions of the country.