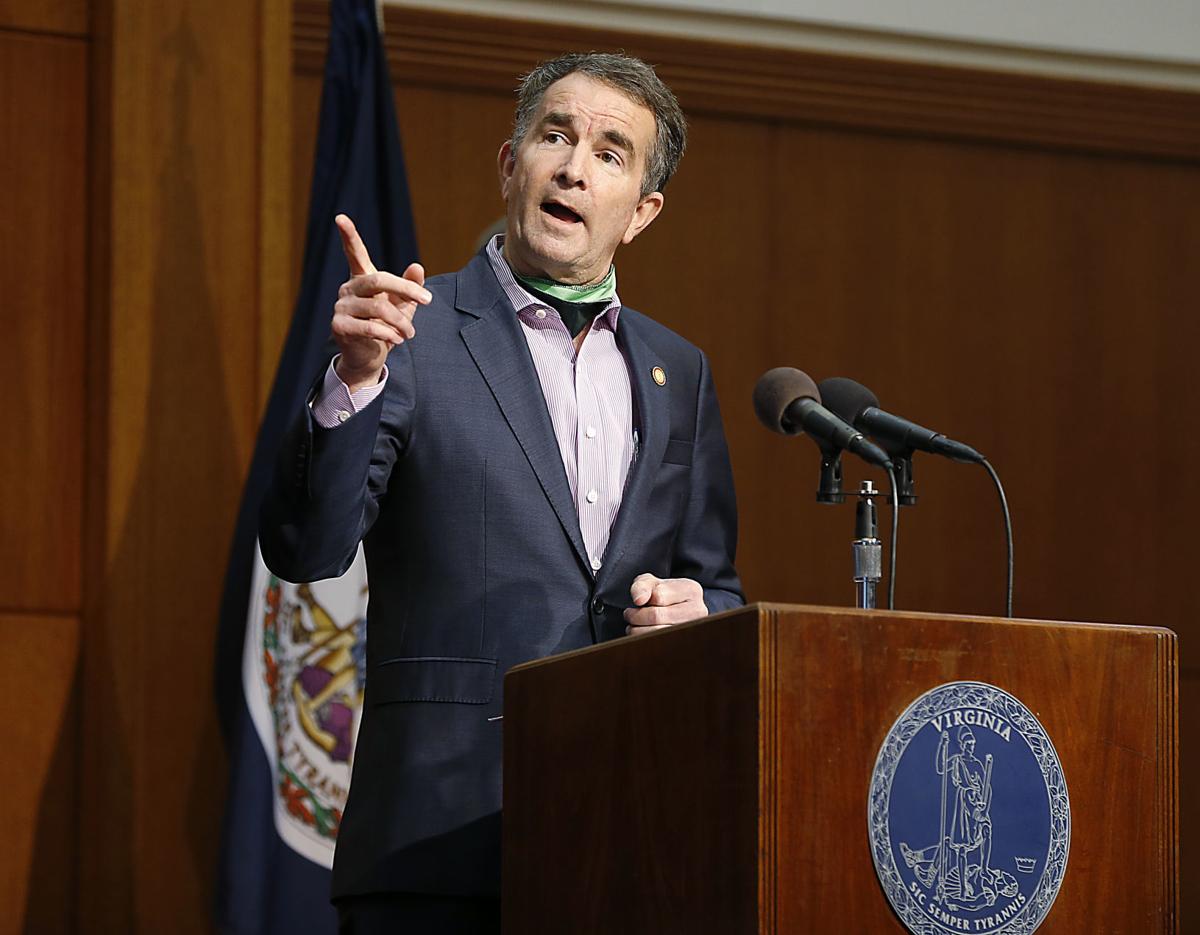 Virginia's count of COVID-19 tests to date includes results from 15,000 as-yet unreliable antibody tests, skewing the state's testing capacity and its outlook on the spread of the virus, albeit to a small degree.
The Virginia Department of Health shared the new figures on Thursday, as it faced public criticism for muddying the state's COVID-19 data by lumping together diagnostic and antibody tests. Many of the antibody tests on the market have not been vetted by federal regulators and do not measure the current spread of the active virus, unlike the diagnostic tests used by health care facilities.
Gov. Ralph Northam, a physician, said Thursday via Twitter that he had not been aware until recently that the two types of tests were being combined.
"[VDH] has been reporting all tests, regardless of the type of test, since the beginning of this health crisis. When I found out recently that data from all types of tests were being combined, I immediately directed that the diagnostic tests be separated out," Northam said.
Northam became aware Monday that the numbers were conflated and has been pushing to separate data on the different types of tests, spokeswoman Alena Yarmosky said. Virginia will still report antibody tests, but starting Friday it will report different types of tests separately.
The Richmond Times-Dispatch first reported Saturday that the state was combining test data. State officials faced additional pressure on Thursday, when the national news magazine The Atlantic highlighted the practice, and disputed claims by Virginia officials that many other states were also including antibody tests in their total testing counts.
The inclusion of antibody tests highlighted the state's ongoing testing woes. As the state begins reopening on Friday — except for Northern Virginia, the city of Richmond and Accomack County on the Eastern Shore — it has yet to meet key testing goals set by its own officials and public health experts, per a Times-Dispatch analysis.
On Monday, Northam's chief of staff, Clark Mercer, said the state decided to conflate the two types of results to improve Virginia's testing rankings, suspecting that other states were doing the same.
Antibodies are proteins that help fight off infections, and their presence in a person's bloodstream can signal a previous infection.
Public health experts have rejected the practice of combining the results of the diagnostic and antibody tests, which they say can skew public understanding of the spread of COVID-19.
For one, antibody tests don't gauge how many people might currently be infectious.
The tests can also skew the state's positive rate — the share of positive results among all tests — a key number state officials use to make decisions about restrictions. With a higher number of tests in the state's log due to antibody tests, Virginia's positive rate was skewed down by a percentage point, from 15% to 14%.
Jennifer Nuzzo, an epidemiologist and public health expert at Johns Hopkins University, said the two types of tests should be separated for analyzing the spread of COVID-19.
"It is a totally different type of test, and it's not clear what the validity of those tests are. It's true that you can use [antibody] testing to understand what portion of the population may have been infected in the past, but you can't understand that based on looking at the group of people that saw an ad and decided to get tested."
State epidemiologist Lillian Peake agreed that excluding antibody tests when calculating the rate of positives is the best approach. "We use that metric to make sure we are doing enough testing to identify cases. It's important to look just at the [diagnostic] test for that metric."
Peake said that antibody tests are useful to gauge what share of the population has fought off COVID-19, but only as part of a controlled, statewide study of healthy people. Peake said Virginia is planning for a study to be rolled out in the summer.
Peake agreed that antibody tests are not reliable yet, so the state is not logging positive antibody tests as either confirmed or probable cases. Eventually, antibody tests will be used to classify COVID-19 cases as probable.
The U.S. Food and Drug Administration launched a review last week of the validity of dozens of commercial antibody tests in the market after an evaluation by the National Institutes of Health found that "a concerning number" of the tests yielded poor results.
That review is ongoing. Peake said the state is working to compile a list of which specific tests different labs in the state are using, and plans to exclude tests from its count that are not approved by the FDA.
Mercer, Northam's chief of staff, said the state is willing to separate the two types of tests, but will continue to report on antibody tests for the sake of comparisons between testing in Virginia and other states.
In a tally by Johns Hopkins University updated Wednesday, Virginia ranked 47th in cumulative tests per 100,000 people since the pandemic started.
"If we're going to be compared to all 50 states I want it to be apples to apples," Mercer said at the Monday briefing. "It became clear other states are including serological testing. If you're going to be comparing us to other states, and be critical of the volume of tests we are doing, and not comparing apples to apples, I think that's grossly unfair."
Virginia Health Secretary Dan Carey said Monday: "Without [federal] guidance, we went for as much testing as represented in the community. Going forward, we'll look into how to untangle those."
Northam tweeted Thursday: "I am a doctor, and I have said all along that I will act based on science and data — and the data must be reliable and up-to-date, so we can make informed decisions based on the facts. Going forward, the [VDH] website will break out the number of diagnostic tests."
At least two state lawmakers on Thursday joined calls for Virginia to change course on how it reports testing data.
House Minority Leader Todd Gilbert, R-Shenandoah, said in a statement: "It's incomprehensible that a doctor would allow the manipulation of testing data to occur."
"Today's story in The Atlantic amplifies what the Richmond Times-Dispatch had already reported: Doctor Northam and his team are committing malpractice with Virginia's testing program. The governor recently stated that 'Virginia is in a good place.' The Atlantic's report contradicts that claim and undermines any faith in what's been communicated to Virginians about testing in the commonwealth."
Del. Mark Keam, D-Fairfax, tweeted: "This news reports how [Virginia's] government officials should have done a better job of reporting accurate COVID-19 data to the public."
The number of COVID-19 cases in Virginia climbed by more than 1,000 from Wednesday to Thursday.
The Virginia Department of Health reported 27,813 cases in the state, an increase of 1,067 from the 26,746 reported Wednesday. Nearly 1,000 people have died from the virus, according to the state Health Department, with the total number of deaths rising from 927 to 955.
Of Virginia's 955 COVID-19 deaths, 927 are confirmed to have been caused by the coronavirus and 28 are probable. Probable cases are people who are symptomatic with a known exposure to COVID-19, but whose cases have not been confirmed with a positive test.
Roughly 1,500 people remain hospitalized by the virus, according to the Virginia Hospital and Healthcare Association, which represents 27 health systems and 110 hospitals. The association reported Thursday that 3,678 people have been hospitalized and discharged.
According to the Virginia Department of Health, here's what COVID-19 data looks like in the Richmond area:
Chesterfield County: 909 cases (+47); 68 hospitalizations; 29 deaths
Hanover County: 198 cases (+15); 41 hospitalizations (+1); 18 deaths (+1)
Henrico County: 1,174 cases (+28); 168 hospitalizations (+2); 112 deaths
Richmond: 611 cases (+19); 102 hospitalizations; 18 deaths