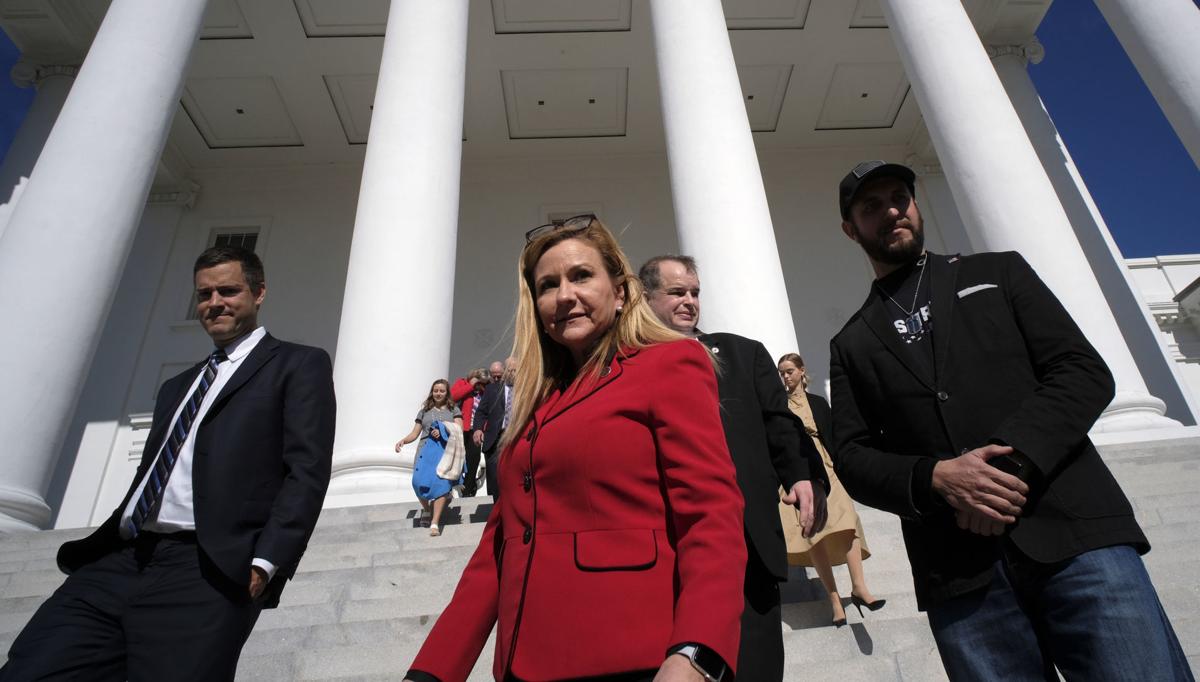 Sen. Amanda Chase, R-Chesterfield, claimed in a since-deleted Facebook post Thursday that Sen. Jennifer McClellan, D-Richmond, "is NOT for ALL Virginians" immediately after citing McClellan's position as the vice chairwoman of the Virginia Legislative Black Caucus.
The controversy, with one Richmond-area gubernatorial candidate criticizing another, came on the day McClellan announced her bid for the Executive Mansion. If elected, McClellan would be the first Black female governor in the U.S. and the second African American elected to Virginia's highest office.
"I'm sick and tired of ALL of the identity politics and yet the Virginia Governor's race in 2021 is shaping up to be ALL about who will be the best female for Governor," Chase wrote. "If you thought Ralph Northam was bad wait to you see the McClellan agenda. She serves as the vice-chair of the Virginia Legislative Black Caucus. One thing you can be sure of — she is NOT for ALL Virginians."
Chase, who announced her bid for governor in February, reiterated that sentiment in a statement Friday.
"As the Vice-Chair of the Virginia Black Legislative Caucus, Jennifer McClellan is championing the destruction of our historical monuments and encouraging the violence of our beloved city," Chase said. "She along with our cowardly Mayor Stoney and spineless governor are placating to a movement of divisiveness and hate instead of unity and peace."
She added: "They stand silently and allow Richmond to be destroyed. Stoney, Northam and McClellan hate the second amendment and are doing everything they can to strip law abiding citizens of their Constitutional Rights and Freedoms, now and months to come. Leadership is about unity and understanding, not the internal destruction of America and its communities. These individuals are destructive and pushing a liberal agenda."
McClellan responded to Chase with a tweet Friday saying: "What unites Virginia is stronger than what divides us. As a Senator, and as a member of the Virginia Legislative Black Caucus, I've worked to deliver progress for all Virginians. As Governor, I will make sure everyone's voice is heard, as we build a better future. Together."
Chase's post and comments come amid nationwide unrest over police brutality and racial injustice, with the country's, and Virginia's, disparities in criminal justice, education and the economy gaining increased scrutiny. Protesters have gathered in Richmond for the past three weeks, saying it is time for the state to address its history of racism and slavery.
Chase's Thursday comments gained immediate pushback from Democrats.
"Our presence still makes people uncomfortable," Del. Lamont Bagby, D-Henrico, the chairman of the Black caucus, said in a tweet Thursday night that also has been deleted. "Can't believe after all that we have been experiencing we are still requested to justify our existence."
"This is vile, racist BS," tweeted Del. Danica Roem, D-Prince William. "[McClellan] is a phenomenal public servant who works as hard as anyone to serve all Virginians, regardless of their identifiers. Our commonwealth is a better place because of her service and the service of every [Black caucus] member."
It's not just Democrats who have criticized Chase in recent weeks over comments she has made about current events.
After Gov. Ralph Northam announced this month his intentions to take down the Robert E. Lee statue in Richmond, Chase called it an "overt effort" to "erase all white history."
Senate GOP leaders said Chase's response was "idiotic, inappropriate and inflammatory."
In responding Thursday night to Chase's comments about McClellan, Del. Cia Price, D-Newport News, quoted the statement that Sen. Mark Obenshain, R-Rockingham, released in February when Chase announced her run for governor.
Obenshain said at the time: "Amanda just doesn't have a level of substance, maturity or seriousness that Virginians expect in a gubernatorial candidate."
(804) 649-6012
Twitter: @jmattingly306