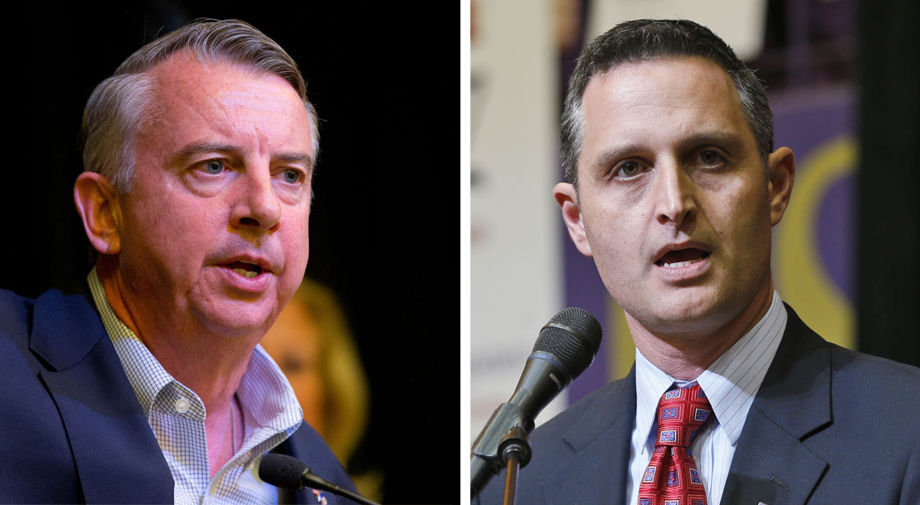 Virginia Republicans will choose their 2018 U.S. Senate candidate in a state-run primary after the party's central committee voted Saturday for a nomination method more open to centrist voters instead of a rowdier convention driven by conservative activists.
The Republican Party of Virginia committee was split on the issue, with 45 members voting for a primary and 35 opting for a convention.
The vote clarified the process Republicans will follow to select their challenger to run next year against U.S. Sen. Tim Kaine, D-Va., but the field of candidates is far from set. Among the long list of possible contenders are former GOP presidential candidate Carly Fiorina, conservative commentator Laura Ingraham, former Gov. Jim Gilmore, former Attorney General Ken Cuccinelli, retiring state Del. Jimmie Massie of Henrico County and Reps. Barbara Comstock, Dave Brat and Rob Wittman. Prince William Board of County Supervisors Chairman Corey Stewart also floated the idea that he may run for the seat after narrowly losing the Republican nomination for governor in a primary this month.
Though the 2018 Senate race looms around the corner, both parties are prepping for more immediate battles ahead in the 2017 races for governor, lieutenant governor and attorney general.
Stewart lost the gubernatorial primary to former Republican National Committee chairman and political consultant Ed Gillespie, who in 2014 was nominated at a convention before his surprisingly close but unsuccessful run against U.S. Sen. Mark R. Warner, D-Va.
With the 2018 field still unsettled, it's difficult to say who would benefit from a primary versus a convention. But GOP committee members briefly debated the merits of each at Saturday's meeting in downtown Richmond.
Dennis Free, the party's 2nd Congressional District chairman, argued for a primary, saying the party just had a "very successful" gubernatorial primary that allowed more people to participate and gave the party a trove of fresh voter information. Free said primaries also vet candidates in ways that conventions, which in the recent past have drawn about 5,000 attendees, cannot.
"Can they raise a statewide organization? Can they raise the funds necessary?" said Free, a former candidate for the Virginia Beach City Council. "All of these are part of that vetting process that is so important that we do to make sure we have a candidate that's going to actually compete on a state level."
Morton Blackwell, a conservative icon and party rules expert who represents Virginia on the Republican National Committee, said the fact that Kaine likely will not face competition from a Democratic primary challenger could create a "perfect storm" for Republicans by allowing meddling Democrats into the Republican process.
"There will be enormous incentives for Democrats in large numbers to come in and support candidates for our nomination," Blackwell said. "And believe me, they are either going to be coming in for the most liberal of the Republican candidates, or the Republican candidate that they think they can most easily beat. I think this is a slam-dunk case this time for a convention next year."
Though some worried that the convention vs. primary debate would drag out Saturday's meeting, held in an 18th-floor conference room in the offices of influential law firm McGuireWoods, attendees quickly agreed that most committee members had made up their minds, cut the debate short and moved to a roll call vote.
"I just want to say the fact that we finished that in literally 10 minutes says everybody in this room wants to focus on winning in 2017 instead of debating process," joked RPV Chairman John Whitbeck. "I know that's what you were all thinking."
Gillespie and Republican attorney general nominee John Adams, a lawyer who's on a leave of absence from McGuireWoods, gave brief speeches to the committee in which they suggested their Democratic rivals have gone too far in their opposition to President Donald Trump.
Gillespie faulted Northam, a mild-mannered pediatric neurologist who repeatedly called Trump a "narcissistic maniac" in his Democratic primary battle against former congressman Tom Perriello, for spreading "harsh rhetoric."
"He emerged from that primary as one angry liberal," Gillespie said of Northam, "who doesn't just disagree with us, he disdains us. He looks down upon us."
"The only people who are angry are the Virginians who stand to lose their health care coverage because of Trumpcare," said Northam campaign spokesman David Turner, noting that Gillespie has not taken a position on the health care bill that has been criticized by some GOP state lawmakers. "It's time to stop with the attacks and start reading."
After showing the crowd angry messages he had received on Twitter, Whitbeck pointed to the targeting of Republican politicians in the June 14 shooting at an Alexandria baseball practice as evidence that a far-left fringe wants Republicans "dead."
"As Ed said, they frickin' hate us," Whitbeck said.